BraveHearts, the leading equine-assisted services program for military veterans in the nation, marked the end of Suicide Awareness Month with its annual "Trail to Zero" horse trek through Manhattan on Sept. 30.
Alongside the mounted units of the NYPD, Park Police, and State Police, 13 BraveHearts veterans on horseback stepped off at 102nd Street and Central Park for the 20-mile journey aimed to raise awareness about veteran mental health and end veteran suicide.
According to the United States Department of Veterans Affairs, about 20 veterans and active service members die each day  by suicide, and the trek's 20-mile distance represents the lives lost. 
Equine therapy has proven to be a powerful and successful treatment for PTSD in a fairly short time, and BraveHearts, a not-for-profit organization based in Illinois,  provides free services for military veterans and Gold Star families. Programs include therapeutic horseback riding, hippo-therapy, and non-equine outpatient services in speech-language pathology, physical therapy, and occupational therapy.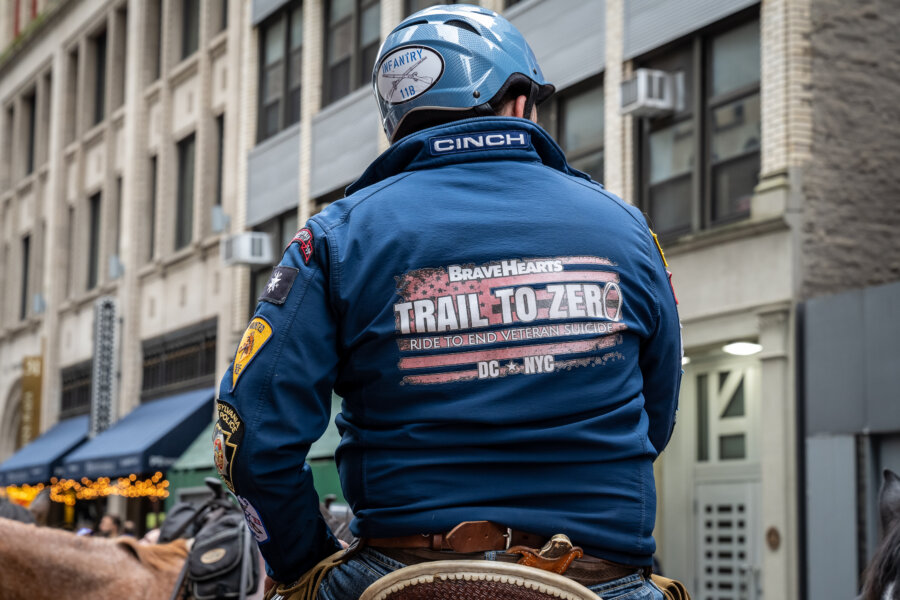 Veterans see increased self-esteem and reduced PTSD symptoms, depression, anxiety, and suicidal thoughts, according to Meggan Hill-McQueeny, president and chief operating officer of BraveHearts. 
"Traditional approaches to mental health may not always yield the desired results, so we want to reach veterans who are grappling with mental health challenges and show them there are alternative approaches that may be able to offer the solution they've been seeking," Hill-McQueeny said. 
The New York City trek was the third "Trail to Zero" ride in the U.S. this year, and last June BraveHearts went on its first international "Trail to Zero" ride in Normandy, France. 
Hill-McQueeny has been part of every "Trail to Zero" event since its inception and also went to Normandy. 
"[Normandy] was so amazing. And we were so blessed to be around such wonderful people who hosted us," Hill-McQueeny said. "We were able to meet new friends. We rode with veterans from both France and England who joined us in our mission."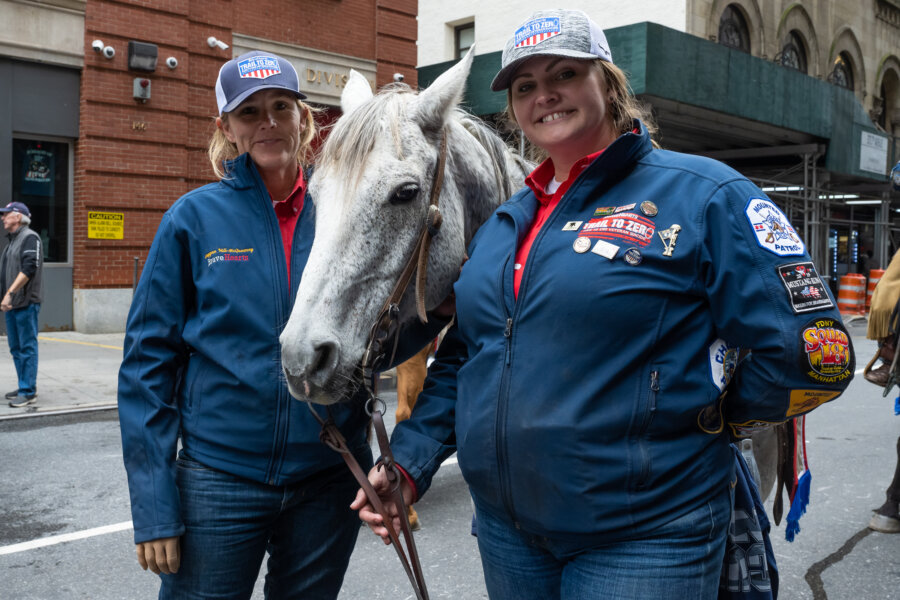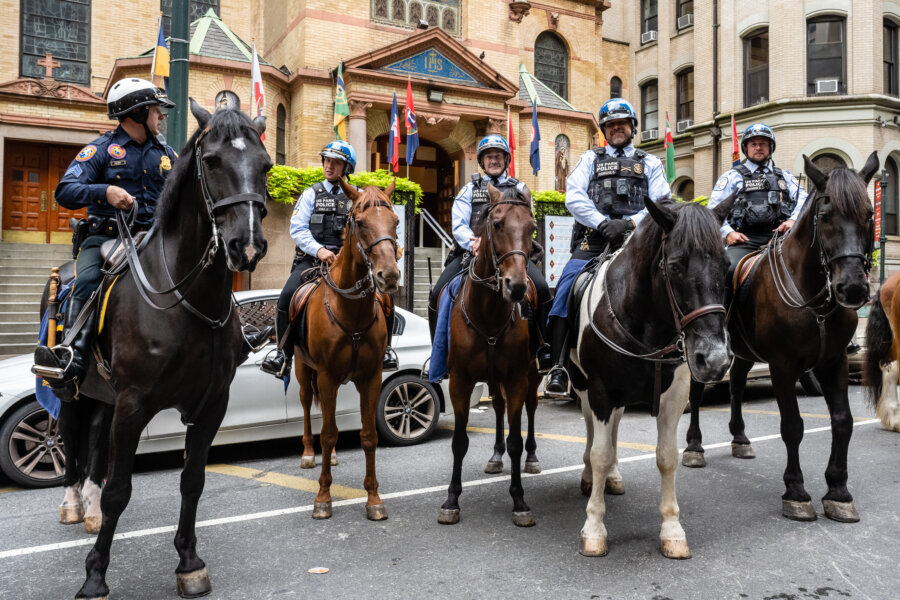 Shorty Ogden-Moles joined the U.S. Army three days after 9/11 and served until 2003 after Ogden-Moles returned from Afghanistan. 
Ogden-Moles has been with BraveHearts for two years and said that equine therapy had given her confidence and freedom.
"It has made me so much more aware of how I am and teaches me to check in with myself because I can lie to everybody else, including myself, but the horses won't let me lie," Ogden-Moles said. "[The horses] tell you exactly what you're feeling. Two years ago, I wouldn't be sitting out here on a horse in the middle of Times Square doing this. I would be scared to death about it."
Besides the benefits of horse therapy, BraveHearts also gives its veterans a sense of belonging and camaraderie again.
Amanda Bethards served in the U.S. Navy from 2003-2008. She has been with BraveHearts since 2017 and became a full-time volunteer coordinator two years ago. Bethards said that the "camaraderie was huge."
"You find a family," Bethards said. "In the military, everyone is really close, and it doesn't matter who's next to you. That's family. When you get out, you don't have that."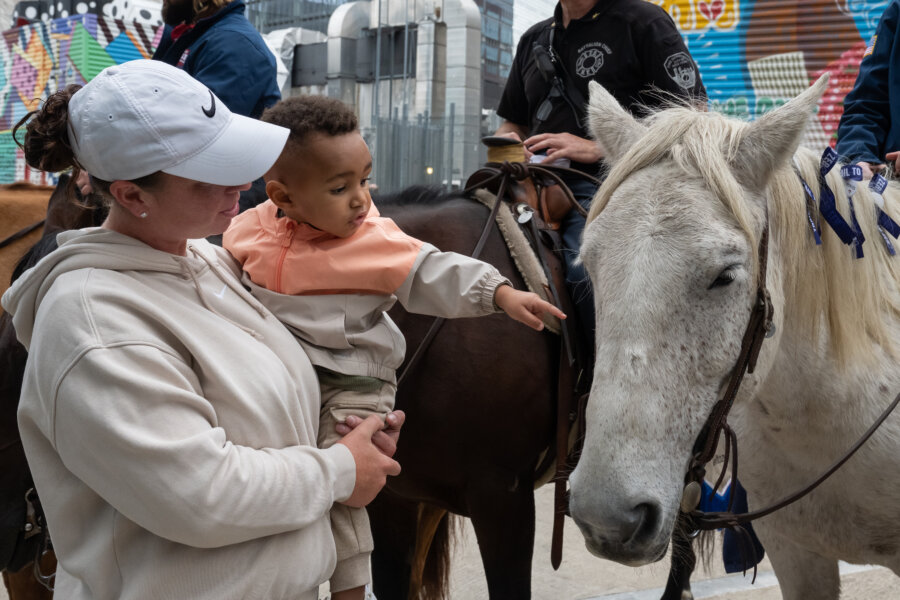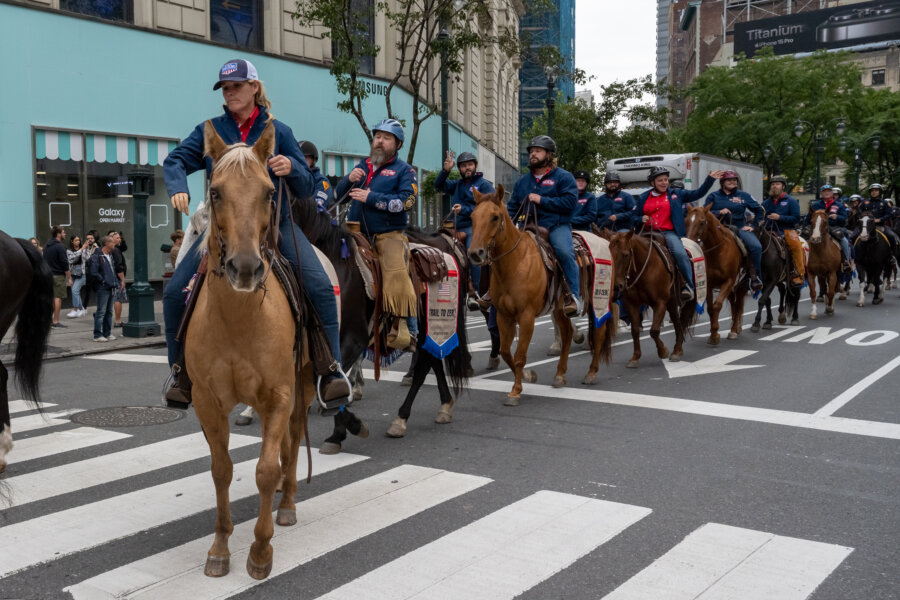 Horse therapy helped Bethards, a PATH Intl. certified therapeutic riding instructor, cope with her anxiety. 
"These horses help keep me present," Bethards said. "And in the moment, I can't be thinking about 20 other things that are on my mind when I'm working with them. Otherwise, it doesn't work. They have to trust me, and I have to trust them."
Bethards shared that 489 volunteers contributed over 23,000 hours to the organization in 2022.
"We have two farms that make up BraveHearts," Bethards explained. "We've got one farm that does therapeutic riding and hippotherapy. I usually need about 160 volunteer slots filled for one week's worth of work. We run six days a week. Our other farm primarily does our veteran services. Not as many volunteers for that just because the idea is to promote independence." 
Former Marine Joe Mastanduno is a member of the Warrior Ranch Foundation, based in Calverton on Long Island. He joined the trail on foot, carrying a flag with the names of 13 veterans who took their lives. 
Horse therapy has taught Mastanduno to control his emotions. 
"Once I got around the horses, it made me have to let go of my emotions a little bit more. I really had to think about what I was doing instead of just acting," Mastanduno said. "And you know, this animal is a lot bigger than I am. So you got to really be on point and paying attention and it just really it gives you something to focus on."
Pit stops along the way included a photo op at Trump Tower and Times Square,  a moment of silence at the World Trade Center, and refueling breaks for horses and riders at FDNY Squad 18 in Greenwich Village and FDNY Ladder 24/Engine 1 in Midtown Manhattan, where firefighters and New Yorkers had a chance to interact with the veterans and their horses and learn more about BraveHearts' mission to bring veteran suicide to zero.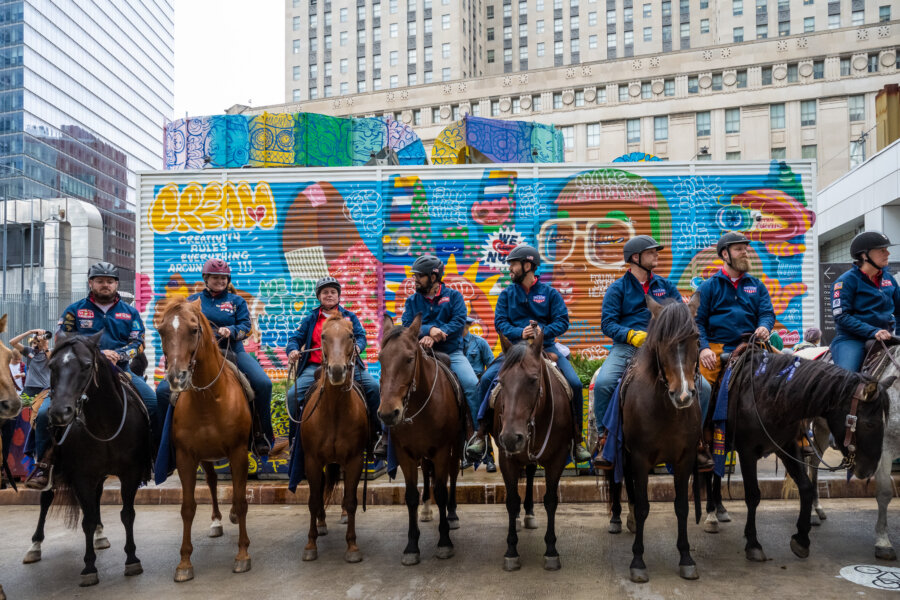 The horse caravan also stopped at Roberto Dutesco's photo exhibit "Wild Horses of Sable Island" in Soho. Dutesco is famous for his photographs of wild horses living on Sable Island off the coast of Nova Scotia. 
Dutesco was "touched, honored, and inspired" that BraveHearts stopped by his gallery to view his work. 
"I have never imagined that the wild horses of Sable would be in the presence of BraveHearts," Dutesco said. "I have never imagined [sic] all these incredible horses from the police force are going to be here. So it's a synergy that I guess the universe wants it so."