The 2023 NFL Draft is behind us and rookie minicamps for both the Giants and Jets are starting this weekend.
At this point last year, both teams featured players with heavy odds to win NFL Defensive Rookie of the Year, cornerback Sauce Gardner for the Jets and defensive end Kayvon Thibodeaux for the Giants. Gardner went on to capture the award, collecting 46 out of 50 first-place votes and beating out the runner-up, Detroit Lions defensive end Aidan Hutchinson.
Yet, despite both the Jets and Giants drafting defensive players in the first round of the 2023 NFL Draft, neither player seems to be a favorite with Vegas oddsmakers, who have them listed way down the board for Defensive Rookie of the Year.
Below, I'll discuss the players who Vegas does seem to like, which players pop as betting values, and whether either of the Jets or Giants rookies have any shot to climb into the NFL Defensive Rookie of the Year race. 
NFL Defensive Rookie of the Year Odds
All odds are courtesy of DraftKings Sportsbook
Player
Team
Position
DROY
Odds
Will Anderson
Houston Texans
LB
+350
Jalen Carter
Philadelphia Eagles
DT
+800
Tyree Wilson
Las Vegas Raiders
LB
+800
Christian Gonzalez
New England Patriots
CB
+900
Devon Witherspoon
Seattle Seahawks
CB
+900
Lukas Van Ness
Green Bay Packers
LB
+1200
Emmanuel Forbes
Washington Commanders
CB
+1400
Nolan Smith
Philadelphia Eagles
LB
+1600
Deonte Banks
New York Giants
CB
+2000
Will McDonald IV
New York Jets
DE
+2000
Favorites
Of the last 33 winners of the NFL Defensive Rookie of the Year Award, 30 were drafted in the first round, which makes betting on any of the second-round choices a bit of a long shot, no matter how talented they are. Five of the last eight winners played linebacker or EDGE rusher, and the other three were cornerbacks, so focusing on those positions tends to be key. 
In fact, 27 linebackers have won the award, compared to only two safeties.
That would seem to bode well for Will Anderson (+350), who is already the favorite to win the award after being the first defensive player drafted. He'll play outside linebacker in Houston's system and should be a menace off of the edge after notching 27.5 sacks and 48 tackles for loss over his last two seasons at Alabama. He obviously won't match that out of the gates, but he could make enough impact plays to earn him this award. 
Tyree Wilson (+800) is another good bet to win the award since he will also play outside linebacker in Las Vegas' scheme and was a candidate to go 2nd overall to Houston for part of the season. While he was drafted after Anderson, Wilson was also a force in college, racking up 17 sacks and 32 tackles for a loss. He could be a solid pivot from Anderson. 
Jalen Carter (+800) is also a betting favorite, but we just mentioned how infrequently defensive tackles win the award and there were some questions about Carter's motivation and commitment at Georgia, which makes it hard to take him at these odds. 
The other two options are cornerbacks Devon Witherspoon (+900) and Christian Gonzalez (+900) who were long thought to be the top two cornerbacks in the draft. They will likely start right away in Seattle and New England respectively, and could replicate Sauce Gardner's success last year.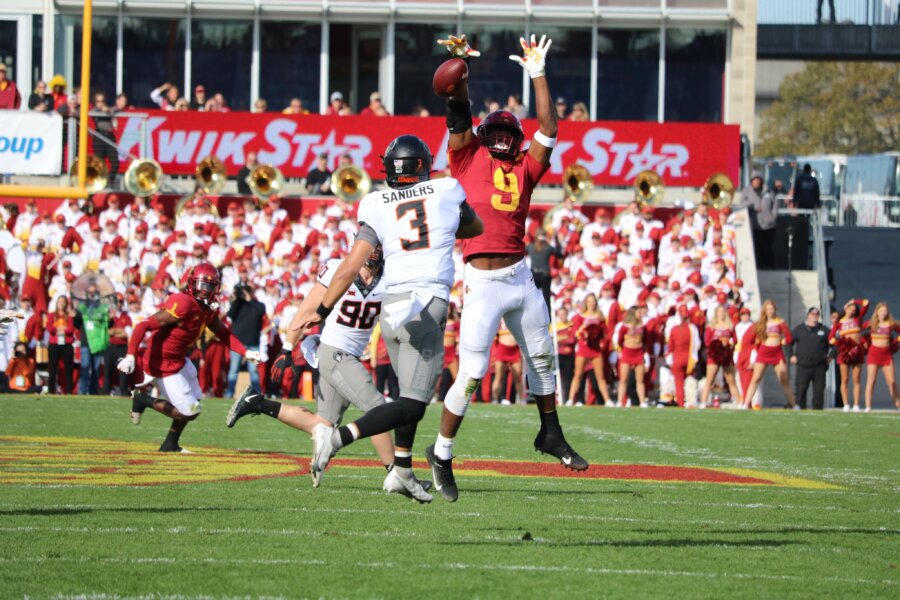 Sleepers
Given the criteria outlined above Lukas Van Ness (+1200) and Nolan Smith (+1600) are intriguing longshot bets given the spots they likely have in the starting lineup and their position as edge rushers who could make splash plays in the backfield.
However, I like Smith more as a bet given his longer odds and production on the field. He was a consistent starter for an elite Georgia defense and had 12.5 sacks and 20 tackles for a loss despite sharing the field with some exceptionally talented players. Whereas Van Ness played only two years at Iowa, registering 13 sacks and 19 tackles for a loss. 
Of the Jets and Giants rookies, Deonte Banks (+2000) seems to have better odds given that he has a clearer path to playing time as the likely starter for the Giants. He has not been a huge interception machine during his college years, but Sauce Gardner won the award last year with just two interceptions, so they're not required of Banks to win. However, he will need to show elite cover skills, which could be tough since he lacks Gardner's collegiate tape. 
Will McDonald (+2000) was incredibly productive in college with 33 sacks and 39.5 tackles for a loss in his four full seasons at Iowa State. However, he will be part of a defensive line rotation with the Jets that includes Carl Lawson, John Franklin Meyers, and Jermaine Johnson, which could make it hard for him to put up the stats that would be required to steal this award. 
For more Jets and Giants and sports betting coverage, visit amNY Sports
DRAFTKINGS SPORTSBOOK
States: OH, MA, MD, NY, KS, LA, AZ, CO, Il, IN, IA, MI, NH, NJ, PA, TN, VA, WV.
CLAIM NOW
21+ and present in participating states. Gambling problem? Call 1-800-Gambler.
BET $5, GET $200!


BONUS BETS!
CLAIM OFFER