Heading into the offseason, the Giants were focused not only on retaining Daniel Jones and Saquon Barkley on the offensive side of the ball but also on keeping the dynamic defensive tackle pairing of Dexter Lawrence and Leonard Williams together. 
As minicamp nears a close, Jones and Lawrence have been signed to multi-year extensions, and Barkley was the recipient of the franchise tag (which he has publicly not yet signed). That leaves Williams with his Giants' future up in the air. 
However, if it were up to the 28-year-old, he would like to remain in New York. 
"There hasn't been many talks about [an extension] this off-season," Williams admitted after Wednesday's practice. "I'm obviously open to staying here. I think I have a good camaraderie with my teammates… I'm also not one of those types of players that wants to bounce around from team to team. I want to be able to be here."
Williams played four seasons with the New York Jets after being drafted 6th overall in the 2015 NFL Draft. He racked up 17 sacks and 220 tackles in 71 games before being traded within the same city to the Giants. When Williams changed teams, the Giants were in the midst of a 4-12 season, so it means something to him to have been a part of the turnaround. 
"Been through the grind and the struggle of being with the Giants since I've been here, coming out on the good end, eventually getting a ring with them…Last year shows me we have everything it takes right here in the building to go even further."
His desire to remain in New York might also be impacted by his desire to continue playing alongside his teammate and friend, Dexter Lawrence.
"I would love to keep playing with Dex," Williams said on Wednesday. "Dex is like the first guy that hit me up when I got traded here. He reached out to Instagram, sent me his number, told me he was excited to have me on the team. When I finally met him, he told me he watched my tape when he was in high school. Made me feel old (smiling) Since then, we've been really close."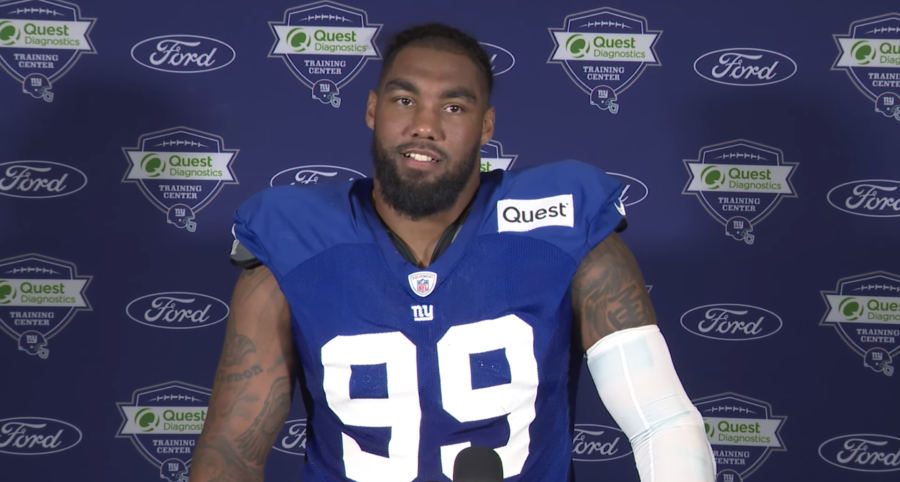 That closeness has manifested itself on the field as well. Last year, Williams was limited to just 12 games, but he and Lawrence combined for 113 combined tackles, 10 sacks, and 12 tackles for a loss as the two anchors of the Giants' interior defense. 
"We're top tier," said Lawrence earlier this week. "We've been playing together four, going on five years now. Sometimes we look at each other and know what's about to happen and know what we want to do in that play." 
That sense of telepathy was echoed by Williams. 
"Seriously there will be times in a game where, like, if I feel the center is jumping hard on me or the guard is setting deep, I can kind of look at him and we'll know to run like a pick stunt, something like that," Williams explained. "I can seriously look at him, he will nod his head, we'll know exactly what to do. I think having that type of chemistry goes a long way in the trenches."
It's a chemistry that's also built on mutual respect. When Williams came to the Giants, he was the highly-paid star, taking Lawrence out to dinner but now, with Lawrence's new deal, the roles have switched. 
"I was like a big brother to him," recounts Williams. "I was, like, taking care of the tabs, inviting him over to my house and stuff like that. Since the contract, I'm like, when are you going to invite me over?"
"It's like year nine for him," said Lawrence when discussing his relationship with Lawrence. "Wow, he's getting up there."
But even amidst the joke, it's clear to see that the two defensive tackles look up to one another. 
"He's a great leader," said Lawrence about Williams. "Guys respect him. He brings a lot of knowledge.  He's always been a great leader, and just to have him around is a breath of fresh air… I think, you know, we both stay healthy and grow through this time off and come back in the best shape of our lives and do something special." 
If the Giants give Williams a multi-year extension to restructure his contract, spread out his cap hit, and keep him in New York for two to three more years, then these two could have even more time together in order to do something special.