NEW YORK — It's a little after 8 p.m. on Tuesday night and the Islanders are down in North Carolina trying to keep their season alive. Roughly 500 miles north in the East Village, Offside NYC is packed with fans cheering on the Isles, with team owner Jon Ledecky leading the charge before the puck dropped for the second period.
In the heart of Rangers country, this may seem like an odd sight, but for Islanders fans, Offside had long been a home away from home deep in enemy territory. First, at its original location on 137 W. 14th St. and now to its new locale in the East Village at 94 Avenue A.
The original Offside NYC, known as the Offside Tavern then, closed during the pandemic, suffering a fate that many businesses in the city and around the country did at the time. It was during the final weeks of business in 2020 that the bar's impact on Islanders' culture was fully cemented.
Tied to the Islanders' run in the 2020 Stanley Cup Playoffs, the doors at Offside remained open until they were finally eliminated in Game 6 of the Eastern Conference Final.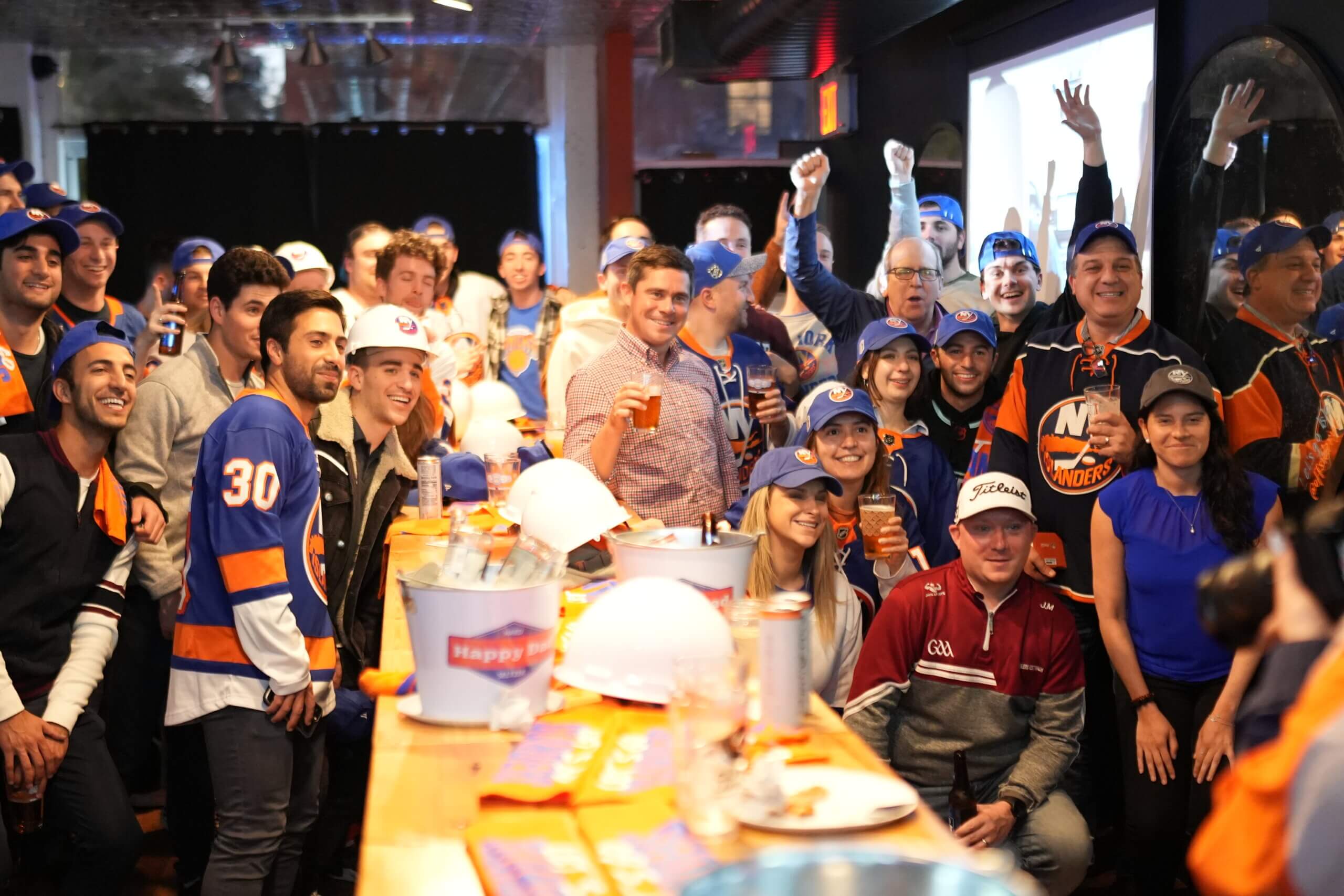 During that time fans flocked into Manhattan for one final memory at Offside Tavern and Ledecky made several appearances at the bar on game nights. When the Islanders opened UBS Arena in November of 2021, the team even included an Offside Tavern inside their brand-new building.  
Offside NYC owner Nick Costa, a Long Island transplant living in New York City, told amNewYork during an interview that he saw the desire from fans for an Isles-centric home in Manhattan. So far, he's been right. 
After opening earlier this month, following more than a year of work to get the Manhattan outpost up and running, the fans have been back this postseason.
"When we closed down there was an outpouring of support for us and everybody was sorry to see us leave," Costa said. "When the Islanders reached out with partnership on the UBS Offside Tavern we had this outpouring of support again, so when (business partner Thomas Fischetti) approached me about doing this again I knew there was a want there from the fanbase and that they would come back and support."
Many of the charms that made the original Offside Tavern feel like home have returned to Offside NYC. Islanders memorabilia adorn the walls throughout the building and a large orange and blue flag hangs right in the window near the door. 
And just like at its original location, the walls shook and the patroons roared when Pierre Engvall, Brock Nelson, and Mathew Barzal scored on Tuesday night in the Islanders' 3-2 Game 5 win. 
Costa could be seen taking the scene in at times throughout Tuesday night as he scurried around. Earlier, he had called the fact that his business had become such a staple with the Islanders fans "surreal." 
"I have entire imposter syndrome over it, but why I think it matters is cause it comes from a place of authenticity," Costa said. "I give a s–t about this team. I have since I was 10 years old. …  And our fanbase is unbelievable. I want this to be a place where you walk in to watch a game and you watch that game, but you're gonna walk out with 12 new friends. That are probably Islanders fans as well because we speak the same language." 
For more on the Islanders, visit AMNY.com