FLORHAM PARK — If you thought the first three opponents to start the season were tough, allow me to introduce you to the New York Jets' opponent for Week 4. 
The defending Super Bowl champion Kansas City Chiefs stroll into MetLife Stadium on Sunday having decisively won their last two contests. They have the best quarterback in football, the best coach, and a top-10 defense overall. And now the Jets are in their way as they try to be the first team to repeat as Super Bowl Champions since the Patriots in 2004. 
We break down the matchup between the Jets and the Chiefs here, with plenty to keep an eye on both on and off the field. 
New York Jets vs. Kansas City Chiefs
Where: MetLife Stadium
When: Sunday, October 1st, 2023
Kickoff Time: 8:20 pm – ET
How to watch: NBC 
Line: Chiefs -9.5
Keys to the Game
Zach Wilson vs. Angry Metlife Stadium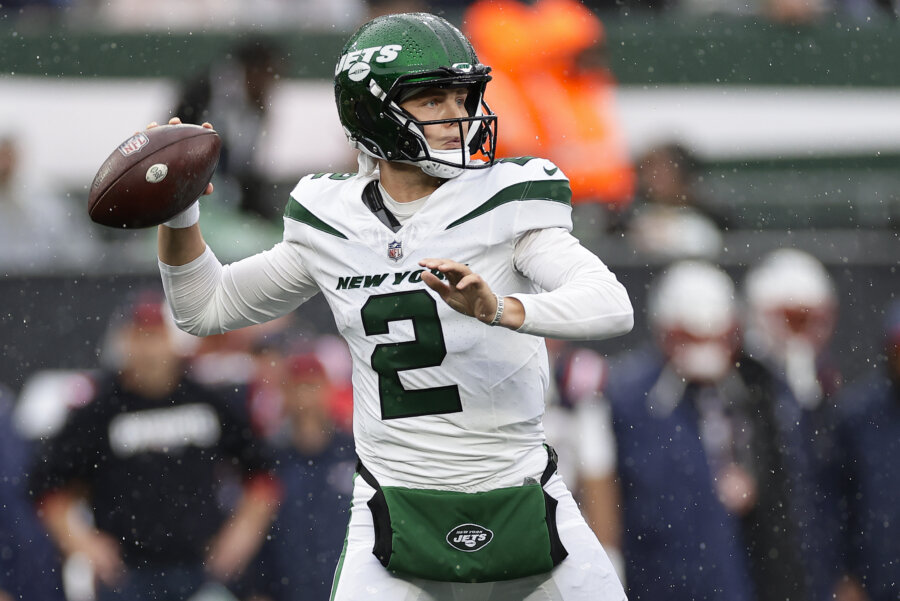 Patience has run out for Zach Wilson from the Jets fanbase. That much is obvious over the last week. After being a chief reason for the team's 15th straight loss to the New England Patriots, Wilson has run out of room to play poorly as a starting quarterback. 
The vitriol the fanbase wants to show for the team's current starting quarterback is high. It wouldn't surprise anyone if boos rain down on the offense if they don't put up points in the first drive of the game. 
Staying professional in that instance, when everyone around is expecting you to fail will be a major key in this contest. If Wilson can move past the negative thoughts and play somewhat well, then the Jets will have something to build on for the rest of the year. If he crumbles under that pressure, New York's downward spiral will only get worse. 
Travis Kelce vs. Jeff Ulbrich
From a gameplan standpoint, the most intriguing matchup on the field will be when the Jets are on defense. How to defend Travis Kelce is a question that few teams have been able to answer. Luckily for New York, there are plenty of bodies they can throw at him. 
Whether it's Quincy Williams, Jordan Whitehead, or even Sauce Gardner, the Jets have plenty of potential solutions to the Kelce problem. Whether they can do so in a game is another story though. It'll be up to defensive coordinator Jeff Ulbrich to figure out a plan for the future Hall-of-Famer. 
Stop Kelce, and you stop a big part of the Chiefs offense. 
Pray for a Kansas City dud
It's happened before. Just last season, the Chiefs that went on to win the Super Bowl lost a weird road game to the Indianapolis Colts in a dome. It was a confusing game as well as the outcome. The Colts ended up going nowhere while the Chiefs used that loss to propel them to greater heights. 
New York will need some of that Colts' magic from last year. The Jets are two-score underdogs Sunday night, have an offense that hasn't recorded over 200 yards in a game yet, and are stuck in a mental fog that few teams can escape from. 
As with any Sunday though, weird things can happen. A bad bounce here, a lucky break there, and the Jets could pull off a major upset. The only way that seems to be realistic though is if Kansas City doesn't come into Sunday's focus as much as they should be. 
Other than that, this could get ugly. 
X-Factor: Robert Saleh
It's only Week 4, but fans across the country are calling for a change in leadership for the Jets. However right they feel, it's pretty clear that New York's coaching staff is safe. The longer the offensive struggles persist, the louder the outcries will be. 
Saleh is a good coach, despite what many may believe. He hasn't lost the locker room as of now, and the team plays hard for him. Sunday will be a big test to that though. Kansas City is considered by many to be the favorite to repeat as Super Bowl champions this year and for good reason. They have a dominant defense that is outshined by their top-flight offense. It will take a miracle for the Jets to even be in this game with their offensive struggles.
That being said, the Jets need to keep this game close. If they are blown out in any way Sunday night, concern surrounding Saleh's effectiveness will only increase. Pressure will only mount on the front office to make quick decisions that may not be in the best interest of the long-term future of the organization. 
Saleh will need to show his coaching prowess on Sunday night or else calls for his job outside, and maybe inside the locker room, will only grow. 
For more New York Jets news, turn to AMNY.com