It's do-or-die time for the New York Jets in their young season. At 1-3, Gang Green is not totally out of the playoff picture just yet, but the rough start to their season means that games against hapless teams like the Denver Broncos have become "must-wins."
There's even more intrigue to Sunday's matchup in Denver thanks to comments made before the season even began. Taking over a team that has been inept since winning Super Bowl 50, Sean Payton went after the Jets' offensive coordinator Nathaniel Hackett for his job with the Broncos last season. There was no reason for Payton to go after his coaching brethren, but after a 1-3 start on their own, it's clear that he may have wanted to lower expectations before the year began. 
By doing so, the Jets' offense is going to be heavily motivated when they face off with Payton's squad this week. Aaron Rodgers may still be out, but the recent positive trends from the offense can lead several to believe that they could turn a corner against a mediocre defense. 
As always on Wednesday, we have everything you need to know about Sunday's matchup for Gang Green here. 
New York Jets vs. Denver Broncos
Where: Empower Field at Mile High
When: Sunday, October 8th, 2023
Kickoff Time: 4:25 pm – ET
How to watch: CBS
Line: Chiefs -2.0
Keys to the Game
"Let it Rip"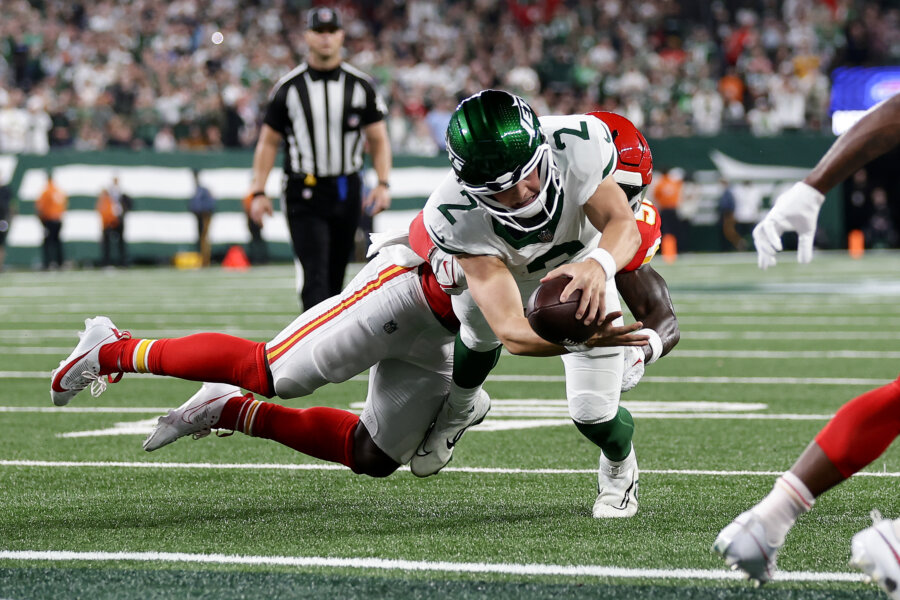 It's the slogan that Gang Green is running with on offense. After Zach Wilson outplayed Patrick Mahomes on the national stage, everyone is wondering if the game was simply a fluke, or if the quarterback has turned a corner in his game. 
For New York to win on Sunday, they have to be able to win through the air. Denver's defense is among the worst in football. They can't stop the run and have been completely thwarted in the passing game. The Jets need to be able to have plenty of success on the road and certainly can. 
If the Jets let Wilson rip the ball downfield like they did last week, not only will they win on Sunday, but they should be able to turn around their season rather quickly.
Dominate the trenches
There hasn't been a more embarrassing defense through the first four weeks than the Denver Broncos. In a two-week window, Vance Joseph's squad gave up 70 points to the Miami Dolphins and then was torched by Justin Fields and the Bears. Miami may have been forgivable based on how good they are, but Chicago was seen as the worst team in football. 
There are plays to be had, especially in the trenches. Denvers' offensive and defensive lines aren't very good while New York's has improved greatly over the last couple of weeks. If Gang Green takes over the way they should inside, then this could very well be a blowout for New York. 
Stay True to the Gameplan
As tough as their 23-20 loss to the Chiefs was on Sunday, there were plenty of major positives on the offensive and defensive sides of the ball. The only way they can't build off their performance last week is if they try to go away from their game plan to show the team is different than what everyone expects. 
Sometimes the best way to move the ball downfield is to keep things simple. Simple worked against a top defense in the Chiefs. If the Jets keep it simply against a far worse defense in Denver, then it's pretty easy to see how successful they can be on Sunday. 
X-Factor: Nathaniel Hackett
Can the Jets offense pick up where several teams have left off against the Broncos' woeful defense? While most eyes will point to see if Wilson can build off of last week's successful showing, the true test for the offense will be on the shoulders of their play-caller. 
Hackett wasn't the only problem in Denver, but he was certainly a key issue. With all the comments made by Denver players and coaches, the Jets OC should have plenty of reason to push the ball downfield and show what the Broncos are missing. 
That being said, it's important for Hackett to not get lost in the emotion of a game like Sunday's. The minute the Jets try and show they are better based on what they want to do, instead of taking what the defense gives them, that's the moment the Broncos have a chance to win. New York needs to be careful to stay true to themselves. If Wilson plays like he did against Kansas City, the Jets should win on Sunday comfortability.
For more New York Jets news, turn to AMNY.com