The NBA Draft Combine took place last week and while the event usually operates as a mini rumor mill that turns out gems like DeMar DeRozan and Bradley Beal being options for the Knicks, it also offers plenty of basketball takeaways as well. 
The combine starts with the NBA Draft Lottery and then has on-court scrimmages, prospect interviews, and agent workouts. While the scrimmages are always a highlight, 37 players opted not to play this year, which meant that only one projected first-rounder competed.
Still, plenty of players improved their stock ahead of the June 22nd NBA Draft and a few should be on the New York Knicks' radar as well, even if they don't currently have a pick. 
Players Who Helped Their Draft Stock
Olivier Maxence Prosper – F, Marquette
Across the board, Maxence Prospect was referred to as one of the biggest winners from the NBA Draft Combine. He scored a game-high 21 points in the first day's scrimmage and then opted not to play on the second day, which will force teams to go back and look at his tape since he flashed major athleticism on the court.
He was also a winner outside of the game, measuring 6'6″ and 3/4 in socks with a 7'1″ wingspan, and then posted a 35-inch standing vertical, which was the second-best at the Combine. Per Nick Kalinowski, Prosper had the third-best "combine score" and finished in the 94th percentile or better among all participants since 2000 in max vertical, standing vertical, and lane agility. 
He could be a first-round lock now. 
Jordan Miller – G, Miami
Miller improved his NBA Draft stock during the NCAA tournament when helped Miami reach the Final Four, but he also looked good in the two scrimmages, finishing with 28 points and 15 rebounds in 39 minutes. He'll be 23 years old on the night of the NBA Draft, which will likely make him fall to the second round, but he's a 6.4″ wing (in socks) with a 7'0″ wingspan who has shown the ability to defend and hit the boards. 
Amari Bailey – G, UCLA
Bailey showed out as a fast-paced playmaker who could really thrive in an offense that likes to run up-tempo. He also showed that during the NCAA Tournament where, according to CBB Analytics, he was one of the leaders in points scored on the fastbreak.
During the scrimmages, he showcased that as well, dishing out 14 assists in two games and showing a great feel for the court. At 6'3″ (in socks) he needed to prove that he could be a pure point guard, and this week went a long way toward convincing teams that he could run an offense. While questions remain about his shooting, his clear skills as a passer and playmaker make him a likely first-round pick.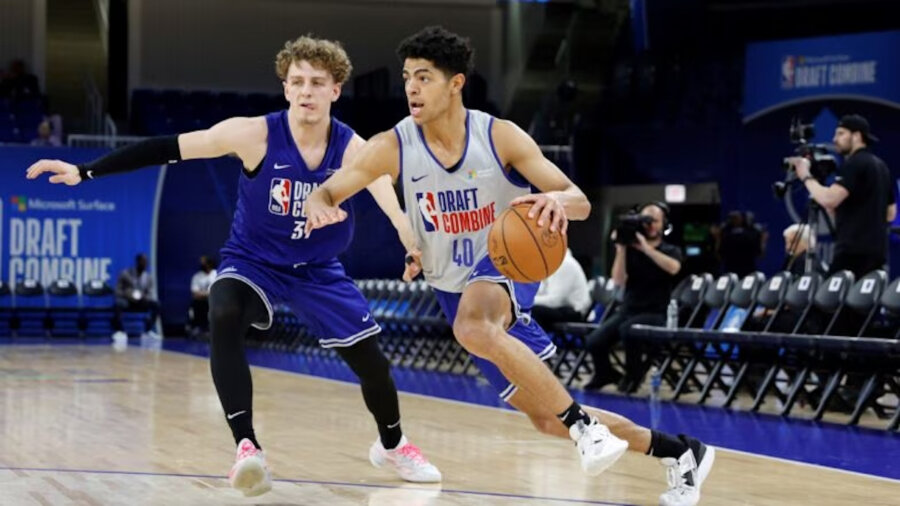 Players Knicks Could Target
While the Knicks currently have no picks in the NBA Draft, we covered four ways that they could trade or buy) their way into a least one pick. If they did that, who might they target based on what we saw this week?
Brandin Podziemski – G, Santa Clara
Podziemski is already projected to be a first-round pick, so the Knicks would likely have to jump into the NBA Draft around pick 20 in order to have a shot at him. However, after this week he may have proven that he's absolutely worth it.
During the first day of scrimmages, he flirted with a triple-double, scoring 10 points with seven rebounds, eight assists, and two steals. That's the type of across-the-board production that he brought at Santa Clara, where, perhaps most importantly for the Knicks, also established himself as a knockdown 3-point shooter, hitting 43% on 5.8 attempts per game. During the scrimmages, he also showed that he can create his own shot and help bring up the ball, and his 39-inch max vertical leap was eighth-best among all participants, which shows his athleticism. 
Ben Sheppard – G, Belmont
The second game was a highlight for Sheppard, who had 25 points, four rebounds, three assists, and two steals. However, he had a strong week overall, showcasing that he has the athleticism to compete at the next level. He was a disruptive defender in games and showed off the shooting touch that led to him hitting 41% from beyond the arc on six attempts a game this season. 
Those two traits would be huge assets for the Knicks, but Sheppard also showed that he could be more than just a 3-and-D prospect in this year's NBA Draft. 
According to Stadium Speak, Sheppard was 84th percentile or better among all participants since 2000 for shuttle run, lane agility (10.88 seconds), and three-quarter sprint (3.17 seconds), which means he's a pretty agile wing prospect. He also showcased solid playmaking ability as a secondary facilitator and pick-and-roll ballhandler role, with skill executing dribble handoffs and scoring points off-ball screens. That is something the Knicks need far more of, and Sheppard could be had for a (likely) early second-round pick. 
Seth Lundy – G/F,  Penn State
Lundy is another knockdown shooter who hit 40% from beyond the arc this year on 6.4 attempts per game and then made eight of his 11 attempts in the two scrimmages. He also is another competitive defender and impressed before by recording a 6'10" wingspan despite being only 6'4″ in socks. That means Lundy should be able to hang with NBA wings, which was also proven when he ran the 5th-fastest three-quarter sprint among all participants in the 2023 NBA Draft Combine and finished in the 80th percentile in the standing vertical.
Right now, Lundy is a mid-to-late second-round pick, which could be an easy pick for the Knicks to buy.
Tristan Vukcevic – C, Serbia
The Knicks don't need a center right now, but Vukcevic is just 20 years old and will likely be a draft-and-stash prospect, which could intrigue the Knicks since Isaiah Hartenstein is in the last year of his contract next year. Vukcevic could then come over as a 21-year-old in 2024 and be the main backup center in New York. 
He would be a great option for that since he showcased tremendous shooting this week for a seven-footer. He hit 40% of his 3-point shots on 45 attempts this past season in the Adriatic League and was a perfect 3-for-3 in the first scrimmage while netting 21 points on 8-of-10 shooting from the field. He then sat out the second scrimmage. 
Still, in that first game, he showed the ability to hit shots off the dribble and also knocked down a few pick-and-pop threes and a pull-up jumper, which hints at his scoring versatility. His defense remains a question mark, but he's young and you rarely find that kind of shooting in a 7'0″ body with a 7'2″ wingspan. 
For more NBA coverage like this NBA Combine article, visit amNY Sports