A big reason for the New York Giants' success in 2022 was the unrelenting pressure that their defense caused in 2022. 
With new additions to the defense and further development from their young core, the Giants should feel confident going into the second season of the Wink Martindale defensive era. With a tougher schedule to face, New York may not be as successful in keeping opponents off the scoreboard as they did last season.
Today, we look at how the Giants will look on defense and if they can reach new heights in 2023. 
MORE: Giants' Offensive Season Preview
Projected Starters:
LDE: A'Shawn Robinson
NT: Dexter Lawrence II
RDE: Leonard Williams
WLB: Kayvon Thibodeaux
LILB: Bobby Okereke
RILB: Isaiah Simmons
SLB: Azeez Ojulari 
LCB: Adoree' Jackson
SS: Jason Pinnock
FS: Xavier McKinney
RCB: Deonte Banks
Will Kayvon Thibodeaux build off his rookie season? 
As rookie seasons go, Thibodeaux's was extremely quiet for a player who was a top-five pick in last year's draft. Yes, he dealt with his fair share of injuries, but Big Blue needs their young pass rusher to be the dynamic player he was in Oregon. 
If Thibodeaux can double or triple his sack total, that would change New York's defensive strategy and make things harder for opposing offenses. The Giants love throwing pass rushers in waves but having a consistent player that can get pressure on every down will be important in the NFC East. 
Thibodeaux could be that player. 
What are the expectations for Deonte Banks and other rookie corners?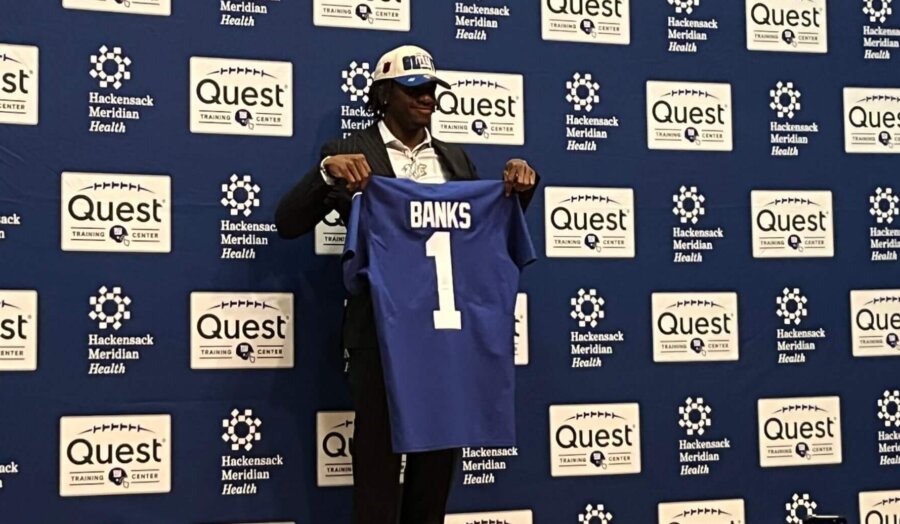 Banks and fellow-rookie Tre Hawkins III are being strongly considered for both starting outside corner spots with Adoree Jackson moving to the slot. Should that happen, the Giants will be inexperienced going into a new season in the secondary. 
That's not necessarily bad, but should limit expectations for the defense to start the year. 
Large corners like Banks usually have a hard time adjusting in their first season to the NFL's bigger and speedier receivers. The first-round pick might struggle early. The important part of all this is his improvement. If the two rookies get burned early in the year but show improvements from week to week, the Giants should feel very pleased for their defensive future. 
Can the Giants find the right role for Isaiah Simmons?
New York made an incredible move by acquiring Isaiah Simmons from the Arizona Cardinals just a week ago. Simmons has struggled throughout his NFL career because the team that drafted him had no idea how to use him. In Wink Martindale's system, that should change. 
With Martindale's "position-less" scheme, Simmons can play everywhere on the field. He could be a pass-rushing dynamo, coverage savant, or a plan inside linebacker who makes plays all over.
As much of a dream as it seems for the Giants, there is no guarantee that Simmons will work out. How New York employs him on the field will be fascinating against Dallas on Sunday night. 
X-Factor
Bobby Okereke
This Martindale scheme only works if there is a sideline-to-sideline linebacker who can command control of the entire defensive unit. Last year, that was a big problem for the team. In the offseason, general manager Joe Schoen moved to end that weakness. Okereke is an excellent middle linebacker who is very good in coverage. He'll shorten the edge Philadelphia and Dallas have had over the middle of the field in a big way. 
He's an every-down backer who will be an important reason why this defense either sinks or swims against a tougher schedule in 2023. 
Prediction
10-7 with WC Loss to Seattle 
Kayvon Thibodeaux: 12 sacks, Pro Bowl nomination
Xavier McKinney, Bobby Okereke: First-Team All-Pro nominations
Deonte Banks: four interceptions, most yards allowed by a corner
For more New York Giants news, turn to AMNY.com