As the New York Yankees offense struggles without star outfielder Aaron Judge, down in their minor league system, Spencer Jones, the Yankees prospect most often compared to Judge is experiencing the growing pains of his first full professional season. 
Jones, the 25th overall pick out of Vanderbilt University in the 2022 MLB Draft, earns the comparisons the Judge most obviously due to his 6'7″ and 225-pound frame. However, he also packs the same intriguing raw power and impressive athleticism for his size. 
According to Chris Clegg of Dynasty Digest, "Jones underwent athletic testing with Loden Sports before the 2022 draft and was classified as a nine on their 1-10 scale, a composite score comprised of Power, Quickness, and Speed measurements. His score put him in the top 0.82% of all athletes. Even more impressive: he classified as a 9 in both Power and Speed, something only 0.22% of athletes accomplish."
With impressive size and athleticism comes moments of tantalizing performance from the 22-year-old. 
After coming to Vanderbilt as a two-way player, Jones was forced to undergo Tommy John surgery in 2020 and missed a significant amount of time. It wasn't until 2022 that he forced himself into an everyday role as just a hitter, but that year he slashed .370/.460/.644 with a 1.104 OPS. According to Clegg, that "included hitting 22 balls in play over 110 mph and smoking 45% of his batted balls over 100 mph." 
That was enough for the Yankees to take him in the first round and bet on his immense upside. 
Through his first 25 professional games last year, in Rookie ball and A-ball, that gamble looked like it paid off. Jones hit .344/.425/.538 with four home runs, 12 RBI, 21 runs, and 12 steals in his first taste of professional baseball and looked to be off to the races. 
This year has been a little harder.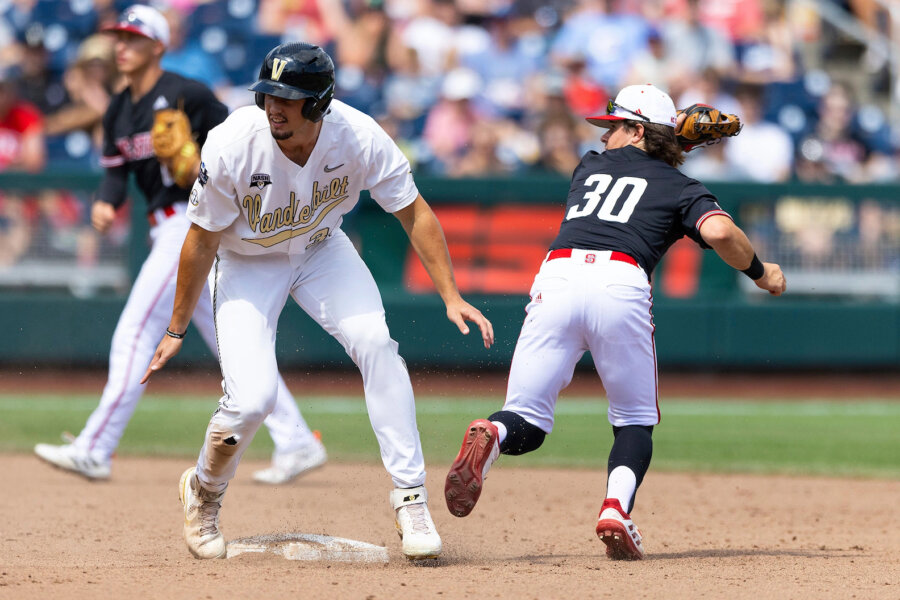 Jones started the 2023 season on fire, crushing High-A pitching in his first full season with the Yankees, hitting .286 with five home runs, 13 runs scored, 16 RBI, and a .940 OPS over his first 18 games with Hudson Valley in April.
But then the struggles came. 
In May, Jones had a solid .253 average and .739 OPS, but hit just two homers and struck out 33 times in 21 May games. He also had a 12-game stretch where he hit .173 (9-for-52). While the batting average rebounded slightly in June to .268, Jones has just three home runs and has struck out 28 times to just 11 walks. On the season, Jones has 91 strikeouts in 60 games. 
That's a 33.6% strikeout rate for the 22-year-old across 250 plate appearances, and that's where the concerns stem from.
Speaking to NJ Advance Media on June 2nd, Hudson Valley hitting coach Kevin Martir mentioned that Jones has been working a lot on his load, trying to make it smoother and more efficient. As you can imagine, trying to corral his long limbs can often be a challenge for the 6'7″ Jones who, similar to Judge, likes the ball middle-away so he can get his arms extended more easily. 
"He's a guy who hits the ball really hard, but we're just trying to get him to hit the ball in the air a little bit more," Martir said. "Being able to do that and counter-rotate sets up his posture behind the ball in order to get some more loft on the baseball. Everything else — like his bat-to-ball skills — he really already has."
However, it would be fair to question whether the bat-to-ball skills are a bit of an issue for a hitter with a larger strike zone and long levers that make it difficult to turn on pitches in on his hands. The strikeout rate is a real issue for Jones and one the Yankees are surely monitoring. It's incredibly hard for a hitter to be successful when they strike out over 30% of the time.
In fact, among the 217 hitters with over 200 plate appearances in the majors this year, only 21 have struck out over 30% of the time. Of those 21, Brandon Marsh and Teoscar Hernandez are the only two hitting over .250; however, eight of those players carry ISOs over .200, so if Jones is going to continue to run high strikeout rates, he's going to need to compensate by hitting for prodigious power.  
The Yankees seem confident that he can get there, and there are flashes where it's easy to see the organization's optimism. Perhaps Jones can put that tantalizing talent on display at The Futures Game, a seven-inning showcase of the top talent in the minor leagues, where he and pitcher Clayton Beeter were the two Yankees prospects selected.
The game will take place next Saturday, July 8, at 7 p.m. ET from Seattle's T-Mobile Park. The game will stream live on Peacock with a replay airing on Sunday, July 9 at 9 a.m. on MLB Network.