The MTA has received over 100 formal requests for exemptions from congestion pricing, and enacting all of them would carve out virtually everyone from the impending toll to enter Manhattan's central business district.
That's hardly an exaggeration. Some of the categories submitted for consideration are exceptionally broad, including residents of New York State, auto commuters from New Jersey, Manhattan residents making less than $147,500 in income, parents, and even "passenger cars."
Others are hyperspecific and tailored, like Long Island residents battling cancer or 9/11-related illnesses, residents of the Waterside Plaza complex east of the FDR Drive in Midtown, and vehicles "whose manufacturers participate in the 'circular economy.'"
Still others looking to get out of the toll include artists, musicians, farmers, judges, diplomats, retired cops, veterans, undertakers, senior citizens, persons of color, members of the International Union of Operating Engineers, small business owners, CUNY students, people who park their cars in garages, doctors, nurses, pharmacists, people attending religious services, and residents of most places in the tri-state area.
The list, which was previously reported by Streetsblog in May, was publicized Wednesday at the inaugural meeting of the Traffic Mobility Review Board, the internal MTA body tasked with devising toll rates, rules, and exemptions for New York's congestion pricing program, which will levy a toll on motorists entering Manhattan south of 60th Street.
The program, approved by New York lawmakers in 2019, aims to incentivize riding mass transit into Manhattan instead of driving, in a bid to reduce punishing traffic in the central business district, drop carbon emissions and improve air quality, and raise money to improve the MTA's infrastructure.
The plan has received full federal approval and is set to go into effect by the middle of next year. But before that happens, the complex array of rules governing the program must be codified by the six-member TMRB amid wide-scale lobbying for exemptions by interested parties, as well as looming litigation from New Jersey.
About 100 people packed the boardroom at the MTA's lower Manhattan headquarters for the TMRB meeting, with many more locked out due to capacity constraints. The largest contingent present was yellow cab and for-hire vehicle drivers, who are seeking a full exemption to prevent what they say will be a third congestion tax on the financially-strained, mostly-immigrant workforce.
Yellow cab drivers have paid a 50-cent surcharge since 2009, and a separate $2.50 charge since 2019, on trips below 96th Street in Manhattan, while FHVs have paid a $2.75 surcharge for the same since 2019.
As a condition of securing federal approval, the MTA promised that the final program would only charge taxis and FHVs once per day for crossing into Manhattan. But Lyft has said that because many of its drivers also work for Uber, it has no way of knowing if a given driver had already passed into Manhattan for its main rival.
Lyft, whose stock has tumbled in recent years, says for that reason, drivers would have to foot the bill instead of the company, though the TMRB could land on fee structures that ultimately foot the bill with rideshare companies.
Taxis and for-hire vehicles accounted for 53% of vehicles in the CBD in 2018, TMRB special advisor Juliette Michaelson said Wednesday during a presentation at the board. Personal cars and motorcycles made up 35%, commercial vans and trucks made up 9%, and buses were 4%.
The overwhelming majority of commuters into Manhattan's CBD, about 89%, take mass transit, while only 11% drive, said Michaelson. The MTA expects to generate $1 billion in toll revenue annually from the program, which would be borrowed against to raise $15 billion for needed mass transit improvement projects for millions of riders, like making the subway system accessible for people with disabilities, replacing nearly century-old train signals, and completing major infrastructure projects like the Second Avenue Subway.
Tolls are set to range anywhere from $9-23 for cars, motorcycles, and commercial vans; $12-65 for small trucks; and $12-82 for large trucks.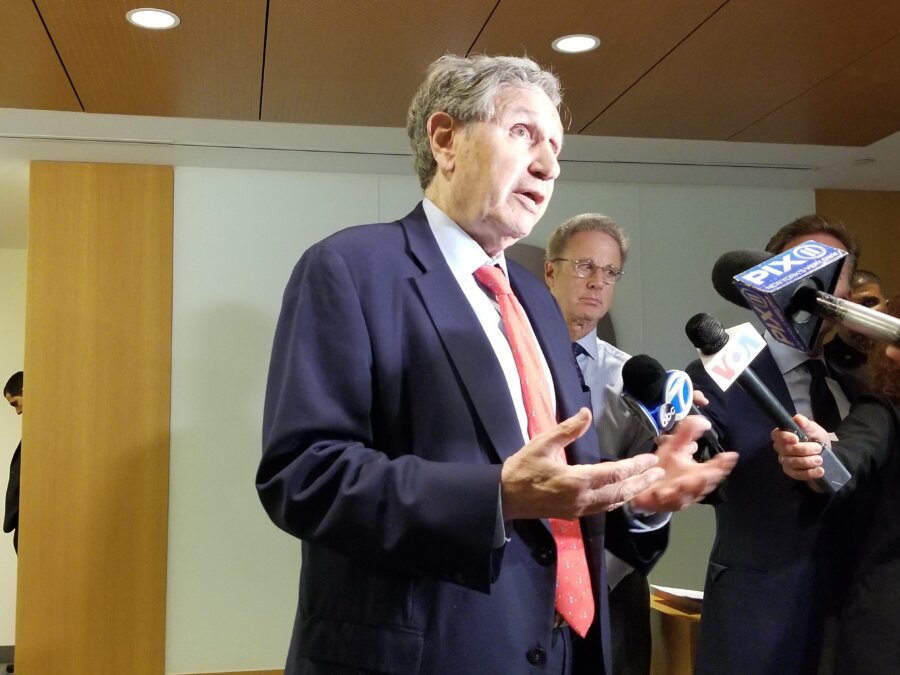 Other conditions of federal approval included discounting overnight tolls to incentivize off-hour freight deliveries, and discounts to "low-income frequent drivers" living in areas poorly served by mass transit, including areas of the city.
The vast majority of low-income residents take transit, and the estimated number of people who would qualify for the discount is exceptionally small, estimated at just 16,100 drivers in a metropolitan area of 20 million people.
Nonetheless, the two labor leaders sitting on the TMRB — John Samuelsen of the Transport Workers Union and John Durso of the Long Island AFL-CIO — said the MTA is not taking into account the needs of blue-collar New Yorkers who do shift work at odd hours and may not be well served by transit.
"I'm curious about whether there's any kind of cross-referencing that has been done or can be done between low-income New Yorkers and where they're coming from, and if they're coming from anything that can be described as a transit desert," said Samuelsen, who also serves on the MTA Board. "Because if they are, there's no way to change driver behavior, especially for low-income New Yorkers, if they're coming from a place where there's actually no transit capacity to get them into the city."
Samuelsen's remarks drew applause from the plan's opponents packing the boardroom. But the chair of the TMRB, Carl Weisbrod — a former MTA Board member and longtime fixture of New York civic circles — was far less keen on entertaining exemptions, and noted that some would probably be entertained more seriously than others.
"Every time we give an exemption, it means that we're raising the base fare for everybody else," Weisbrod told reporters after the meeting. "So the first question is, is to what extent do we want to do that, where clearly one of the goals, and I think I speak for all of my colleagues, [is] that we would like to keep the base fare as low as we possibly can."