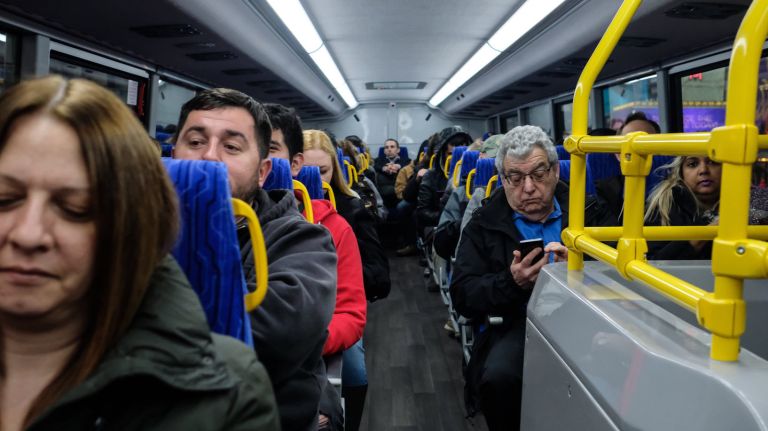 The MTA's new double-decker express bus reached capacity before even leaving Manhattan.
A handful of commuters waiting at the last stop in Manhattan on Monday were turned down from catching a ride on the new bus running on the X17J route because there were no empty seats. The operator assured there was an empty bus close by.
"There are standees a lot of the time — it can get very, very crowded. You pray that when your bus comes there will be a seat," said Judy Barnes, 48, who works in commercial real estate and takes the X17J in from Bulls Head.
"Maybe try the third floor," a rider on the second deck quipped.
It was the double-decker's first evening rush hour run from midtown Manhattan to Staten Island. The MTA rolled out the bus this week as a pilot aimed at expanding capacity and comfort for riders who pay a $6.50 fare each way. It's also working on offering real-time seating information.
Despite the packed seats, riders mostly raved about the new wheels, snapping pictures on their phones as the bus pulled up to their stop. One commuter flipped his sunglasses up onto his forehead and squinted, as if he couldn't believe what he had seen.
Eddie Rodriguez, 36, went to the second deck and immediately FaceTimed his wife. He appreciated the shelf that folded down from the seat backs to hold riders' phones.
"This is awesome. I can watch my animé," said Rodriguez, a network engineer. "I thought this was a tour bus."
The seats were described as comfortable and spacious enough. Not as accommodating is the 5-foot-7-inch ceiling on the second deck, which forced taller riders to hunch over as they headed down the aisle.
Some riders, like Brian Aybinder, 18, had made it a priority to catch the double-decker.
"It's going to be so much better," he said. "During rush hour, by the third stop in Manhattan you have people standing," said Aybinder, an undergraduate at Hunter College who commutes from Woodrow.
Others were a little less amused by the spectacle, like Linda Blas, 52, a travel consultant who worked through a small group of photographers and gawkers to board at her stop.
"Ok, this is not a parade. We want to get home," she told the group as she waited to board. "This is a go-home bus."
A second MTA worker was on board, handing out pamphlets on the new bus, a small part of the authority's bus action plan to improve service. The double-decker cannot be widely used on Staten Island. Its height of 12 feet and 10 inches means it can only serve express routes coming in from New Jersey, because the Lincoln Tunnel's 13-foot clearance can narrowly accommodate it. (Riders on the second deck applauded as the bus re-emerged from the tunnel in New Jersey.)
Commuters were asked to leave feedback on the MTA's website. After the typically long ride through two states, one rider offered her take as she exited: "too much traffic."