Ahead of Earth Day, the MTA announced a plan Thursday to reduce 85% of its carbon emissions by 2040, a full decade before the State of New York is required by statute to do the same.
On April 20, MTA Chair Janno Lieber joined transit brass, elected officials, and advocates announced that the agency is intent on "going greener," not by smoking doobies but by reducing its carbon footprint, just in time for Earth Day this Saturday, April 22.
"The MTA is the antidote to climate change," Lieber said at Bowling Green on Thursday, noting that New York's mass transit system already prevents up to 20 million metric tons of carbon being emitted every year by keeping people out of private cars. "If New York City residents drove as much as the average American, we would have to accommodate another 4.5 million cars and a parking lot the size of the entire island of Manhattan."
The city's transit system, far more comprehensive than any other American city, is a crucial component keeping New Yorkers' carbon footprint comparatively low.
The plan, first reported by Bloomberg and detailed by MTA construction chief Jamie Torres-Springer, would reduce the transit agency's emissions 85% below 2015 levels within seventeen years. The MTA emits about 2 million metric tons of carbon per year, Torres-Springer said, but prevents about 22 million metric tons that would otherwise be emitted if transit riders drove instead.
The framework is preceding what the agency promises to be a "full climate plan" in the fall.
A third of the target would be met by an existing plan to electrify the MTA's 5,800-strong city bus fleet, said Torres-Springer. The MTA currently has 15 all-electric buses; an order for 60 more was supposed to arrive by the end of 2022 but has been delayed, while the agency plans to award contracts for another 470 buses and is currently building an all-electric depot in Jamaica.
In its 2022 Bus Transition Plan, the MTA promised to purchase and deploy 560 battery-electric buses by 2025, with later purchases potentially including buses powered by hydrogen fuel cells.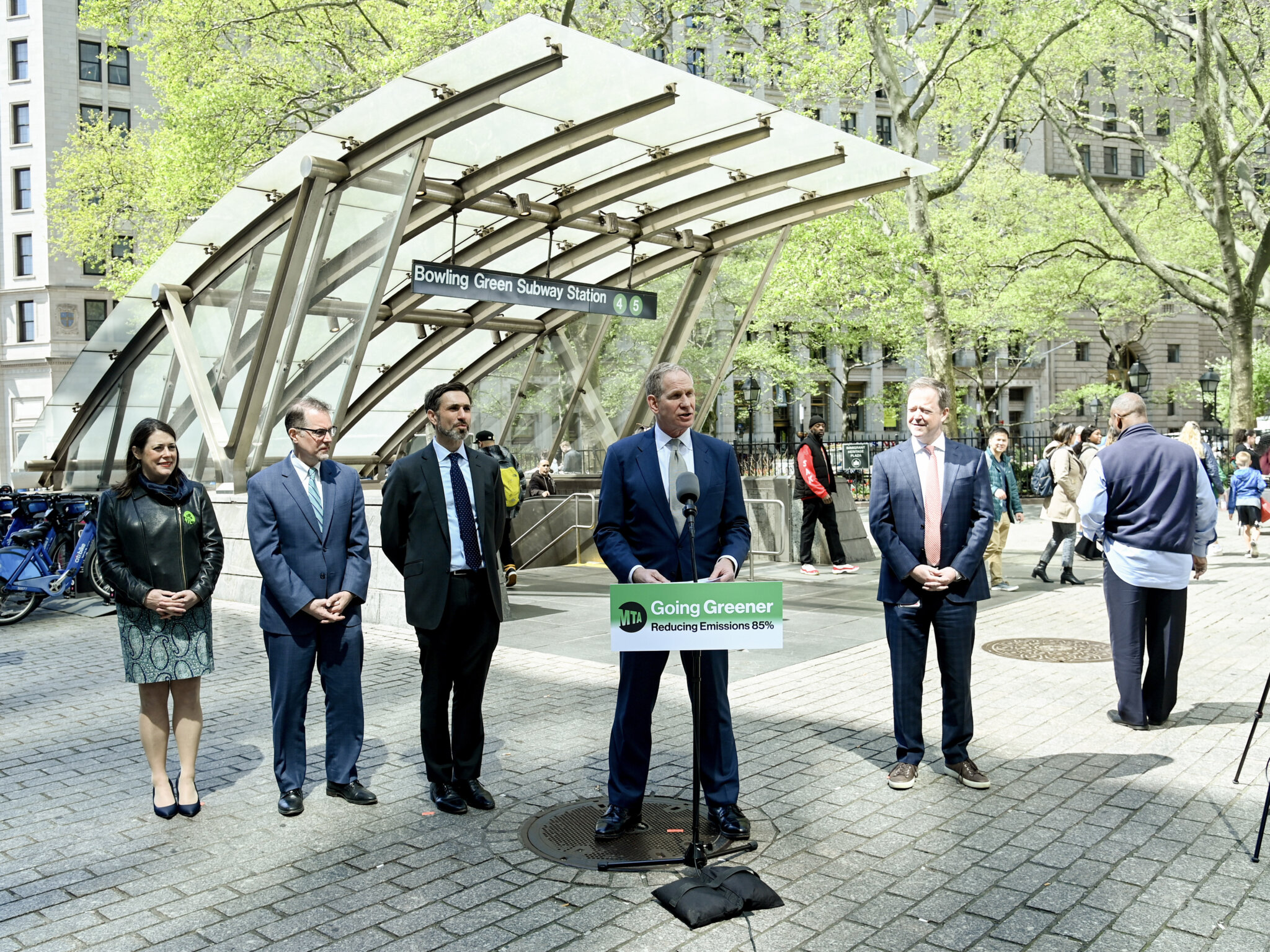 On its commuter rails, the MTA is not at the point of phasing out emissions-spewing diesel trains, which run in far-flung locales where tracks aren't electrified. But both the Long Island Rail Road and Metro-North will buy more "dual mode" trains that run on diesel where necessary, and on electric power where it's available. The agency is also phasing out diesel power on its subway work trains, which are used to transport workers, materials, and waste and are not in revenue service, and replacing them with hybrids.
On the subways, the MTA is piloting "cutting-edge regenerative braking" technology, which stores electric energy generated from hitting the brakes to be reused later for propulsion. Traditional "traction power" for electrified railroads currently makes up 2/3 of the MTA's energy consumption, said Torres-Springer.
The framework also calls for energy efficiency upgrades for the transit authority's 16 million square feet of facility space. That plank will include the installation of solar panels and other clean energy infrastructure, and replacing old boilers and HVAC units with modern, greener technology.
Whether the MTA can accomplish its lofty climate goals, especially a decade before the state writ large, may depend on financial stability that is anything but certain. One of the key planks of debate in the now-three-weeks-late state budget is MTA funding, as the agency faces down a $600 million deficit this year amid sluggish post-pandemic ridership recovery.
Governor Kathy Hochul and the Legislature have proposed substantially differing plans on how to achieve financial stability for the authority.
Much of the plan relies on capital money, which is budgeted separately for long-term infrastructure projects. But a key component of the MTA's capital plan relies on $15 billion of revenue from congestion pricing, which would charge motorists entering Manhattan's central business district and direct money to mass transit. Four years after being approved by Albany, the program is still mired in bureaucratic red tape and needs a final thumbs-up from the federal government.