With Lower Manhattan seemingly in constant flux, Third Street Music School Settlement has managed to be a fixture going back to the late 19th century and continues to grow its programming and music education outreach.
The Music School was founded in 1894 by Emilie Wagner in the basement of a church on Rivington Street, offering people a quick bath and ten-minute music lessons.
It would move to Third Street in 1901, and move to other locations before settling into its current building, a former nurses' hospital at 235 East 11 St. in 1972. The school is celebrating its 125th anniversary this year, including with a big gala on May 6.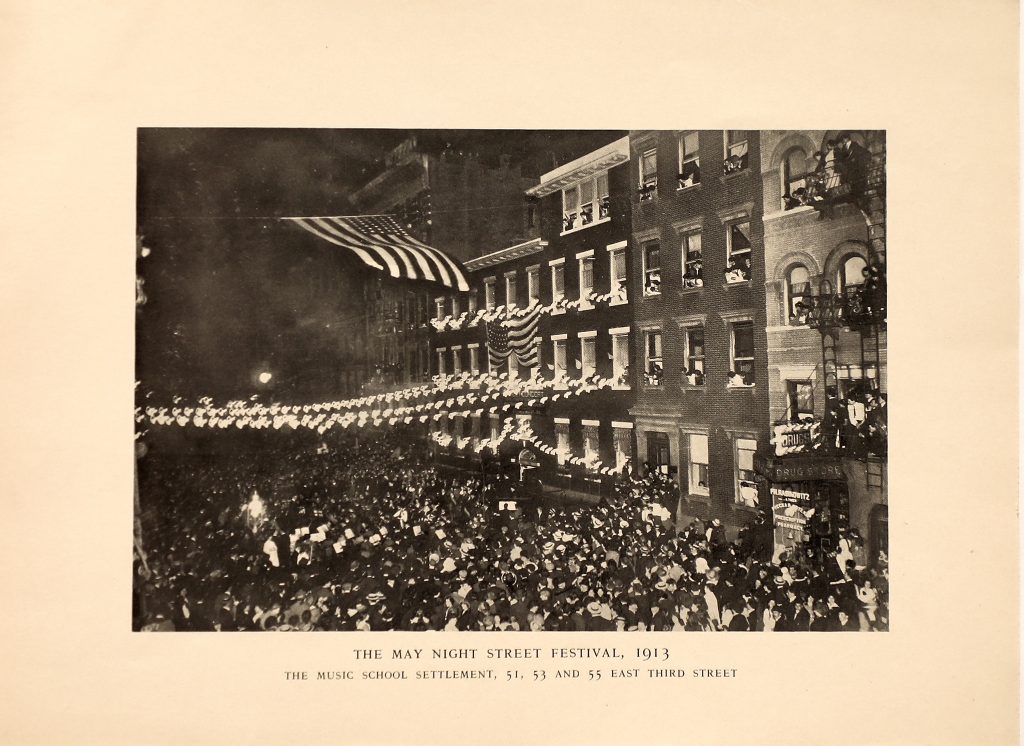 "Third Street's history really speaks to who we are today," said executive director Valerie Lewis, who noted the goal to create an oasis of sorts and a sense of community, while expanding its reach. "Today we're welcoming in people from all communities," she said, which includes the five boroughs and areas outside the city as well.
The early decades of the institution included social services along with musical programs, such as medical services and marriage counseling, but shifted away from social services during the New Deal, Lewis noted, to focus on providing access to students so that no one is turned away because of money. This year, over $1.5 million will be given in financial aid and tuition subsidies, Lewis said.
"Over the years, Third Street has grown and evolved in a variety of ways," Lewis said, including dance programs, jazz, preschool, and having students ranging in age from 9 months to 96 years old.
The school has three primary programs, one being the music and dance school, including programs after school and on weekends, and ensembles. There is also the preschool, with about 125 students, which goes back decades and had composer Philip Glass in its first class. And Third Street Partners sends teachers to schools and communities, reaching over 3,000 students in over 25 public schools. Third Street Music School itself has about 2,000 students.
Since Lewis came to the school six years ago, there have been building renovations to update performance spaces such as a concert hall, and a recital hall on the lower level. And the school's growth led to the school now operating seven days a week, though it's still a struggle to keep up with demand, Lewis said.
"We have incredible staff," said Lewis. "Everyone here works so hard." Lewis added, "I think everyone here feels they make a difference and have a positive impact."
It's the sense of community that allows connections to be made, including across generations that attend the school, and to see kids grow over the years, Lewis noted. "It's a beautiful thing to watch," she said of being able to see children progress over time.
With so many modern distractions, the school is a chance to focus on something away from looking at a screen, Lewis said. "Personally I find it very healing, but I think everyone does. It's a relief," she said. "The ability to shut it off is making a comeback."
The school also puts on many events every week, offering a variety of genres from a variety of ages. Some of its programming this year for the 125th anniversary has included An Evening with Philip Glass, Chamber Music in Concert at Le Poisson Rouge, and a special concert tribute to CBGB. And the big 125th Anniversary Gala on May 6 will include alumni and honorees that include singer-songwriter Jason Mraz and Lyor Cohen, Global Head of Music at YouTube.
Beyond any potential pressure of performances, the school is also about having a good time, Lewis said. "It should be fun as well, it's part of the Third Street experience," she said. "I think the community is really what defines us and makes it what it is."
More information can be found at thirdstreetmusicschool.org.