For François Payard, baking is a family tradition.
Born in Nice, France, Payard is a third-generation pastry chef. His grandfather showed Payard the ropes at his acclaimed shop, Au Nid des Friandises on the Riviera, and was surrounded by the finest French pastries through the traditions carried on by his parents and grandparents.
"Pretty much I've always loved cooking, even when I was bored in pastry I would go to cook. I can cook as much as I can bake," said Payard.
Payard later moved to Paris to further hone his pastry skills and held many pastry chef positions during his time in France. He would go on to New York in the 90s and signed on to be a Pastry Chef at the Four-Star Le Bernardin. He would also go on to partner with Chef Daniel Boulud for the opening of the Four-Star Restaurant Daniel in 1993 and in 1995, Payard was recognized as The James Beard Foundation's "Pastry Chef of the Year" of his accent on flavor combined with a unique sense of pastry design.
In 1997, Payard opened his first restaurant of his very own, Payard Patisserie. The restaurant was situated on the Upper East Side for its 12-year run, serving delicious French pastries alongside staples like sandwiches, soups, salads, and bread.
"Payard was a restaurant as much as a pastry shop," said Payard. "I used to have an incredible chef, but I ended up every night on the line because sometimes you need to cook. That's what you do when you're the owner, you show leadership."
Over the years, Payard has racked up a number of accolades, including "Pastry Chef of the Year" by the Bon Appétit Food & Entertainment Awards in 1998 and in 2001 by the International Pastry Competition Committee – Beaver Creek. He earned an Ordre du Mérite Agricole, Medal of Honor by the French government in 2004, and in 2005, he received Wine Spectator's Award of Excellence. He has also written a few cookbooks, including "Bite Size: Elegant Recipes for Entertaining", "Chocolate Epiphany: Exceptional Cookies, Cakes, and Confections for Everyone", "Simply Sensational Desserts," and "Payard Desserts."
Payard has also helped open a few restaurants around New York, including Brasserie Estuary in cooperation with the ONE°15 Brooklyn Marina and Tony Fortuna's T-Bar in the Hamptons. Most recently, Payard opened a new restaurant on the North Fork called Southold Social, which specializes in local-origin dishes while embracing the area's local maritime culture.
Southold Social boasts a menu filled with locally sourced ingredients and dishes, including oysters, lobster rolls, locally caught fish as well as meat, salad and pasta options. The dessert menu features a number of Payard's specialties, including panna cotta, pavlova, a deconstructed lemon tart and a chocolate dome.
"The menu, you can find everything on they like. I don't think somebody could come to my place and say that they cannot find nothing [that they like]. Surprisingly for me, 40% of sales are pasta. I think they think my name is Payard-Dough rather than Payard, [the customers] eat so much pasta," Payard said with a laugh.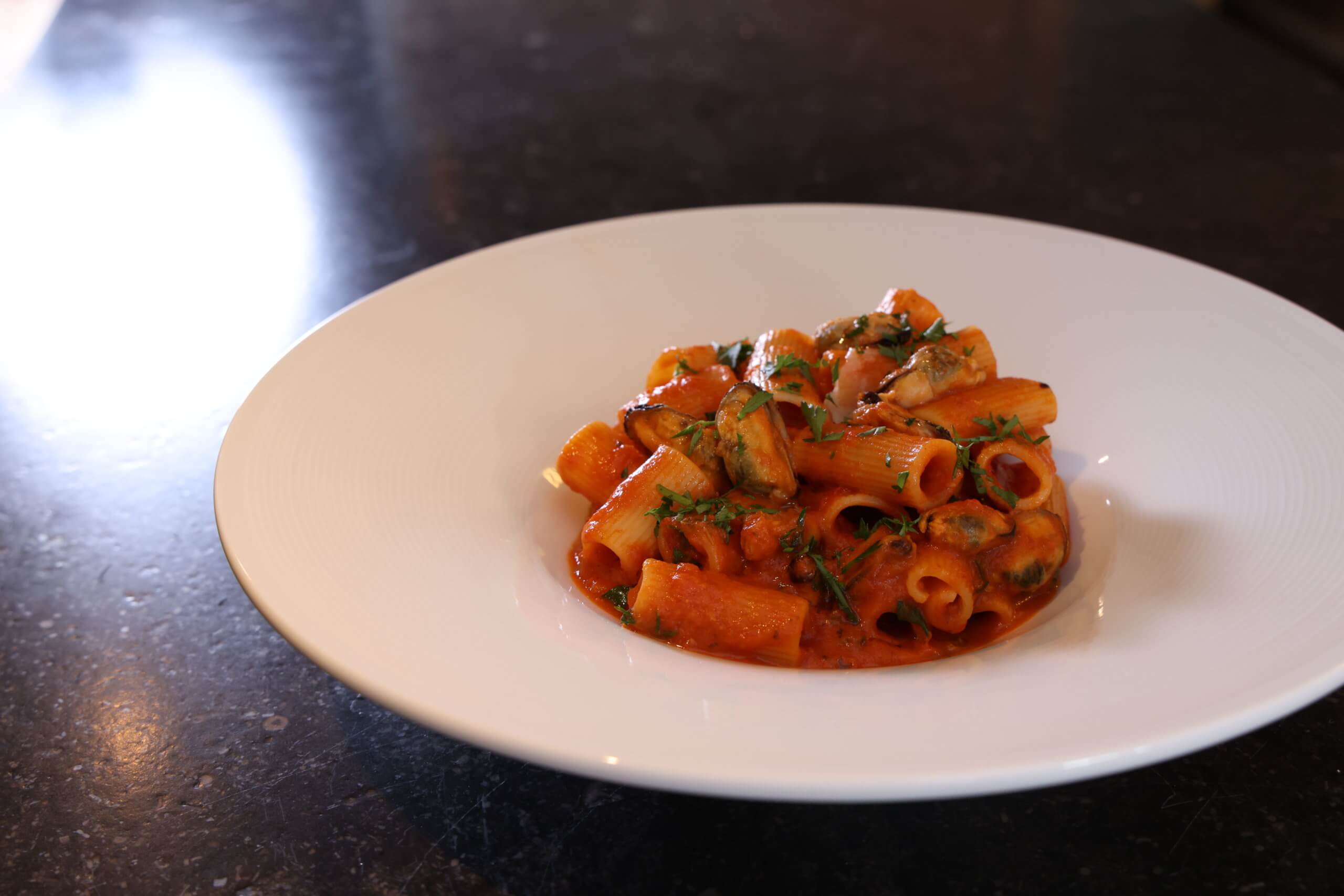 Like many restaurants, Southold Social had its fair share of problems when opening, especially considering it opened amid the COVID-19 pandemic. Payard says it was tough to staff the front of the restaurant at times. 
"I have the same problems as everyone else. It was hard to find people for the front of the house. Sometimes we have to close reservations because we don't have enough people," said Payard.
In an effort to make sure the restaurant stayed staffed, Payard and Payard's partner/Southold Social co-owner Adam Lovett started to provide housing to employees during the peak COVID times.
"If you don't give lodging, no one is coming to work," said Payard.
Despite the bumps along the way, Payard says that Southold Social has been a hit for residents of the North Fork.
"The restaurant is doing well, people love it. I think they love it because you really can just show love in food," said Payard. "In the North Fork, everybody is lucky. It's not like Southampton where everything is Gucci. Everyone is lucky and we designed the restaurant for the North Forker to fit the ambiance and I think that's the reason why people like it."
Southold Social is located at 56125 Main Road in Southold, New York. For more information about Payard and his restaurants, visit payard.com.