Transgender activist Qween Jean was among several people arrested on disorderly conduct charges during a "Trans Revolution" rally in Greenwich Village's Washington Square Park on Wednesday night.
Jean, the event's organizer, is a prominent figure in the transgender movement. She was one of about 60 transgender rights activists who took part in the rally at the park, under the watchful eye of a heavy police presence. 
A volunteer with the Black Trans Liberation Kitchen, which distributed food to the Black trans community at the rally, said they've seen an increase in people using their service, which works with the Food Insecurity Group to fight for food justice.
"In this city, as Qween said, we are all one paycheck away from being homeless, from being unhoused, from being hungry, unfortunately," they said.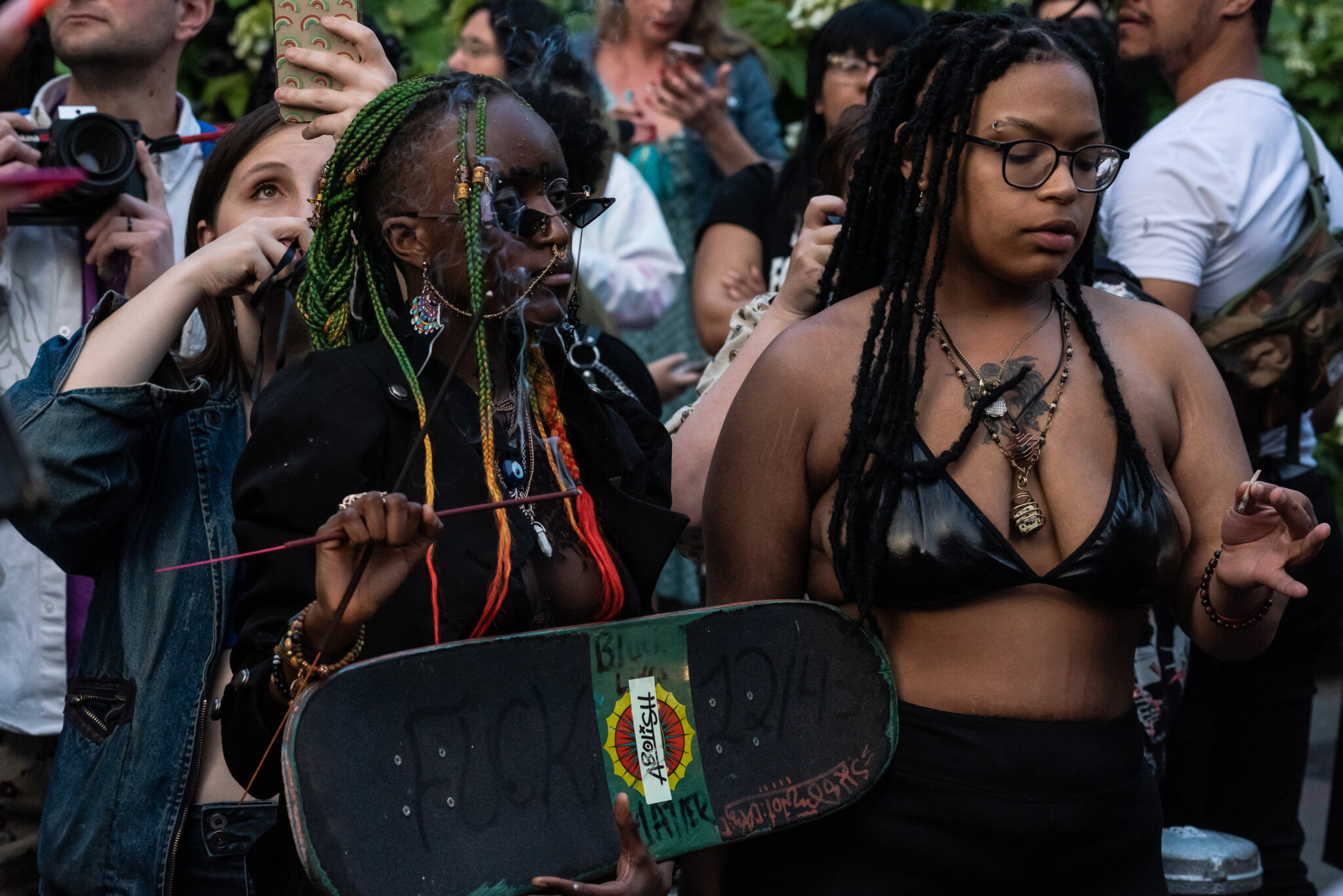 Author and vegan activist Stewart Mitchell, aka Vigilante Vegan, attended the Greenwich Village rally because he considered it his duty as a cisgender heterosexual man to stand in solidarity with the transgender community.
"These are people fighting for their basic human rights. And they are being denied that every day," Mitchell said. "Every day we look on the news, Texas, Florida, and other states are constantly taking away the rights of queer people, and specifically trans people. And this is a harm to their community."
According to Translegislation Tracker, 556 anti-trans bills have been proposed nationwide this year alone — and 79 have already passed.
"It has been an ongoing slot of anti-trans legislation bills," Qween Jean said. "We are fed up with our community constantly having to prove our worth, constantly having to prove and defend our humanity. We will no longer remain silent."
Qween Jean told the crowd she was "outraged" by the crisis the trans community was facing and that "they were sadly mistaken" if they believed the anti-trans wave only affected transgender people in Florida, Texas, or the Midwest, where most of these laws have been passed.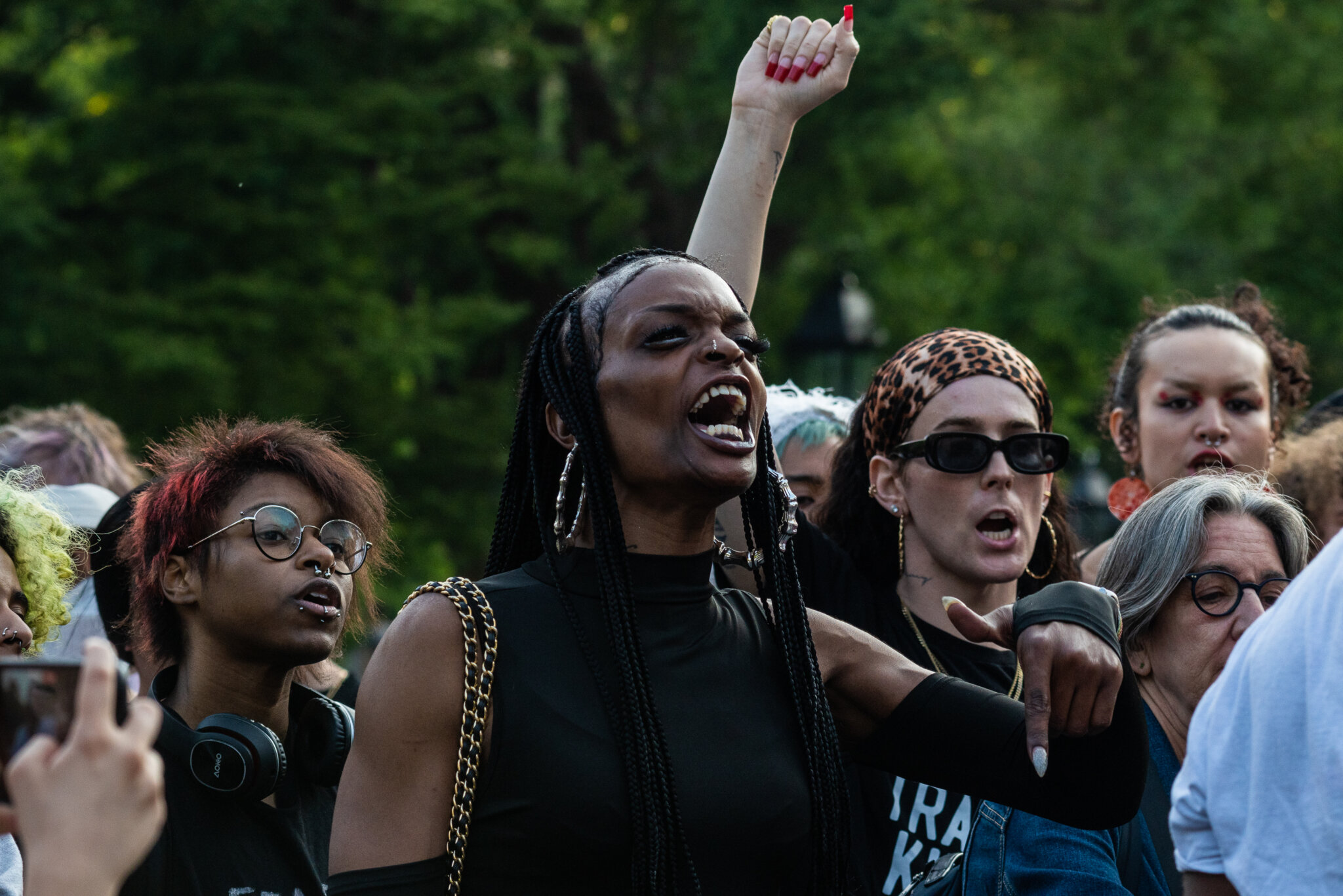 The rally was briefly interrupted when Parks Enforcement Patrol and NYPD officers told the crowd they couldn't use amplified sound devices since they require a permit.
When the crowd left Washington Square Park, NYPD community affairs officers again reminded protesters that using a megaphone required a permit and instructed marchers to stay on the sidewalk.
Nevertheless, Qween Jean continued to use the bullhorn while marching on the sidewalk on MacDougal Street towards West 3rd Street.
NYPD officials on the scene ultimately gave the order to arrest her for using a sound device without a permit. That's when the outspoken activist dashed into a deli on the corner of West 3rd and Sullivan Streets, followed by a slew of cops and activists.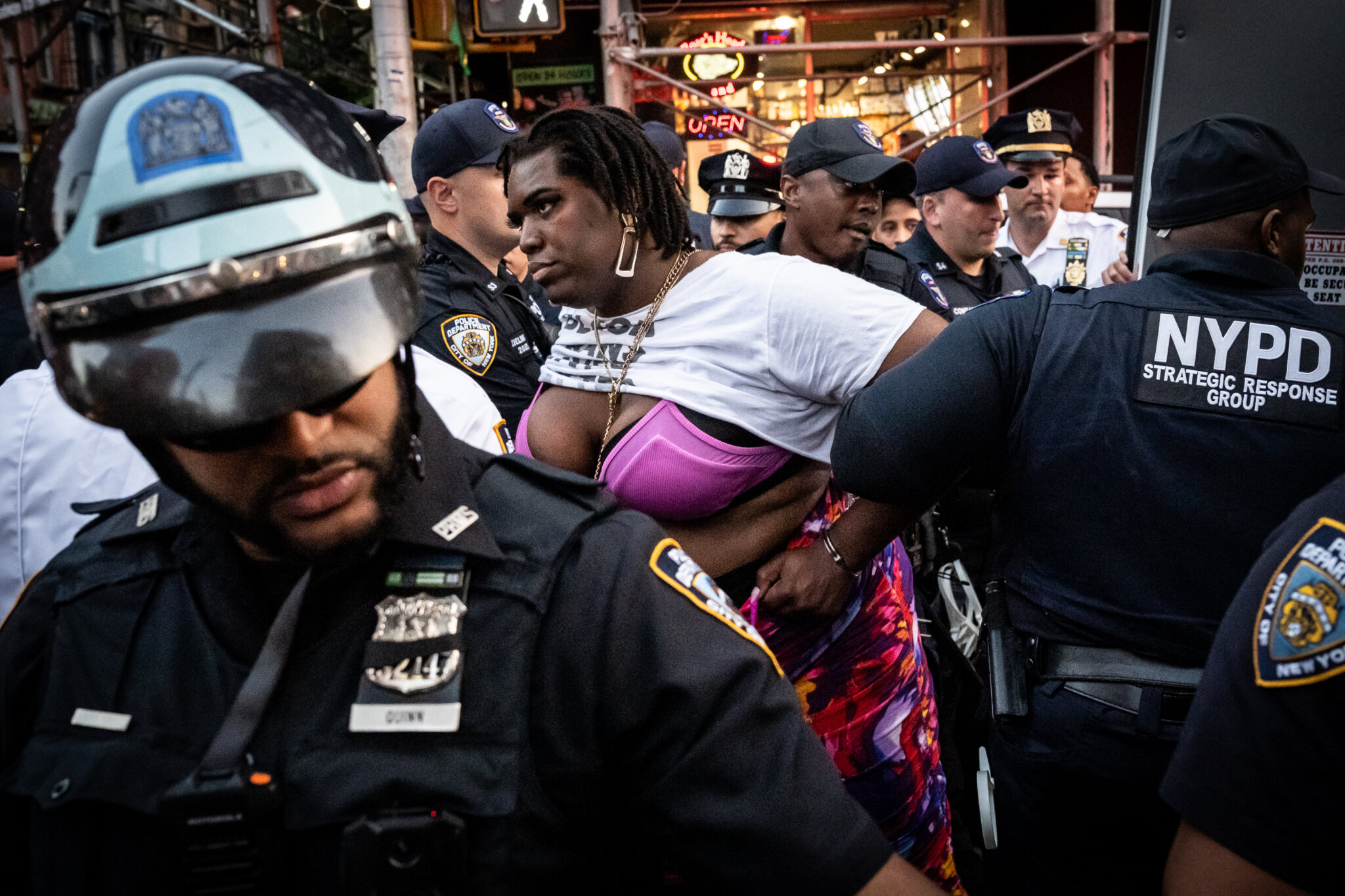 Cops cleared the area around the deli where the activist was holed up. Jean was eventually arrested and led to a police van while her supporters demanded to let her go.
Transgender activists on Twitter accused the NYPD of "setting the tone" with the arrests for Pride month, which begins June 1.
Clearly they are trying to set the tone for the month. As Qween says in the video "THIS IS UNJUST". Bail support at the 7th precinct 19 1/2 Pitt St, New York, NY 10002

Qweens venmo is @Miss_Jean ‼️‼️‼️

— Mx B. Hawk Snipes (they/she) (@BHawkSnipes) June 1, 2023
Police and other law enforcement have been barred from marching in the annual Pride parade in uniform since 2021, and on-duty NYPD officers are to stay a block away from the edge of all in-person events.