BY LINCOLN ANDERSON   |  Just four days after punk-rock photographer Roberta Bayley's pug was viciously attacked by a "crusty" pit bull outside Bayley's St. Mark's Place home, another pit belonging to the migrating tribe of young homeless "travelers" went on a rampage: This time, though, the victim wasn't a dog — but an East Village man who was savagely bitten on his arm.
As exclusively reported by The Villager two weeks ago, in the first attack, Sidney, Bayley's pug, 14, was the victim on Sat., Aug. 1, around 8 a.m. The big brown pit bull, apparently unleashed, lunged off a couch on the sidewalk in front of Bayley's building — as the man with the dog slept — and went right for Sidney's throat. The little pug underwent surgery but died at the vet the next day.
Then, last Wednesday around 11:30 a.m., Ed Vassilev was taking Misha, his Vizsla — a Hungarian midsize-breed dog — for a walk on Second Ave. between E. Fourth and Fifth Sts., when a male pit bull down the block — next to two crusties slumped on the sidewalk, possibly nodding out — set its sights on the smaller dog. The black-and-white pit suddenly took off on a dead run down the empty pavement. It didn't bark or growl — it just came silently speeding like a missile straight toward them.
"It was like from 50 feet away," Vassilev told The Villager this Monday. "That dog saw my dog. He wasn't on a leash. I picked up my dog. When he jumped up and bit me, it was like it was in slow motion. He got a chunk of my arm. It was brutal. It wasn't a nip — he bit through my arm," Vassilev said.
He was left with two deep bite wounds right above his elbow.
"I think two canines got in there," he said of the deepest part of the gashes.
The banking consultant, 42, was treated in the emergency room at Beth Israel Hospital — where his triceps muscle had to be stitched back together — and was released later that night. But when he went to see a plastic surgeon that Friday, it was found that the arm wound was infected, and so he had to spend two days back in the hospital hooked up to antibiotic and morphine IV drips and popping Percocets.
Permanent nerve damage
Vassilev now only has partial feeling on the top of his arm from his elbow to his wrist, and probably will never regain full feeling again. He said the plastic surgeon — who was "fiddling with" his mangled nerves, pushing them back into place — explained what happened to him.
"I can move my arm. I can move my fingers," Vassilev said. "I don't have feeling on my arm. The plastic surgeon basically described it as a miracle that I can still move my fingers and my arm. The dog cut through the top layer of nerves, that's why I can't feel. There's a second layer of nerves to move the fingers and the arm. I have really strong, thick arms. The doctor said someone slimmer would have certainly lost an arm."
Vassilev said the plastic surgeon told him that he'll need treatment on the limb through the end of the year.
As for the dog that attacked him, Vassilev said the last image he had of it was seeing its "red mouth" as he was getting into the ambulance.
Dog is 'under observation'
Police responded to the scene and the dog was taken to Animal Care and Control where it is now "under observation for rabies" for 10 days, according to Vassilev. He has been unable, however, to get further information from A.C.C. about the dog, which he wants to ensure doesn't get out to attack once more.
"We cannot see that dog come out again," he stressed. "That dog is going to kill someone. Imagine if it was a little girl or boy that was attacked."
A.C.C. did not respond to a request for comment for this article.
Vassilev, who has lived in the East Village since 2008, is shocked that this could even have happened.
"This is something new," he said. "I've never been afraid of a homeless person's dog before. … We live in the best city in the world, paying all our rent. How could this happen in New York — a dog running wild in the street?"
As for the two men with the pit bull, Vassilev said they didn't look like they were exactly sleeping, but — judging by their slumped-over posture — were possibly nodding out on drugs.
"These two, they were especially crusty," he said. "They had long beards, long hair, black clothes."
Vassilev is not anti-pit bull, yet said they are just unpredictable.
"Ninety-nine percent of pit bulls are nice," he said. "But there is always that one that is violent, because they are bred to fight."
Not a criminal offense
He also was surprised to learn when he reported the incident at the Ninth Precinct that a dog biting a person is not considered a criminal offense.
"It's a civil offense," he said. "The only thing I can do is press civil charges."
Deputy Chief James McCarthy, the executive officer of Patrol Borough Manhattan South, was on the detail at the Riots Anniversary Concert in Tompkins Square Park this past Sunday. Asked by The Villager about how police treat pit bull attacks, the former Ninth Precinct commander said officers will take action if a dog is "unleashed and causing a problem to the community."
Natas and Jax
Meanwhile, crusty travelers interviewed by The Villager this past weekend maintained they do take good care of their animals. They also shed more light on the attack on Bayley's beloved pug, Sidney.
For starters, they said the dog that attacked Sidney was named Jax and that the crusty traveler who had him goes by Natas ("nay-tass") — Satan spelled backwards.
One man sitting with a group of travelers under the Hare Krishna Tree toward the end of the Riots Anniversary Concerts last Sunday evening, said Natas simply couldn't handle Jax.
"The dog got put down," Nicholas Morales, 23, said. "He shouldn't have had the dog. He felt that he could take care of it, and they all told him that he couldn't. I just know that the dog got put down, and that's really sad. It was a very aggressive dog."
As for Natas, he said, "He's really cool to hang out with. Apparently he's from Philadelphia. There are a lot of stories about him, but he's a good guy."
Morales, who sports small silver hooked fangs at the corners of his lower lip, assured that his own canine companion, Yardog, a cute, nonthreatening-looking mini-Doberman Pinscher, is well trained.
A few hours later that evening, a group of travelers were hunkered down on Second Ave. and E. Seventh St. outside the chain-link fence ringing the vacant site of the March 26 gas explosion.
Cole, who also goes by the nickname Friday, from Portland, Oregon, was spanging passersby for money for beer, as Anthony, from San Diego, was playing on his fiddle. They had just gotten into town that day.
Cole's pit bull, Riley, quietly slept amid them on top of a sleeping bag, seemingly oblivious to everything going on around him on the sidewalk and street. He did have on a leash.
'They're loving animals'
"My dog is very friendly," Cole said, dropping down to give Riley a kiss as the dog obliged by licking him and slobbering in his open mouth. "They're very loving animals."
A bearded and heavily tattooed crusty, who gave his street name as Wing the Nut, added of the attack on Sidney, "Bad dogs aren't bred, they're made. Just because one f—– pit bull did that doesn't mean they all are like that."
Similarly, he said, the New York Post and others are trying to paint a negative picture of the young homeless nomads.
"Most of us are really nice people," he said.
None of them mentioned knowing about the attack on Vassilev.
Free-range dogs
They said, in fact, their dogs are better trained than most.
"Animals — like dogs — they're not meant to live in cages," Wing the Nut declared. "Our animals are with us 24 hours a day. Dogs in apartments don't get enough attention, exercise or food."
The same goes for people, he claimed.
"This is not how we're supposed to live," he said, gesturing up at the glowing apartment windows along Second Ave. "We weren't supposed to have four walls and a roof. We are animals."
He said he used to have a pit bull, Carmelita, who was perfectly trained and would walk along beside him on the sidewalk without a leash.
"We'd get to the corner and I'd say, 'Kick it down,' and she would sit right down and wait," he said.
"My dog was my best friend, my companion and my protection," he said. His ex-wife has the dog now.
Like Morales, Wing the Nut said Natas is a good guy.
"I've known him for years," he said. "He's a good friend of mine. Everybody discredits him because he used to drink too much.
"He's only had this dog for a couple of months. I know the dog's sister, she's a sweetheart."
Tried to rehab Jax
He blamed Jax's behavior problems on the dog's previous owner.
"Natas is trying to calm him down, settle him down," he explained, "but he's only had him for a month. My friend John's girlfriend took the dog and gave it to Natas because it was very mistreated.
"People have to understand — when we get 'em, they're not in the best condition," he said of the pit bulls. "It's like someone getting out of a mental institution — you have to re-acclimate to society."
Anthony got up and walked toward the chain-link fence and empty lot — apparently considering a pee — then, thinking better of it, turned back toward Wing the Nut and asked, "Where do I piss?"
"Go in San Loco and ask to use the bathroom," he told him firmly, referring to the Mexican restaurant on the other side of Second Ave.
(He added that, contrary to the New York Post's depiction of them — "It's Pooper Union" — if they do camp out behind The Cooper Union on Taras Shevchenko Place and have to go, they either use the bathroom at McSorley's bar, use bottles or bags or just "walk away.")
Continuing on, Wing the Nut said Steve-O, who was sitting cross-legged by the fence, knew more details about Jax.
According to Steve-O, Jax was "passed down from the family" in Bushwick, Brooklyn.
"The family that had him said they can't have him anymore," he said. "The sister can't have puppies and was no good as a bait dog."
(A bait dog is a passive or less-dominant dog used in pit bull fighting to train the animals to kill. However, apparently some dogs are not considered submissive enough for that purpose.)
As for Jax, the family got rid of him because he was aggressive, "very aggressive," Steve-O stressed.
As he spoke, his white cat sat nearby him on a leash.
They didn't say Jax had been euthanized, though.
"He's in 'puppy jail' is the best I can say it," another man nicknamed Mumbles, from New England, interjected, adding, "We'll all pitch in for him and get him back."
Wing the Nut reiterated that Natas "was working on it," trying to reform Jax — and had been acting responsibly with the dog.
"Natas would tell people, 'Can you please move your dog? My dog is animal-aggressive,' " he said.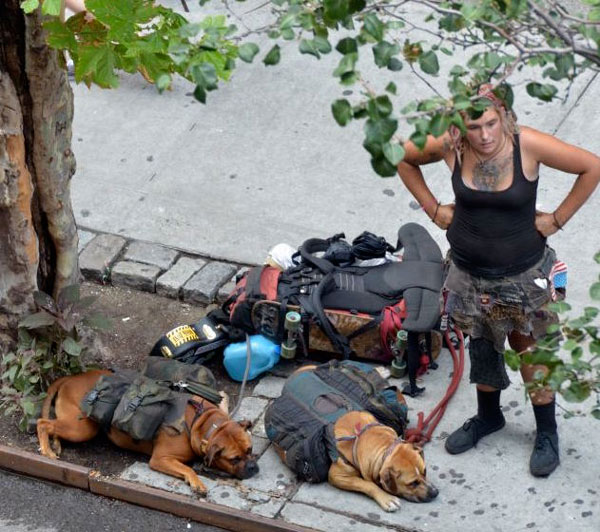 Trainer on crusty dogs
Garrett Rosso, a dog trainer and manager of the Tompkins Square dog run, in fact, agreed with the travelers that their dogs, on the whole, are well trained. But if the crusties are zonked out on substances or sleeping and the dogs are unattended, then it can be another story, he said.
"Generally, the homeless have some of the best-behaved dogs," Rosso said. "All that time spent outdoors and walking is great exercise and therapy for the animal. However, all that changes if the owner is passed out, asleep or otherwise incapacitated on the sidewalk. Then their dog may adopt territorial or guarding behavior, feeling they must protect their owner from any person or other dog entering their space."
Hanging out with the crusty crew on Second Ave. last Sunday evening, Kaitlin, originally from Nashville, said she has been traveling for a few years. Asked if she knew Natas and Jax, she said maybe she does by sight but not by name.
"A guy with a pit bull," she shrugged and smiled, as if to say there are a lot of crusties like that around.
Asked if they'd be camping out there that night on Second Ave., she again just chuckled and said, maybe, who knows?
The travelers' lives are unscripted, and their dogs are often unleashed. But with two recent reported serious pit bull attacks — one that nearly cost a man the use of his arm, the other that led to a dog's death — their lifestyle, and their animals, are coming under serious new scrutiny.