Following a frantic NYPD manhunt, the suspect behind a deadly shooting spree on the Lower East Side and Brooklyn on Monday has turned himself in to police, law enforcement sources said.
Sundance Oliver, 28, was being questioned at the 77th Precinct stationhouse in Brooklyn early Dec. 6 when he reportedly had some kind of violent outburst, according to published reports. Although nobody was said to be harmed, EMS transported the alleged killer via ambulance for a medical and psychiatric evaluation at Kings County Hospital.
Law enforcement sources accused Oliver of three shootings across the Lower East Side and Brooklyn on Monday, killing two known associates and injuring a senior bystander. 
Sundance Oliver being taken away in an ambulance (Video by Dean Moses)
The shooting spree began Monday morning, in Brooklyn, Police Commissioner Keechant Sewell said, when Oliver allegedly shot a wheelchair bound 96-year-old at around 9:34 a.m. on Dec. 5 at the corner of Rochester Avenue and Bergen Street.
Oliver allegedly attempted to rob a female victim at the location when he fired his gun, but struck the elderly man in the right ankle as he waited for a bus. The man was treated for his injuries at Kings County Hospital.
Mere hours later, a man was murdered inside a NYCHA apartment, Monday afternoon the police commissioner added.
According to police sources, 21-year-old Langston Kevon of 826 Columbus Ave. was shot multiple times at around 2:40 p.m. on Dec. 5 inside an apartment at the Governor Alfred Smith Houses located 15 St. James Place on the Lower East Side. The victim sustained bullet wounds to the legs and chest.
Kevon was rushed to Bellevue Hospital, where he was pronounced dead.
Late into the evening, NYPD Strategic Response Group could be seen searching Chinatown and the Lower East Side for Oliver while friends of the deceased victim placed candles outside of his apartment and mourned his loss.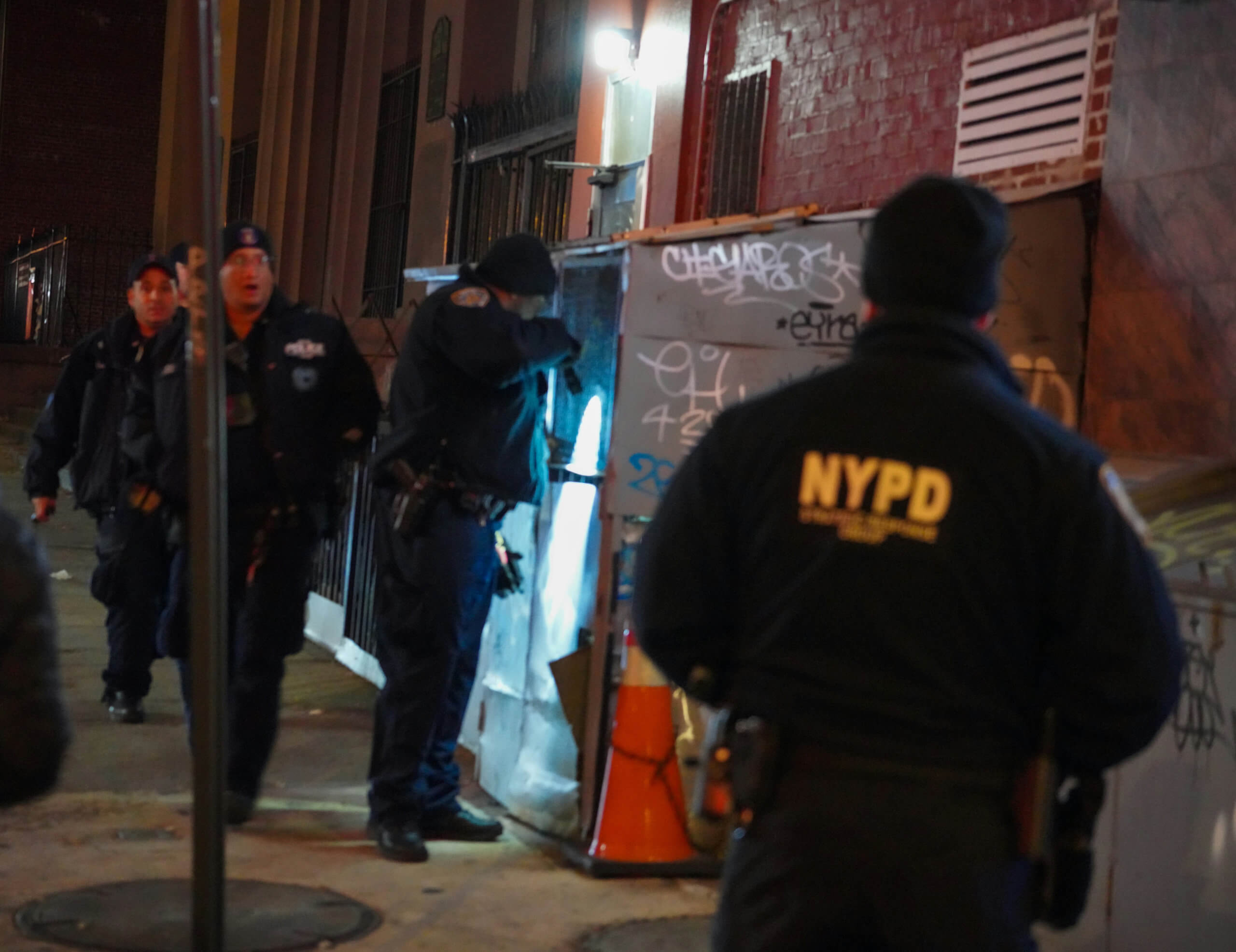 "Investigators from Brooklyn and Manhattan were able to determine that the suspect is the one and the same in both shootings," Sewell said.
Finally, Oliver allegedly struck for a third time just before midnight, fatally shooting a 17-year-old girl in Brooklyn.
The teen was gunned down in the chest at 719 Kingsborough 7 Walk and was rushed to Brookdale University Hospital where she was pronounced dead.
Police described Oliver as being around 6 foot tall with a slim build and having the letters M and G tattooed above his right eye in addition to also having a tattoo of a green rose on the right side of his neck with the words "rich forever" above it. NYPD sources say Oliver is known to police, and was out on parole for a robbery charge, according to Chief of Detectives James Essig.
It's believed that the two murder victims were associates of Oliver, Essig added.
Updated at 11 a.m. on Dec. 6.