It's another day and another rumor linking the Knicks to a major All-star. 
On Friday, ESPN's Adrian Wojnarowski mentioned that he expects the Knicks to be a suitor for Chris Paul if the veteran point guard becomes a free agent this summer. 
"If Chris Paul is out there as a free agent this summer, look at the two teams in L.A. — the Clippers and Lakers–the Knicks in New York, or the Golden State Warriors," said Wojnarowski on Friday's NBA Countdown. "Those would all be potential destinations for Chris Paul, who would then sign a deal at a much lower number than the $30 million he's guaranteed in Phoenix if he stays there past that June 28 deadline."
Obviously, the first part of this is that Paul needs to become a free agent. However, Chris Haynes, the Senior NBA Insider for TNT, reported on Tuesday that the Suns have already informed Paul that he will be waived this offseason. 
Given that Paul is 38 years old, he's likely to want to sign with a contender, which the Knicks are slowly becoming but perhaps not as fast as they'd need to be to be an intriguing option for the veteran. 
Yahoo Sports NBA Insider Jake Fischer also reported that Paul could be an option for New York via trade. 
"Phoenix does hold Knicks Sixth Man of the Year finalist Immanuel Quickley in high regard, sources told Yahoo Sports, dating back to Quickley's entry in the 2020 NBA Draft," Fischer wrote.
Fischer also indicated that Quickley has spoken before about not wanting to be stuck as a "microwave guy" off the bench, so the Knicks could deal Quickley to the Suns if they don't believe they can sign him to an extension this offseason.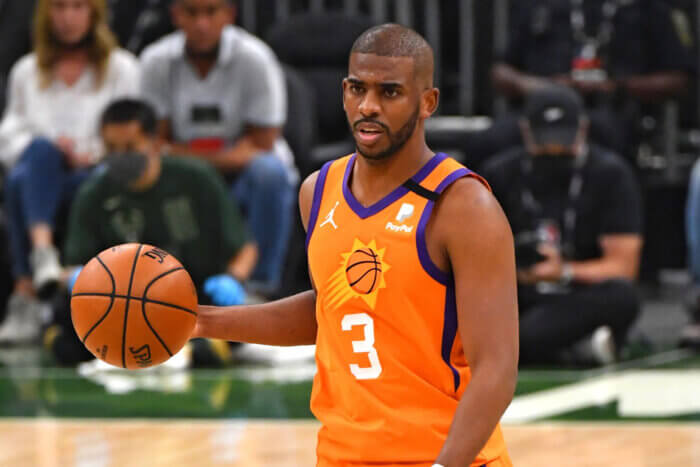 However, the question is whether or not Paul would even be a good fit in New York. 
The majority of the Knicks' core is 25 years old and younger. They seem to be building towards a contending window in 2-3 years. Would adding a 38-year-old Paul help with that? 
The Knicks are also clearly set at point guard after Jalen Brunson's breakout season, so would Paul be OK with coming off of the bench in New York? It's hard to see that. 
Paul is a pass-first point guard who averaged 13.9 points and 8.9 assists this season, so he could theoretically work as a backcourt pairing with Brunson, who could become more of a score-first option. However, that would remove Quentin Grimes from the starting lineup and give the Knicks a huge defensive downgrade. In fact, the foursome of Brunson, Paul, RJ Barrett, and Julius Randle would give the Knicks four starters who rank as below-average on defense by RAPTOR, which is not a recipe for success. 
Not only would adding Paul to the starting lineup make the defense worse, but it would push both Quickley and Grimes to bench roles or out of town. Given how those two players have developed and that Quickley in particular made a major leap this season, finishing with career-highs in minutes (28.9), points (14.9), field goal shooting (44.8%), rebounds (4.2), and steals (1.0), should the Knicks really move on from them to add Paul?
Paul is yet another in a long list of players who was represented by Knicks president Leon Rose when Rose was an agent at CAA, so the connection makes sense in that regard. However, it doesn't seem to be a clear fit in many others, so if the Knicks do pursue Paul it would be a clear sign that they do not have faith in the potential development of the young guards on their roster.