EAST RUTHERFORD — The New York Jets may be just 1-3 in the 2023 season, but their latest loss may have been their best overall performance. 
Against the defending Super Bowl champion Kansas City Chiefs, the Jets put forth a valiant effort even though they lost at home 23-20. New York's quarterback outdueled the great Patrick Mahomes, and the Jets offense seemed to turn a major corner into respectability. 
There are always significant takeaways from a big game such as Sunday nights, but today we will focus on only the best things that happened for Gang Green as they try to climb out of their 1-3 hole to start the year.
The Jets can win with Zach Wilson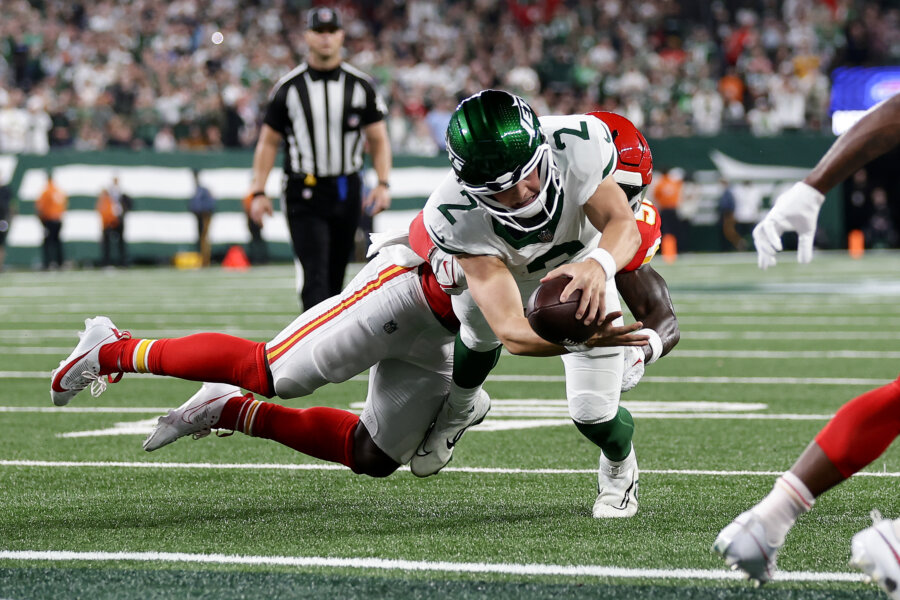 Where the heck did that come from? 
Zach Wilson had people calling for his job and reports saying his NFL career could be over if he didn't improve in the next couple of weeks. He responded with not only his best game but outplayed the reigning league MVP throughout Sunday night. Wilson was decisive, confident, and showed he belongs in the NFL.
His arm strength was shown throughout and had the awareness to rarely put the ball in danger. It was the game everyone watching the Jets was looking for out of him since he was drafted with the second overall pick. His lone fumble was certainly a killer, but the way he showed his improved maturity shows that the team will be just right with him once the schedule lightens up in a couple of weeks. 
If Wilson plays the rest of the year as he did on Sunday night, the Jets will win a majority of their games and end their decade-long playoff drought. 
Breece Hall should be the lone ballcarrier on Sundays
There's a glass-half-full approach to the Jets running back room. 
On the negative, Dalvin Cook's career in Gang Green has been nothing short of a disaster to this point. He's recorded just 74 yards on 30 carries to this point. His inability to find the open hole or lack of explosiveness is a major issue. 
Despite those concerns though, the Jets have a star in their backfield and that is Breece Hall. Even with Cook's struggles, the Jets have been able to run the football at an efficient pace. Hall may only have 32 carries, but he's averaging six yards a carry and over 200 yards on the ground. 
If there's a positive to take away from this it is that the Jets need to start getting Hall the ball more and ignore the idea of a running back-by-committee approach. 
Bryce Huff needs to play a lot more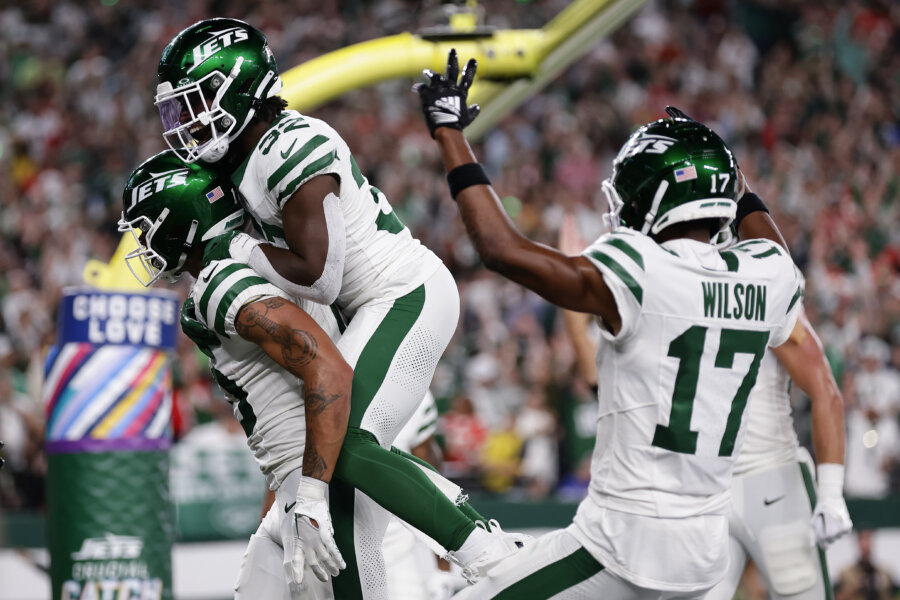 The most consistent edge rusher for New York hasn't been Jermaine Johnson or John Franklin-Myers.
That distinction belongs to Bryce Huff. 
Huff received the third most snaps of any edge rusher on the Jets and rewarded the faith of the coaching staff with an extremely strong performance. Six pressures, two QB hits in 14 pass-rushing snaps, and a safety highlighted a strong performance from New York's underrated rusher.
It's clear that the Jets need to start playing Huff a lot more. He's the most dependable edge rusher and should be brought back after this season as well (he is a free agent in 2024).
Joe Tippmann and O-Line continue to impress
Turns out that playing your young draft class can work out right away. New York has wanted to maintain a patient approach with their draft class in recent years but injuries have forced their hand, especially on the offensive line. 
Joe Tippmann started his second game at right guard and had another strong outing. According to Pro Football Focus, the Jets' second-round pick was the highest offensive lineman graded out in Week 4. Against a strong Chiefs' defensive line, Tippmann gave up just a single pressure. 
The offensive line as a group played very well. Kansas City came into this game ranked sixth in total defense and the Jets took it to them for most of the game. It was an important mark for the offensive line and showed that they should be in the same starting group for the rest of the year. 
Jets' linebacking core is the best in football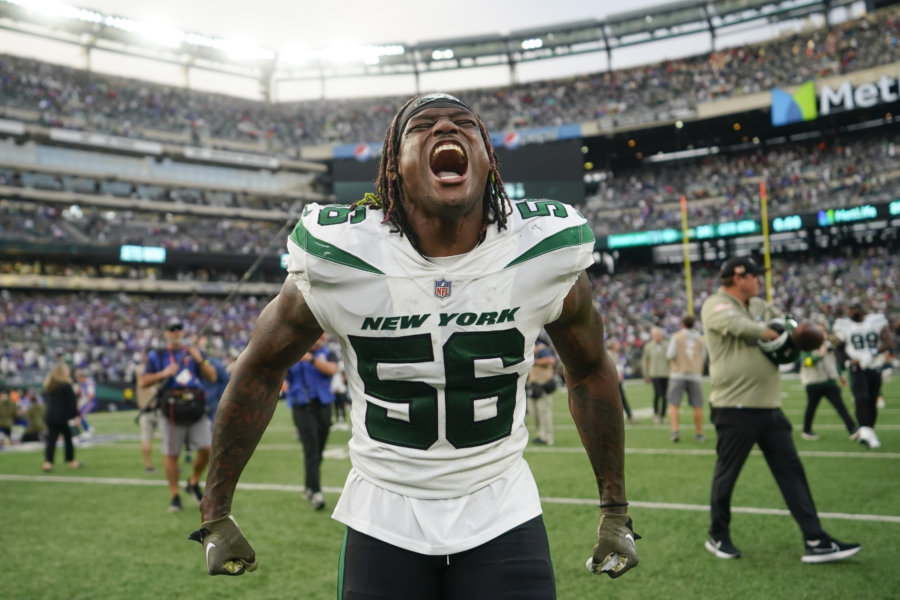 Another game, and another spectacular performance from New York's top linebacking duo. C.J. Mosley and Quincy Williams combined for 24 tackles, two tackles for loss, three passes defended, a quarterback hit, and an interception. 
Mosley is an All-Pro player already but Williams continues to show that he is more than capable of being seen as one of the top linebackers in all of football. 
Kansas City's offense is considered among the most lethal in football and the fact that the entire defense held the group to under their league average, as well as forced two turnovers is impressive on its own. Williams and Mosley are the most dynamic linebacker group in football. 
For more New York Jets news, turn to AMNY.com