East Rutherford, N.J. —While much of the conversation around the New York Giants is focused on the contract that has not been signed, the talk of minicamp on Tuesday was about the one that was. 
With Daniel Jones signing a four-year extension in the offseason, there was some question about whether or not the new money got to the quarterback's head or changed the way he prepared, which is a reality for more players in the NFL. 
"They have money swag," said veteran receiver Sterling Shepard about players who come into camp after signing a big deal. "You know, when somebody hit the lotto, they a little different, so it's the same thing." 
Was that also the case with Daniel Jones?
"No," Shepard laughed.
"I don't even think he has swag," said Giants defensive tackle Dexter Lawrence, who signed a big contract of his own this offseason and admitted that he himself has always had swag.
"Dexter has money swag," agreed Shepard.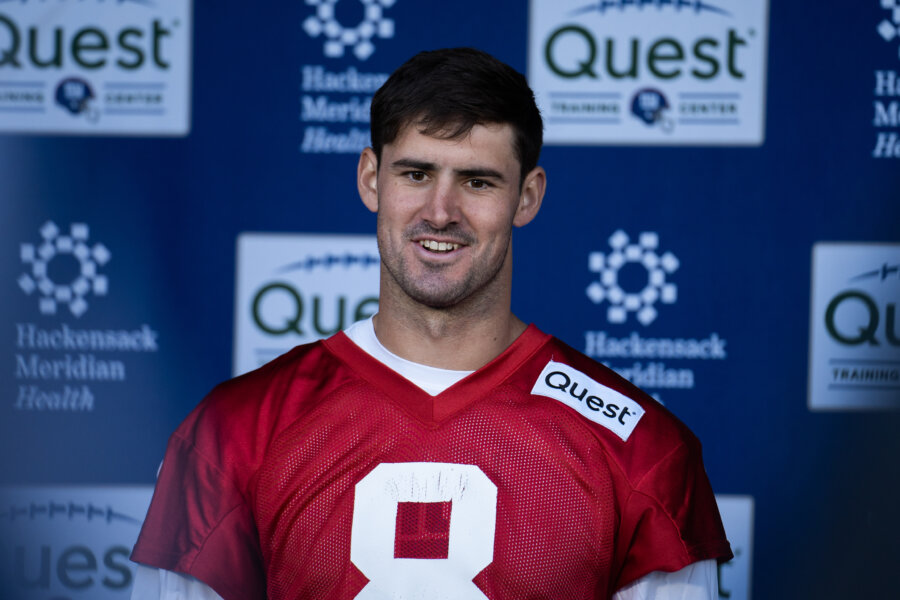 So if Jones doesn't have swag then what does he have?
"Getting here early in the morning and staying here late at night," offered Lawrence. "Daniel's a grinder."
Shepard, who has played with Jones in each of the quarterback's four years with the Giants agrees: "Like I just told you, [Daniel's] gonna stay the same." 
The same for Jones means leading by example, being one of the hardest workers on the field and off.
"He's the hardest worker, no matter what the situation is," explained Shepard. "I expect him to have the mentality of, 'I'm gonna show everybody why I deserve this money.' I mean, he's always approached the game, and practice, and day-to-day work with the right mindset."
Jones himself disagreed slightly, suggesting that he doesn't feel the new contract gives him the push to prove anything to anybody. 
"I never really felt like I needed to show other people or whoever it is," said Jones after Tuesday's practice. "I feel like I'm doing it because I want to do it because I enjoy doing it and I'm trying to be as good as I can be. That doesn't change regardless of what the contract situation is or whatever it may be."
Even with the added focus on his financial situation and his role as a leader on the team, Jones doesn't feel any more pressure than he did last year. 
"I think some people may see it that way," he admitted. "To me, it doesn't change anything I'm doing. Doesn't change my routine or how I'm going to go about my work or my business. That's the same. Like I said, I'm trying to be as good as I can be, and that requires showing up every day and putting in the work."
While Jones hasn't changed his work ethic or his personality, his demeanor on the field has changed a bit, perhaps because of the increased sense of financial security or the added comfort of being in the same system for a second season. 
"He's vocal, a little more vocal. That's probably all," admitted Lawrence. "He's still a great leader, I would just say he's a little more vocal and demands things [at practice]."
However, that increased drive for his teammates to put in the work is welcomed by other Giants players because they know Jones will still be there working alongside them, no matter what type of contract he signs. 
When asked if Jones felt like he'd ever get to a point in his career where he would feel like he had nothing left to prove, he responded simply, "I don't think so."
But it's not because Jones will always feel like he has a chip on his shoulder. In fact, it's the opposite.
"I'm not trying to prove it to anybody, anybody else, or anybody outside the building. I think it's about showing up and putting in the work every day."
It's that same mentality that has made him such a great leader for this Giants team, swag or no swag.