TARRYTOWN — Training camp has officially opened for the New York Rangers for the first time with Peter Laviolette at the helm. Now, a team full of top talent and veteran savviness must come together to try and find a way to begin the road to a Stanley Cup Title. 
Part of Laviolette's job, at least to start, is finding the right combination for the everyday lineup to be a difficult matchup for any team the Rangers are to face in the 2023-24 season.
"There's a lot of talent and there's a lot of skill on this team," Laviolette said Wednesday. "I've never wanted to be only a skilled team and I've never wanted to be just a hard-working team. We need to combine the two and get them on the same page."
A Position Change for Alexis Lafreniere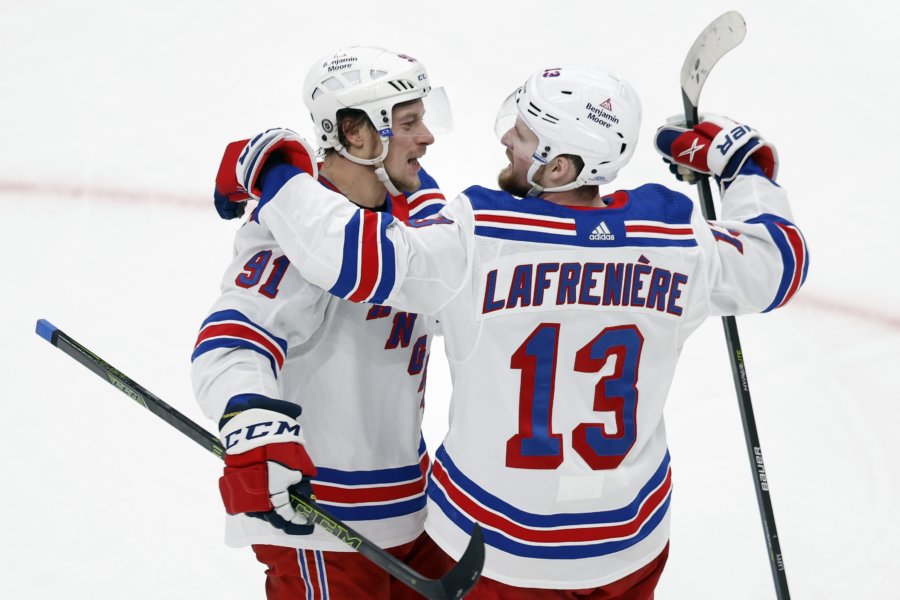 One of the biggest questions surrounding Laviolette's tenure will be figuring out how to mesh some of the Rangers' top young talent with the veteran presence solidly planted within each line. Alexis Lafreniere, fresh off a new RFA contract, is one of those young players. 
While Lafreniere's main talent is on the left side, the Rangers' new coach has made it clear that a position change is in the works to start to increase the former first-overall pick's playtime. 
"I did have conversations with him. It's not like I did it blindly, I had conversations with him about playing the offside," Laviolette explained. "He expressed to me that he's comfortable with that and looks forward to that opportunity. I'm looking forward to giving it to him to see what he can do. Again, that doesn't mean that you're not going to see him on the left side in camp, either."
Before the latest break from the head coach, Lafreniere had made it clear in years past that he would prefer to play on his dominant side. With Artemi Panarin and Chris Kreider still entrenched in the top units, the best chance for Lafreniere to get an increase in time will be to play on his off-side. 
Jacob Trouba is back as Rangers' captain
Getting the most out of his young players is important, but improving the production from his veterans will be another thing that Laviolette's staff will need to work on. New York has had a strong leadership group over the years that returns for another season. 
The head honcho of that group is none other than captain Jacob Trouba. Trouba was named the 28th captain in Rangers history last season and is back for another year as the leader in the locker room, with clear support from his new head coach. 
"My conversations with him have been excellent. I knew him from before, he's got a really good voice in the locker room. He cares deeply about his teammates, this team…those are the qualities you want in a captain," Laviolette said of Trouba. 
New York's captain earned the title change last season with several examples of turning around what ended up being a roller-coaster of a season. He'll have his leadership unquestioned going into the second year of this role. 
Potential Lineup Changes
Things may not be changing when it comes to who is the leader of the clubhouse, but the Rangers aren't ready to announce the same lineups from last season's playoff team. 
With strong defensive pairings like Ryan Lindgren and Adam Fox, or K'Andre Miller and Trouba, it could make sense for Laviolette to look to keep those same pairs together. But that might not be the case for this season.
"You can understand that there's some success there, but that doesn't mean that you can't try something different, as well, and see how that looks," Laviolette said. 
The Rangers' new head coach explained that he would be "wide open" to moving players and combinations around to find the right pairings on offense and defense. 
Those final decisions don't have to be made just yet either. With practices set to begin Thursday morning, it'll be the first chance for those players to earn their stripes on the 2023 squad to start. And as Laviolette prepares for his first camp as the new head honcho in New York, this week will be the chance to earn the locker room's respect as they try and get back to the Stanley Cup Playoffs. 
For more New York Rangers news, turn to AMNY.com