FLORHAM PARK — For a group full of talented pass rushers and dominant interior rushers, the New York Jets' most efficient edge player is one that is most often overlooked. 
When Bryce Huff was signed by the Jets as an undrafted free agent out of Memphis, the belief was that he could be a strong special teams player with a plus upside. Since his rookie season though, Huff has displayed a skill set that makes him one of the most underrated pass rushers in the NFL to date. 
It's also made him one of the most important players on the 2023 roster. According to Pro Football Focus' Pass Rush Productivity measurement, Huff is solely behind Dallas Cowboys superstar Micah Parsons with a 14.5 grade. PRP is a formula that combines sacks, hits, and hurries relative to how many times the player rushes the passer. With most measurements showing that the Jets have a diamond in the rough on the edge, it's easy to see how Huff has been so successful.
"We take it week by week. We practice at full speed in team and individual drills. Looking to come out every Sunday and just put my best foot forward," Huff said Monday. 
Huff's importance to the team was evident in Sunday night's loss to the Kansas City Chiefs. Down 17-0 in the second quarter, Huff received his first snap and forced a safety on the play. It was the Jets' first points of the game and completely shifted momentum.
"It was one of my first snaps of the game so I just wanted to come out and make something happen. I turned the edge and Taylor held me and gave us the safety," Huff explained on the play. "It gave us a little momentum but I feel we were always locked in. Just trying to make the best plays we could."
From there, the Jets gave Huff the third most snaps on the edge behind Jermaine Johnson and John Franklin Myers. For New York to improve on their 1-3 mark, Huff's playtime will need to increase dramatically. Productivity matters in the NFL and there isn't a more productive player on the edge right now than the 25-year-old.
Despite all the good plays Huff was able to make, it wasn't enough to thwart Patrick Mahomes and the Chiefs though. New York fell 23-20 to the defending Super Bowl champs – a valiant effort from a group missing their franchise quarterback.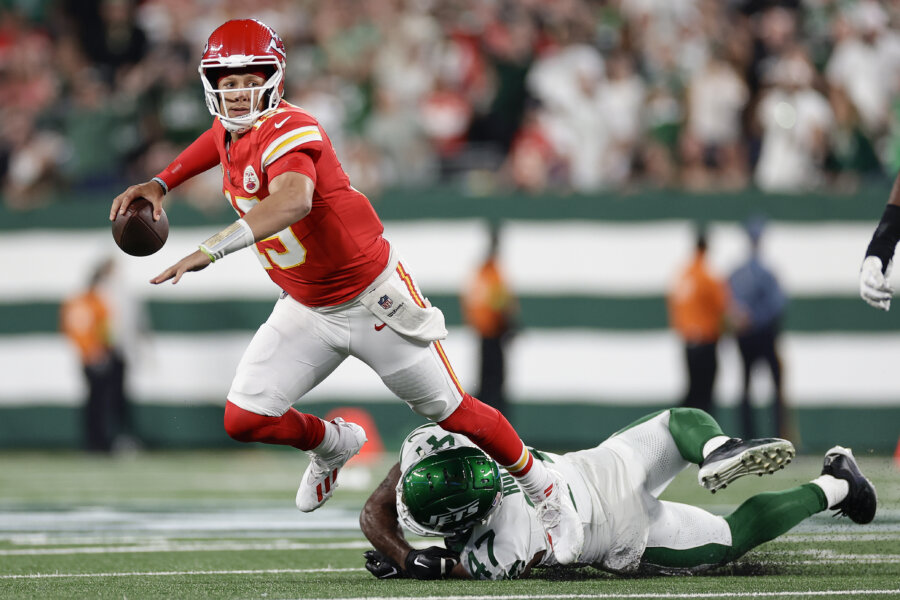 "We got what it takes to compete with the best of the best. They came out hot but we really held our own and fought back to try and get the dub. We know we have what it takes so we'll keep getting better and try to make it all come together," Huff said of the loss. 
Gang Green's season isn't over just yet though. A four-game stretch to start the season against all teams that finished over .500 wasn't going to be easy for a group with a new quarterback. When that new quarterback went down, many felt the season was going to be over before it even began.
That's not the case though. With the way the Jets performed on Sunday night, hope has grown that the team can beat lesser talented teams down the stretch to get them back into the playoff hunt. To do so though, New York will need to play their most successful players consistently. 
Huff, as surprising as it is, is one of those players. New York needs to play him at a higher rate to garner more success at getting after the passer. Their defense is still elite but they can be even better if they just get more production. 
They have the perfect player for that potential spot on the roster too. 
For more New York Jets news, turn to AMNY.com