Is this rock bottom for the 2023 New York Jets? 
A 32-6 drubbing from an arch-rival in the Buffalo Bills was the culmination of a month-long (or year-long) stretch of offensive ineptitude. New York seemed to be out of answers throughout Sunday evening's embarrassing loss, and it left them with no other choice but to bench Zach Wilson midway through a game. 
Now? They are in a mess of their own creation, with very few solutions in front of them either.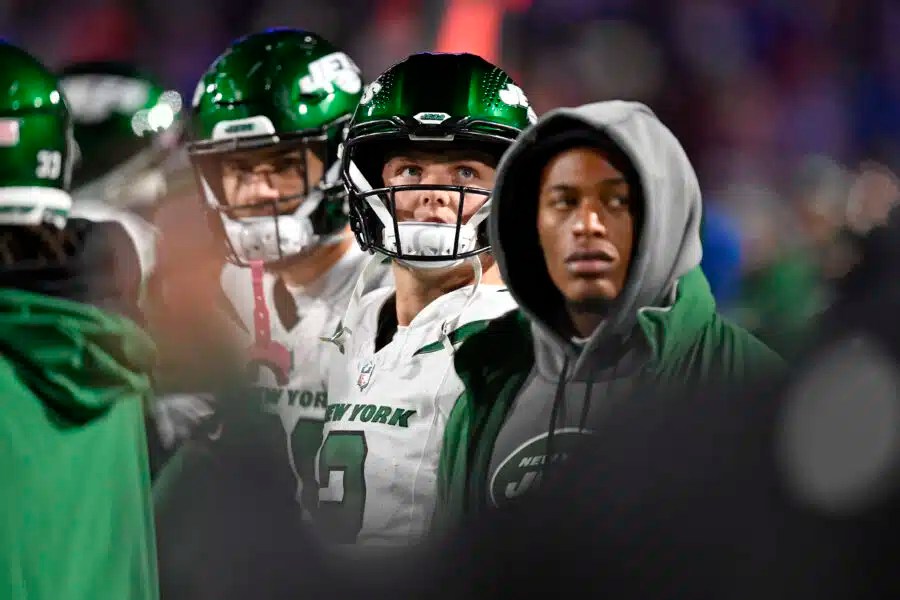 No one forced the Jets to go into the season with Wilson as the immediate backup to Aaron Rodgers. No one forced them to continue with Wilson once Rodgers tore his Achilles, especially after losses began to pile up. By pushing off this decision at the end of November, Gang Green put themselves in a difficult no-win situation. 
Their defense is still among the elite across football, they have solid weapons like Garrett Wilson and Breece Hall, and had winnable games late in the year. So why did it take until Week 11 for the Jets to make a move? What caused head coach Robert Saleh to finally make a change at quarterback after consistently having his QB's back?
"It was 29-6," Saleh explained. "Like I told Zach on the sideline, it's not just him. It's easy to point the finger at the quarterback, but it's pretty easy to see, you've got missed protections, you've got dropped balls, you've got missed routes. Now, obviously, he's got to get better. There's things he could've done a lot better, but it's everyone right now."
Saleh can continue to defend the quarterbacks he has on the roster, but the current state of the organization is a mess of his own creation. New York has dropped three games in a row for the second time this season. They have scored under 14 points in each game over the last month. The warning signs were always there when it came to this offense early in the season. 
Saleh, and Jets general manager Joe Douglas, ignored them. 
They looked past the 15-10 disappointing loss to the New England Patriots team in 30 years as a bump in the road. They looked past an ugly 13-10 miracle win over the dead-in-the-water Giants. They continuously ignored warning signs as their touchdown drought lasted for longer than a three-game window for the second straight season. 
It's not like there haven't been available options either to try and shift their fortune around. 
Joshua Dobbs, Carson Wentz, and Joe Flacco have all been picked up in recent weeks by teams that believe they can make late runs in their season. The Jets, for some reason, either didn't believe themselves to be one of those contenders or didn't want to be in the wake of Rodgers' injury. 
They could've planned better before the season too though. Taylor Hienicke, Andy Dalton, Jameis Winston, and Mike White were all free agent backups that the team could've brought in for the worst-case scenario they are in now. Douglas himself has seen that happen when he was VP of Player Personnel for Philadelphia when their MVP favorite went down with an ACL injury and they still ended up winning the Super Bowl. 
There are things that a general manager and a head coach can't control. They can't control the Jets' offensive line going through 14 different players through 10 games in a regular season – an unheard of count in the modern NFL. Douglas did his job in improving depth along the offensive line in the offseason and, somehow, they all got hurt. 
That's not on the coach and executive.
What is on them is the lack of aggressiveness when things started to take a turn for the worse. The Jets could've brought in Ezra Cleveland, the highly-graded guard from Minnesota for trinkets of draft capital and chose not to. Instead, they've gone through three different guards now since th trade deadline. 
More importantly, the Jets offensive struggles highlighted by inept quarterback play could've been solved if Douglas and Saleh believed in their own principles as an organization. 
Now? Gang Green has fallen to 4-6 with matchups against playoff contenders in the Miami Dolphins, Houston Texans, and Cleveland Browns upcoming. They have no answers as to who will start in four days when they take the field in the first ever Black Friday football game, and for the remainder of the season. 
This was such an easy correction that the team could've protected themselves with. Instead? Saleh and Douglas hitched their wagon to a quarterback with a clear expiration date and little more to offer the organization. Their inability to make changes at the most important position might even cost their jobs in the long run if wins are not earned over the last month of the year.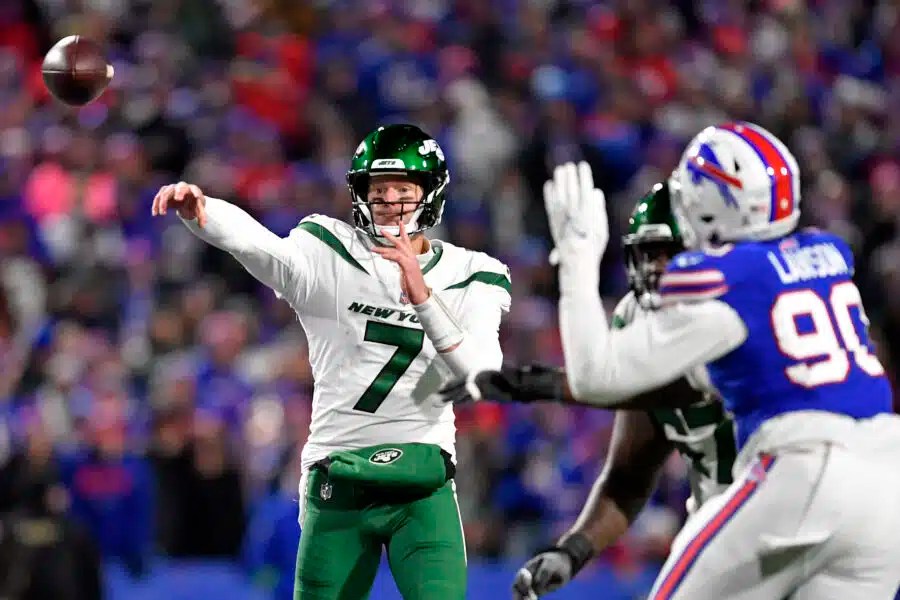 People would have forgiven them if they tried to find ways to win, and were unable to, if they moved to a different quarterback and it simply didn't work out – no one blames them for the Rodgers injury or the subsequent losses on the offensive line. 
That's not what happened though and that's why the Jets' future at quarterback, and for the remainder of 2023 is as murky as it is. 
And it just didn't have to be this way. 
For more New York Jets news, turn to AMNY.com