Things aren't going well for the New York Jets to start the 2023 season. After a two-game losing streak called into question the effectiveness of the offense, and the new starting quarterback, the organization seems to be stuck on potential next steps. 
That means for the foreseeable future, backup-turned-starting quarterback Zach Wilson will remain in his role.
"What we see on a day-in and day-out basis is a young man who is much improved from a year ago. He's much more confident, he's much more accurate, he's got much more command of the huddle, he looks better in the pocket," Jets head coach Robert Saleh said Monday afternoon. "When he is hitting his back foot with his timing and rhythm, he looks fantastic, and you just don't throw people away man. You just have to continue to work with him."
While Saleh deflected initial questions surrounding the possibility of the team bringing in another quarterback through trade or free agency (the first time he's done that so far), it appears New York is still moving forward with the same offensive signal-caller. 
Third Down Offense and Scheme Change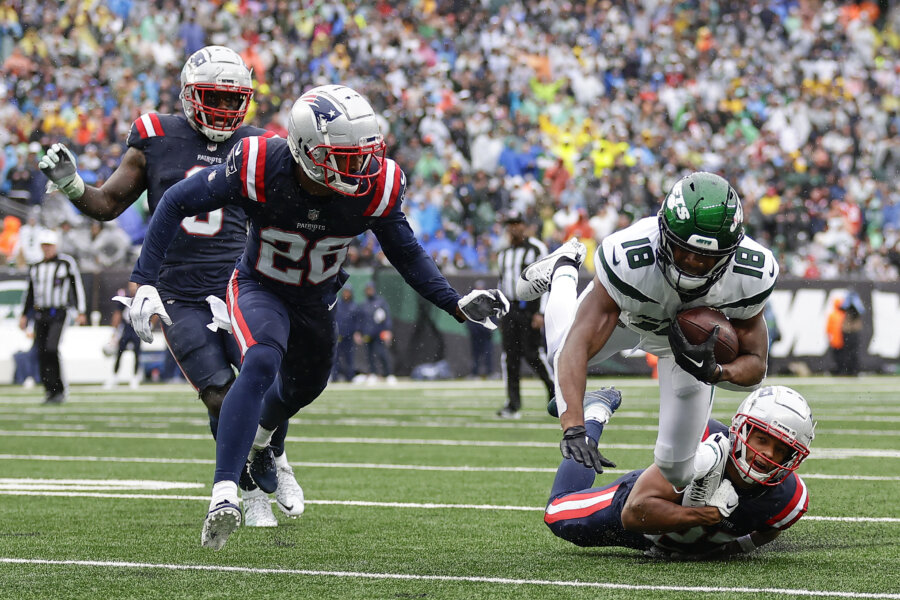 Saleh may be patient with his current starting quarterback, but it's clear he's sick of some of the problems that have come since Wilson became the starter. 
New York's third-down offense is dead last in the NFL at just 21%, four percentage points lower than the next closest organization. Their inability to get themselves in third-and-manageable situations has left the coaching staff to tag the situation as "god awful."
"A lot of the issues we're running into is just the lack of opportunity because we've been so bad on third down…I think we're at 50% of our third down opportunities have been third and 10 or more, which is a recipe for disaster in the NFL, and until we get that part fixed, where we're more efficient on first and second down, getting that fix is our only chance to see some success on the offensive side of the ball," Saleh stated. 
A big reason for the Jets' inability to convert on third down has been their struggles to run the football. When Aaron Rodgers went down, many believed that New York would rely on their 1-2 punch in the backfield of Dalvin Cook and Breece Hall to carry the load. 
Other teams, as expected, have planned for this though. The Jets averaged just 1.7 yards per carry against the Patriots, even worse than their four yards per carry average against the Cowboys. While part of that can be explained as teams trying to take away the lone way New York can consistently move the ball down the field, it's something that drastically needs to change next week against Kansas City.
"It's not going the way we wanted it to go, early in the season. We had a nice week, Week One. These last two weeks, we've seen some heavy, heavy fronts to keep our run game in check," Saleh later added. "The reality is, it was built a certain way, and now we're trying to adjust on the fly, which is a challenge, but a challenge that I think we're going to end up getting an answer for."
It was the first admission from the Jets coaching staff that they had changed the offensive system to better help Wilson while showing to be a detriment to the entire offensive side. While the results certainly haven't been there, the team continues to have patience through the early stages of the season. 
Joe Namath Doubles Down
New York may continue to be patient with its starting quarterback and offensive ineptitude, but the fans and a past legend have had enough. 
Joe Namath, the Jets' all-time passing leader and New York City legend, doubled down on previous comments he made during the team's loss to the Patriots. During the game, Namath repeatedly tweeted his displeasure for both the offensive play-calls and Wilson. 
On Monday, the Hall-of-Fame quarterback doubled down when he went on the Michael Kay show to eviscerate both Wilson and the leadership within the halls of 1 Jets Drive.
"These guys aren't picking the right players. They aren't doing a good job of coaching. It's evident. I mean, you've got to look and see," Namath said. "If you have an eye for football at all you see things are haywire. It's too crazy. They need to fix it and that's getting rid of a lot of people and bringing new ones in."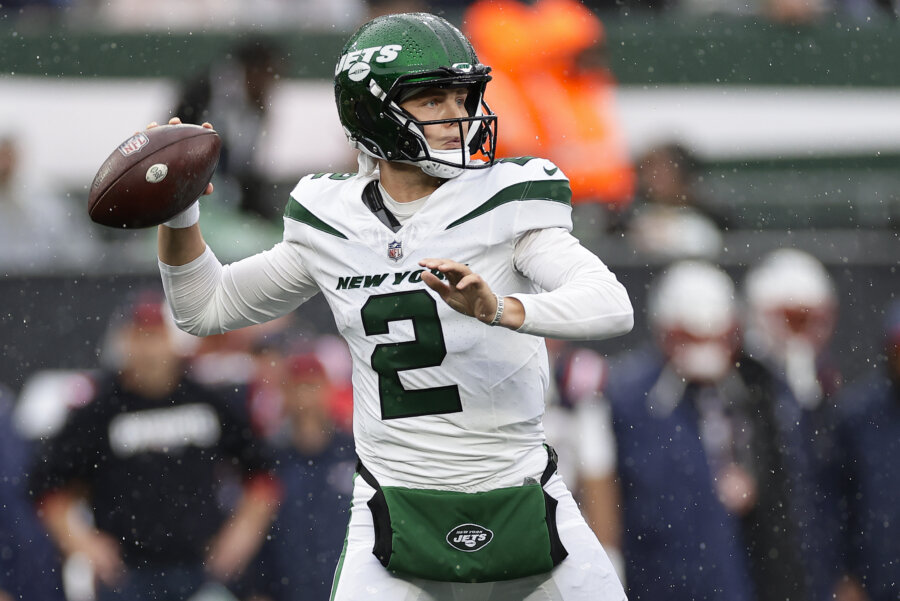 Saleh and the organization have not commented at this time on the quarterback's tirade, but it is clear that with the poster child for success in Jets history looking for a change, the losing will need to turn around quickly. 
For more New York Jets news, turn to AMNY.com