FLORHAM PARK — Player-only meetings are not normally a sign of good things happening in the NFL, but that's seemingly changed for the New York Jets.
Just days after falling to 4-5 on the season with a 16-12 loss to the Las Vegas Raiders, frustration seemed to boil over so much that the entire offense had a player's only meeting. It has been 11 straight quarters without scoring a touchdown for the unit – an almost unheard-of slump for a modern offense to go through. 
New York's offensive struggles may have gotten bad enough, but that isn't enough to deter the group from giving up the rest of the year. 
"I love it," Jets offensive coordinator Nathaniel Hackett said Thursday. "The whole idea is for those guys to come together. We work the entire week to get them as prepared as we can…For them to bond and come together we'll have the opportunity to move the ball and score some points."
Despite the group ranking dead-last in third-down and red-zone efficiency, there are still plenty of things to look at positively in the eyes of their staff. New York totaled over 300 yards of offense in the loss to Vegas. Despite that, penalties that negated big plays, and turnovers have been a major thorn in the Unit's side to gain any sort of momentum on a week-to-week basis. 
The players-only meeting, to most at least accomplished the mission of keeping the whole unit positive and striving to get better overall. 
"We spent a lot of time talking," Zach Wilson said. "..kind of individually with different groups and stuff and I think it was a good time, for everyone to be in the same room together as an offense and just try to figure some things out, how we can be better. I think just kind of everyone trying to figure something out, we got to be better, so I think that is where it starts."
Gang Green understands that their 4-5 mark may not sink their season with the AFC Playoff Picture crowded with several teams, but it's a warning shot for the team to know that they must avoid slipups the rest of the way. 
If their standing wasn't enough to jumpstart the group, the release of a locker-room favorite certainly might inside the Jets room. 
Michael Carter's release shocked the locker room based on several answers from starting members of the offense. While Carter did not make a major impact on the offense in 2023, his impact in the locker room left several players "low" although all understood the decision.
"We know why they did it and what's the situation. We just have to get our offensive situation right," Jets left tackle Mekhi Becton said. 
Getting the situation right on offense means eliminating a large amount of penalties in recent weeks. It also means moving the ball at a consistent pace. New York's offense is ranked among the worst in almost every statistical category and it leaves much to be desired. 
That's where something like a players-only meeting could come into place. 
"We have to keep moving forward," Joe Tippmann told AMNY. "We have to eliminate the mistakes and find the root of the cause of those. I think it's just about communication, playing fast, and being able to go out on the field and have confidence in whatever play we're about to run."
With the Jets' offensive struggles, some fear it could lead to problems on the team – particularly on the defensive side. New York's defense is among the best in football but is just 3-2 in games where they have held teams to under 20 points this season – again, a crazy record when you consider how modern offenses normally operate.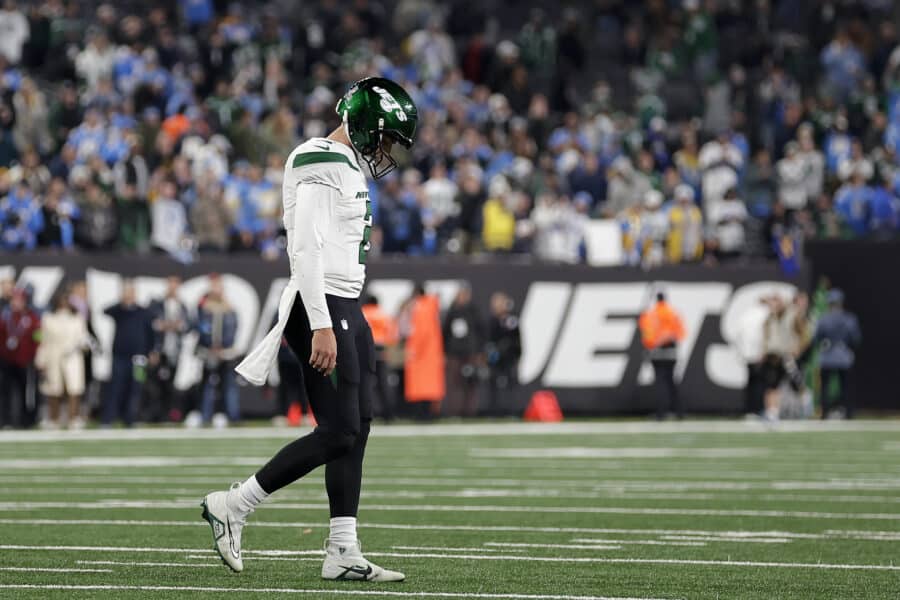 Despite those struggles though, there is no fear of a breakdown in the locker room just yet. Both the Jets head coach and the defensive coaching staff have made sure of that.
"If we were playing perfect football we could focus on the offense," Defensive coordinator Jeff Ulbrich said. "We are far from perfect (though). We can get better in every way. Until we're perfect, there won't be any finger-pointing."
Still, the goal is for the offense to not have to continuously put the defense in difficult situations where only perfect can guarantee a Jets win. A team meeting this late in the season may look to some as a desperate thing for struggling teams, but it might just be exactly with the unit has needed as the weather gets colder. 
"I think it was just us getting together," Tyler Conklin stated. "Obviously we know some of the struggles on offense. We just want to get together and come together…It was all good stuff. It was a positive meeting."
For more New York Jets news, turn to AMNY.com