FLORHAM PARK  — It's hard to win football games when an offense can't score over 10 points a game. That's the reality the New York Jets are currently living in. 
New York has gone through the first three weeks without recording over 200 yards of offense and has the worst third-down percentage in all of football. For a group that has had to adjust on the fly since the injury to Aaron Rodgers, the results have shown a group incapable or unwilling to successfully move the ball down the field. 
As with any football team, when the offense can't put up points or move the ball, the anger and frustration fall into the hands of the play-caller and quarterback. For the Jets, it's the quarterback under the most scrutiny. 
"I feel like it's been tough these three years. I feel like I'm in a good spot mentally with where I am. I'm confident in my ability and I'm confident in the team. All that matters is what goes on in this locker room and the film room with these coaches. We're going to handle our business," Zach Wilson said Thursday afternoon. "I'm working to get better. I know I need to improve and I promise I'm doing everything that I can to keep trying to get better."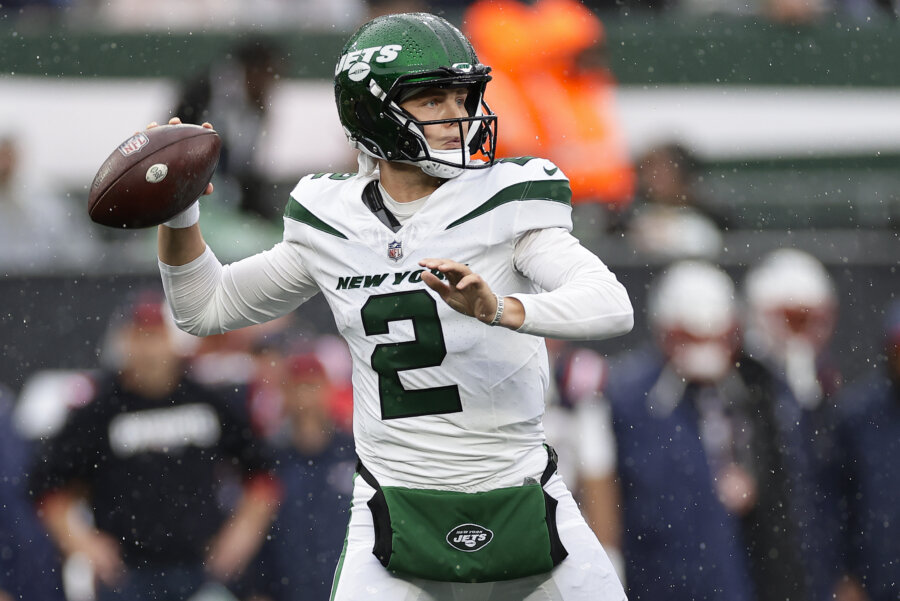 Wilson's inability to improve weekly has hampered the Jets' chances, even with the boatload of talent they currently possess. In Sunday's loss to the New England Patriots, there were several plays in which open receivers ran free, but the Jets' quarterback simply did not pull the trigger. 
For an offensive coordinator, that can be frustrating. For the ever-optimist Nathaniel Hackett, it's more about doubling down and putting his guys in even better positions to succeed on Sunday for the Jets. 
"It's continuous repetition. It's getting comfortable with everything," Hackett explained, "It's me calling great plays for him and putting everyone in the right position, so I think that's just one of those things that as we work through all this, we just want to be sure we're putting people in continuous positions that are open. I think that's so important so that he'll start pulling the trigger."
Hackett's play-calling has been under scrutiny for several different reasons. It's the moves he has not made though that have the fanbase up in arms. When it comes to the Jets' offense, adding speed in-game should be a major boost. 
Except the one-speed receiver the Jets currently have is one they don't play. Wide receiver Mecole Hardman has made a career of being a deep-threat target who can score from anywhere on the field. The fact that he hasn't been able to get any touches during his first three games with Gang Green is certainly among the more puzzling questions the team is trying to solve. 
"When you're not converting on third down, you're not going to be able to get a lot of people involved, and that's that whole rhythm, getting different people out there, doing all the things that we want to get to, so we have to do better all around," Hackett said as an explanation to Hardman not seeing the field. 
Even with a lack of playing time, the two-time Super Bowl champion is more than comfortable with allowing his current role to grow with the changing offense.
"I think we are all in a frenzy with Aaron going down," Hardman told AMNY. "We're trying to figure everything out as a team and unit. I don't hold anything against them. We've definitely had some talks about getting out there and involving me more."
Hardman's comments were also echoed by another player who has;t received a lot of playing time: Jeremy Ruckert. As a third-round pick last year, Ruckert was a high-rising player after a strong rookie season. In 2023, he's been buried on the depth chart under veterans like CJ Uzomah and Tyler Conklin. 
In the first three games of the season, Ruckert has seen the field as shortly as Hardman – used solely on blocking downs. While the former Ohio State Buckeye knows he can offer more to the offense on the receiving end, he's focused on doing whatever Hackett and the rest of the coaching staff needs of him. 
"I just worry about myself and what I can do to help this team win. Whether that's one play or many plays, you can't really control that once you get in the game."
Ruckert and Hardman's responses are professional statements from two players who have every right to be frustrated by their lack of playing time. It's evidence that the locker room is still fully supportive of the messaging the coaching staff is providing and is looking to do anything to improve on the field.
Whether they see the field or not is another story entirely. With Hackett being the leader on the offensive side of the ball, it's up to him to determine which players are needed on any given drive to move the ball. Until they start doing so though, the heat will continue for both his play-calls and the struggling quarterback who is just trying to stay afloat. 
Playing two of the Jets' top role players might certainly help that though. 
For more New York Jets news, turn to AMNY.com