Whether fans want to admit it or not, most of the New York Rangers who took the ice for their Game 7 loss to the New Jersey Devils will return for the 2023 season. 
That's what happens when 14 members of last year's team are still under contract while two others are RFA's. 
With Peter Laviolette now named the next head coach for the Bluesshirts, all eyes now turn to the offseason and the 2023 NHL Draft to see where the Rangers will go to improve their team. New York will need to make important decisions on some younger players while also determining which of their current pending free agents they will let walk. 
In short, there's a lot of pressure on general manager Chris Drury to get the right players on the major league team to put them over the hump in a tough division and conference. 
That being said, let's take a look at the moves the Rangers need to make over the next month to move past their playoff woes. 
Cap Space (Per CapFriendly): $11.7 Million
Offseason Checklist
Trade Barclay Goodrow
Trading Goodrow is arguably the first move Drury should make before free agency to add significant cap space to their haul. Taking $3.6 million off the books would give New York over $15 million in space which should be more than enough to bring back their young core, while also keeping them involved in some of the bigger names of free agency. While it would hurt the fourth line now, it's a move that sets the Rangers up nicely for the season. 
Re-sign K'Andre Miller and Alexis Lafreniere
Both Miller and Lafreniere are RFA's this offseason which means New York will have their rights unless they are beaten by a better offer. It's doubtful that either of the two young players will end up leaving this offseason so it would be smart for the Rangers to bring both back. Once Goodrow is traded, there should be plenty of space for the team to get both deals done while still having cap space left over. 
Re-sign Patrick Kane and Tyler Motte
Shortly after the season ended, I believed the Rangers should do everything in their power to keep Vladimir Tarasenko in New York. That has since changed since Patrick Kane had hip surgery and is expected to miss a few months to start the new season. Kane's injury could ultimately lower his cap number and the number of teams willing to pay him top dollar. It means bringing him back to New York is now more feasible and could be cost-effective. 
Re-signing Motte also negates the loss of Goodrow while continuing to have an aggressive fourth line. 
Send Alexis Lafreniere to a skating coach
Kaapo Kakko and Filip Chytil both look ready to receive more playing time next season. The only one of the Kid Line that looks like he needs more coaching is the former first-overall pick. Lafreniere desperately needs a skating coach to work with him during the offseason to have him prepped and ready for an important season. If he can show he belongs next season, with proper coaching, the Rangers would be far more dangerous. It'll be up to Lafreniere though to see how he improves.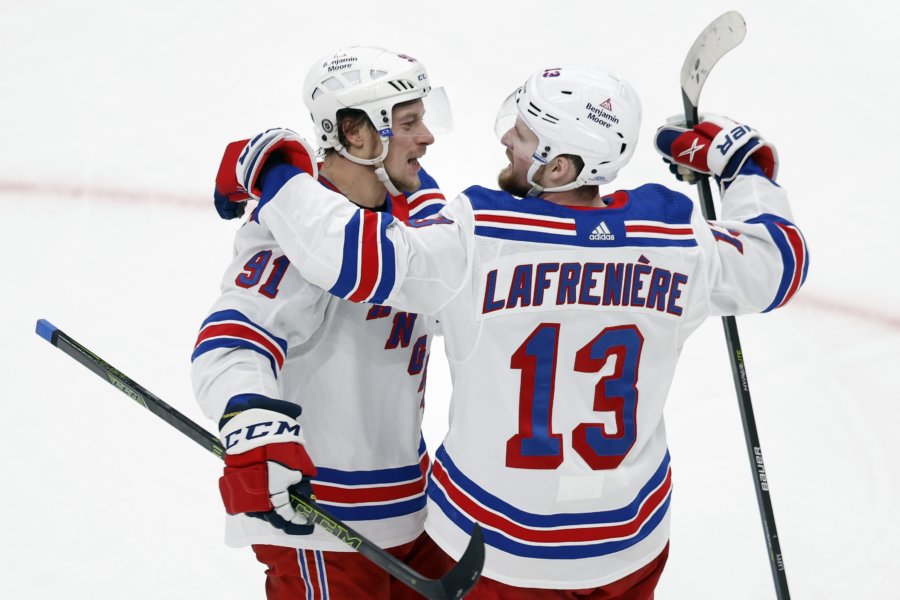 Call-Up Will Cuylle, Brennan Othmann, Zac Jones, and Matthew Robertson
Depending on what happens to Tyler Motte, the Rangers have his replacement ready to go from the farm system in Will Cuylle. Cuylle deserves to get plenty of minutes on the fourth line next season and should compete right away for a role on New York's starting roster. Othmann may take a little bit of time, but having him called up would be a massive move as well without needing to cost too much. 
Instead of having to pay other veterans like Niko Mikkola, New York should also allow both Robertson and Jones to compete for the final defensive pairing role with Braden Schneider. Both players would be significantly cheaper than a Mikkola extension and would offer the Blueshirts a chance to develop their own solid talent. 
Sign Nick Bjugstad in free agency
Bjugstad is a fourth-line player that would fit the exact kind of mold that the Rangers need next season. In reality, New York only needs to figure out what to do on the fourth line because most of its top spots are already filled. Bjugstad would give the team depth at center and help solidify their overall lines. Being significantly cheaper than Goodrow also helps his case. 
Bring back Jaroslav Halak as a backup goaltender
Halak had a very strong second half to the 2023 season, and should he choose to not retire, would be an excellent backup goaltender for the Rangers. Simple as that – no need to break the bank on a backup goaltender when Igor Shesterkin continues to dominate. 
Projected Lines going into 2023 post checklist
Chris Kreider – Mika Zibanejad – Kaapo Kakko
Artemi Panarin – Vincent Trocheck – Patrick Kane (Brennan Othmann)
Alexis Lafreniere – Filip Chytil – Jimmy Vesey
Will Cuylle – Nick Bjugstad – Tyler Motte
Ryan Lindgren – Adam Fox
Jacob Trouba – K'Andre Miller
Zac Jones/Matthew Robertson – Braden Schneider
Igor Shesterkin
Jaroslav Halak
For more New York Rangers news, turn to AMNY.com