We're just over 48 hours away from the start of the 2023 regular season for the New York Jets and Buffalo Bills. Both teams have championship aspirations, and both feel the first step towards that is by winning the AFC East. 
Buffalo is the top dog in that division. They've won the last three division titles. Dominant stretches always end though. If there's a team that is talented enough to compete with the Bills to end their recent run, it's an Aaron Rodgers-led Jets squad.
Today, we go over the top matchups to watch on Monday night.
WR1 vs. CB1
There may not be a better cornerback-wide receiver battle to watch this week when Sauce Gardner and Stefon Diggs face off. Gardner is coming off a historic rookie season and looking to improve on his interception totals while Diggs is still one of the best receivers in football. 
Of course, the other side of the field certainly has another top matchup as well. Garrett Wilson is the reigning Offensive Rookie of the Year and is seen as the top target for New York's passing offense. Tre'Davious White is still a top-five cornerback in football. 
Whichever team comes out of this particular matchup between corners and receivers with an edge, will probably come away with the win. You're looking at each position having a top player overall which leads to plenty of excitement going into the season opener. 
Leonard Floyd vs. Mekhi Becton
Buffalo may not have Von Miller to wreak havoc, but they still have a few quality players who can cause problems for the Jets offense. A lot of people love the potential of Greg Rousseau, but it's Leonard Floyd who will be a key for the Bills on Monday. If Floyd can get consistent pressure for his new team, the Bills will be able to disguise more coverages and make life hell for any quarterback. 
Luckily for the Jets, their depth along the tackle position is a lot different than what it has been. Mekhi Becton is back on the field, and he looks to lock up the right side of the line to protect his quarterback. If Becton plays close to his rookie season (the last time we saw him on an NFL field) then the Jets could have a truly special season. 
It's a big matchup to watch when the two teams kick off on Monday.
Dalton Kincaid vs. Jets secondary 
Dawson Knox, James Cook, and Diggs all can cause problems for the Jets' defense on Monday. A newcomer though could turn the tide in this matchup. Dalton Kincaid was seen as the top tight end coming out of a deep 2023 class and has the build of a wide receiver. That will cause problems for linebackers and even safeties. 
How the Jets can handle the Bills' top rookie will be incredibly important for their hopes of winning on Monday night. Contain the Utah product, and Gang Green can put a stranglehold on Buffalo's offense. 
Aaron Rodgers vs. Sean McDermott
As defensive minds come, there may not be a better defensive-minded coach than Sean McDermott. A disciple of the late Jim Johnson, McDermott has a history of disguising coverages and blitzes to confuse quarterbacks and force them into mistakes. 
That may not happen with a quarterback like Aaron Rodgers on the sideline. The chess match between the Jets' new quarterback and Buffalo's top defense will be intriguing to watch. Rodgers hasn't lost a Monday night game in his last nine tries. Could he make it 10 this week?
Jets DLine vs. Bills OLine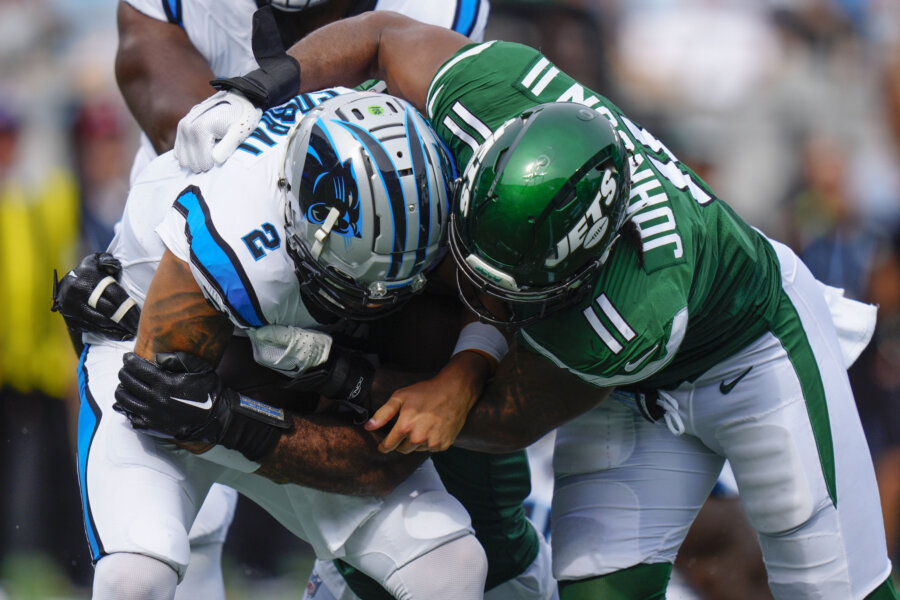 There aren't many defensive lines as deep and dominant as the Jets currently have this season. At least 10 players have the ability and expectation to have a role on the 2023 defense – a number most teams would dream of going into Week 1. In almost every week, this position group will be the one to watch.
Buffalo's offensive line isn't as dominant, and in turn, holds the biggest weight on the game. If they can somehow mitigate New York's pressure, the Jets' defense can't do everything they want on the field. That gives the Bills a major edge. If their offensive line struggles though, it could be a difficult game for Josh Allen to do anything of value. 
Jets vs. Bills Week 1 odds
Spread: Bills -2
Over/Under: 45.5
Moneyline: Bills -130
Odds courtesy of DraftKings
For more New York Jets news, turn to AMNY.com