New York City has been hit with a class action lawsuit seeking to overturn its newly permanent outdoor dining program, with petitioners claiming the popular al fresco eateries are an unconstitutional nuisance.
The suit, filed against the city in Manhattan Supreme Court on Monday by 30 New York City residents, claims the recently-enacted permanent outdoor dining program — which replaced the temporary, emergency-authorized program that began during the COVID-19 pandemic — is illegal for not having been subject to a full environmental impact review and public comment.
That allowed the city to enact what the petitioners describe as a "massive change to the cityscape that defines New Yor[k] City" that is "highly destructive to city neighborhoods and the petitioners who reside in them."
Before the pandemic, outdoor dining was only allowed in a few areas of the city, mostly in Manhattan, and was subject to a long, bureaucratic and expensive approval process. Soon after COVID-19 struck the city and forced restaurants to shut their doors, city officials used emergency powers to significantly liberalize permitting for outdoor dining, allowing thousands of eateries the chance to reopen for customers to dine in and greatly expanding the scope of al fresco eating. Many built elaborate shacks on the sidewalk or roadway for dining.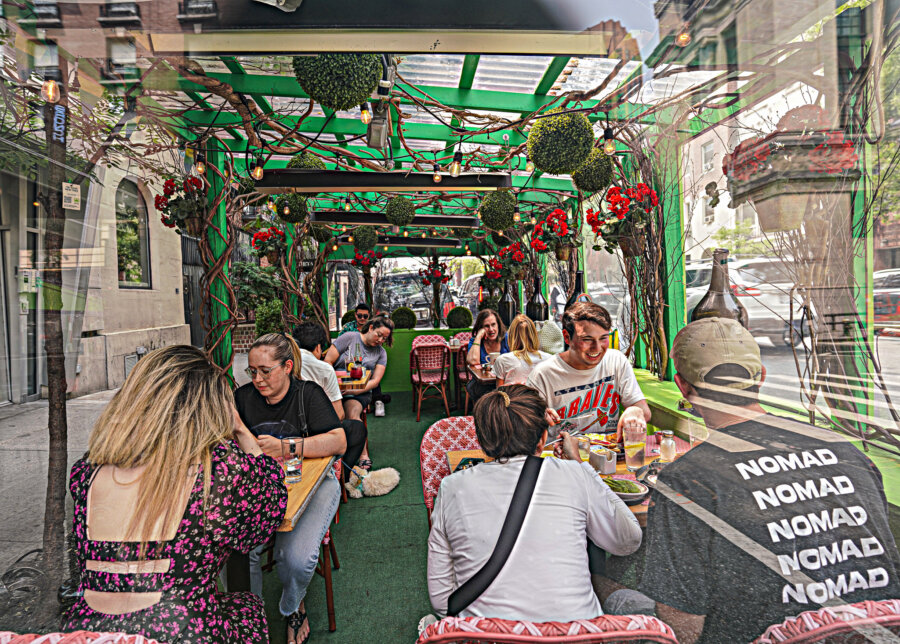 City officials and restaurant industry reps have claimed the outdoor dining program saved 100,000 restaurant industry jobs and kept innumerable eateries from having to close. Pandemic-era polls showed the program to be broadly popular with New Yorkers; a December 2020 poll by Siena College and Transportation Alternatives found 64% of voters, including 78% of Manhattan voters, found outdoor dining a valuable use of curb space.
Still, others were less than enthused from the beginning. Critics of outdoor dining have contended that dining sheds take away parking spots, attract rats and other vermin, are havens for homeless New Yorkers and crime, and bring noisy crowds to their blocks for all-night revelry.
"This saturation of outdoor seating is not serving me, my family, or my business. It has made this neighborhood pretty much unlivable most of the time," said Ellen Koenigsberg, a Lower East Side resident who owns a vintage clothing shop and is a petitioner in the class-action suit, in an affidavit. "I feel like I always have uninvited guests in my apartment that just will not leave."
Others are perturbed by what they contend are "ugly" dining sheds.
"They mostly look like large, dirty garages and disrupt and change the nature of the street," said fellow Lower East Side resident and petitioner Elizabeth Dworkin. "It feels like a fort has been built on the block to keep the local residents away so paying customers and bars, clubs, and restaurants can occupy all of the public space."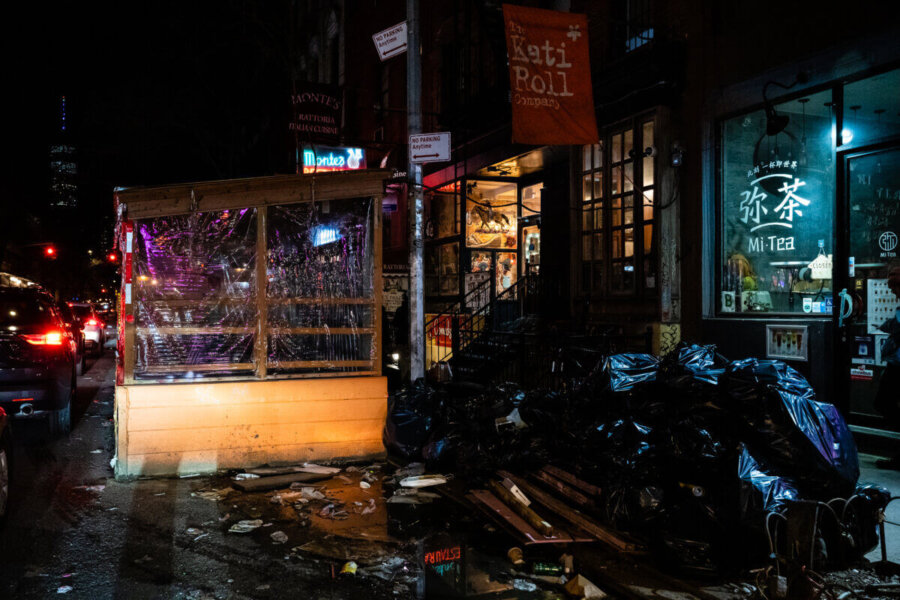 The temporary program was also the subject of lawsuits in the intervening years, which were repeatedly tossed by judges. But in August, a state Supreme Court judge ruled that the city could no longer rely on emergency executive orders to underpin the program.
Just two days later, the City Council voted to approve a permanent outdoor dining program. The final product was the result of years of discussions between City Hall, the restaurant industry, and other local stakeholders.
The final program permanently liberalized the permitting process for outdoor dining setups, allowing them across the city at a more affordable cost. It also established new rules governing the program, necessitating scaled-down dining setups and allowing dining in the roadway for just eight months of the year.
Andrew Rigie, the head of the NYC Hospitality Alliance, a prominent restaurant trade group, accused the petitioners of simply opposing outdoor dining, and using bureaucracy as cover.
"Some of the same people who demanded that the emergency outdoor dining program end and a permanent program be created are now suing to stop the permanent program from taking effect, which leads us to believe their real motive is just to end alfresco dining, something that is overwhelmingly popular across the city, and vital to local jobs and small businesses," Rigie said in a message to amNewYork Metro.
Supporters contend the program was subject to considerable public input during a long legislative process. Under the permanent program, all outdoor dining applications will have to submit to review by local community boards, where repurposing curb space is often controversial, while those in historic districts must also get approval from the Landmarks Preservation Commission.
Further, the city released an "environmental assessment" for outdoor dining in 2021, finding it would not have adverse impacts, though not a more laborious environmental impact statement, petitioners note. New Jersey is making a similar argument in its federal lawsuit seeking to overturn New York's congestion pricing program.
Fewer than 1% of the city's roughly 3 million on-street parking spots were reclaimed for dining sheds, the New York Post found in 2021. Outdoor dining supporters argue this contradicts claims by petitioners of a "massive change to the cityscape," although certain areas do tend to have higher concentrations of sheds.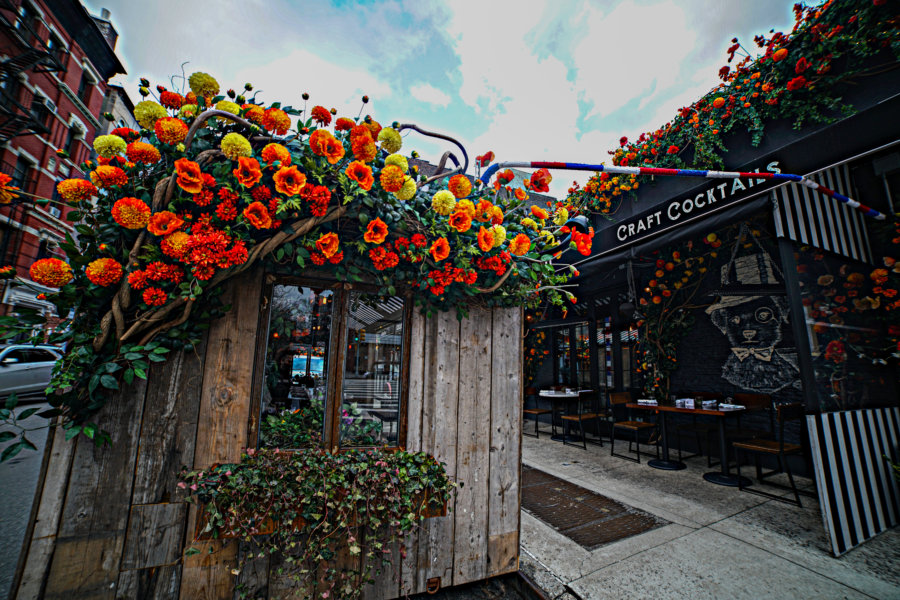 "Apparently some people have gotten so used to cars clogging their public spaces that they have Stockholm Syndrome. Luckily, the rest of the city has seen the benefits outdoor dining as clear as day," said Jackson Chabot, director of advocacy and organizing at Open Plans. "Trying to block progress at our curbs is retrograde, obstructionist, and not representative of popular opinion."
"It's also futile," Chabot continued, "because Open Restaurants has already passed — after years of public review, I might add. It's a wildly popular program that will go down in history as a watershed improvement to life in the city."
A spokesperson for the Department of Transportation said the Adams administration stands behind the program and process, and will defend them in court.
"Outdoor dining saved 100,000 jobs in New York City at the height of the pandemic, and the Adams administration's permanent Dining Out NYC program will build on the best parts of that program while transforming our streets into more vibrant public spaces," said DOT spokesperson Vin Barone. "The city stands firmly by its thorough and comprehensive review of the Dining Out NYC program and will defend it in court."
Outdoor dining is not the only pandemic-era innovation under threat from litigation. In April, a group of New Yorkers filed a federal lawsuit attempting to overturn the Open Streets program, which has closed some Big Apple streets to cars and opened them up to pedestrians, cyclists, and programming; plaintiffs claim the program violates the Americans with Disabilities Act.