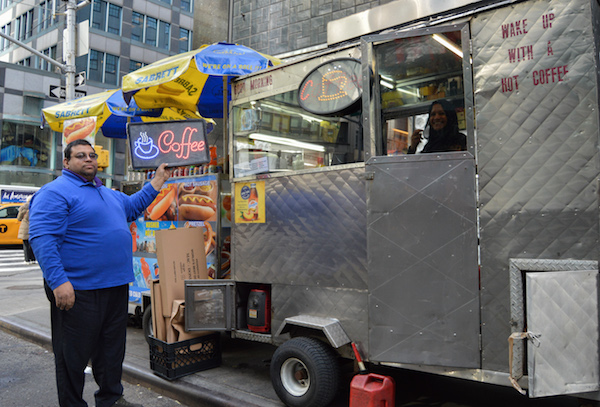 BY JACKSON CHEN | Community Boards 7 and 8 are both calling for designated street merchant locations as the price of their support for the proposed Street Vending Modernization Act that would double the amount of licenses circulating over a half-dozen-year period.
The bill is being spearheaded by Upper West Side City Councilmember Mark Levine and was introduced this past October. The legislation would introduce 600 new street vendor permits each year starting in 2018 and going through 2024, almost doubling the current cap of 4,235 permits.
With the maximum amount of permits stalled since the 1980s, a black market has allowed those who own permits to rent them out to food truckers for $25,000 for their two-year life, while they only pay the city $200 every time they renew.
The Street Vending Modernization Act would also regulate mobile merchants by creating an Office of Street Vendor Enforcement equipped with enforcement agents. To tackle issues related to the overall economy of street vending, the bill would also create an advisory board made up of vendors, owners of brick and mortar stores, and representatives from community groups and city agencies.
Given the wide reach of street vendors across the city, the bill drew a large crowd at a Council hearing in October, but the issue has since been at a simmer, allowing time for community boards to weigh in on its impact.
During an April 11 Community Board 7 Transportation Committee meeting, members suggested that the local boards should have jurisdiction over whether a food truck or street vendor can locate in a particular spot in their district. Much like how they grant advisory opinions on whether bike lanes are appropriate or if neighborhood businesses should be given liquor licenses, CB7 members wanted oversight on where street vendors can operate in their community.
"Community boards have jurisdiction over newsstands, cafés, all these local things," Andrew Albert, CB7's Transportation Committee co-chair, said. "We're saying we should have the ability to say [yes] or no, put it here instead of there."
Their neighbors to the east across Central Park at Community Board 8 had earlier begun the charge to give local boards the right to weigh in on permitted locations. Michele Birnbaum, co-chair of CB8's Vendor Task Force Committee, argued for a city agency that would determine where street vendors can be located and solicit suggestions from community boards. At a February 17 task force meeting, small business owners complained that they face unfair competition from vendors stationed right outside their storefronts.
In a full board resolution passed unanimously on March 20, CB8 explained its objections to increasing the caps until issues of enforcement and location are addressed. Citing widespread complaints about vendors in its district, the board's resolution endorsed the creation of a city agency responsible for assigning vendor locations with input from community boards.
Sean Basinski, the director of the Street Vendor Project, an advocacy group that represents more than 1,800 members, appeared at both Community Boards 7 and 8 to urge their members to listen to the vendors' side of the question. According to Basinski, academic research supports the case that street corner coffee vendors and Starbucks cater to different clientele.
"In the case where there is a coffee vendor right outside of a Starbucks, the customer who buys a $4 Starbucks coffee is not the same person who buys a 75-cent or $1 coffee," Basinski told CB7.
As for the boards' push to have vendors' locations officially designated, Basinski said that is not doable or viable in the city. The vendor advocate said the sheer number of vendors makes the idea unworkable, noting that 5,000 or more candidates looking to have locations approved would swamp community boards across the city.
Basinski did find common ground with CB7 on one reform suggestion — that permit owners be contacted to see if they were personally using their street vending license and, if not, whether they would be willing to surrender their right to vend.
With six months having passed since the Street Vending Modernization Act had its Council hearing, Levine's office has had plenty of time to become acquainted with community concerns from many quarters. According to his office, staff there are working to amend the proposal with that input in mind.