It already looks a lot like Christmas at Loreley Restaurant and Beer Garden, which has been transformed into a Lower East Side holiday haven that could warm the heart of even the coldest grinch.
From Nov. 16 until Jan. 7, 2024, Loreley, located at 7 Rivington St., is spreading holiday cheer with its popular annual Holiday Winter Wonderland. The restaurant is decked out with over-the-top holiday lights and décor indoors and in the heated beer garden and streetside patio, featuring a snow globe display, gingerbread houses, reindeer, a life-sized Santa Claus, Christmas trees, snowmen, and thousands of ornaments, garlands, bows, crystal icicles and snowflakes dangling from the ceiling.
Even the benches' back cushions are draped in the holiday signature colors red and white.
Owner Doug Jacobson loves to see the reaction from guests when they walk into the restaurant during the holiday season. For Jacobson, it's all about nostalgia and creating the magic of Christmas for adults.
"The holiday season is supposed to be such a magical time for children," Jacobson said. "I feel like, as adults, we kind of forget about it. We're always trying to do it for the kids. We want to enjoy it ourselves, too." 
He shared that his mom always decorated their home for Christmas, including snow globes. 
"I was saying about the nostalgia. For some people, it might be the decorations. For some people, it might be the music. For somebody, it might be the snow globe," Jacobson said. "We're trying to have a little bit of everything so that each person can find what maybe brings them back to their childhood."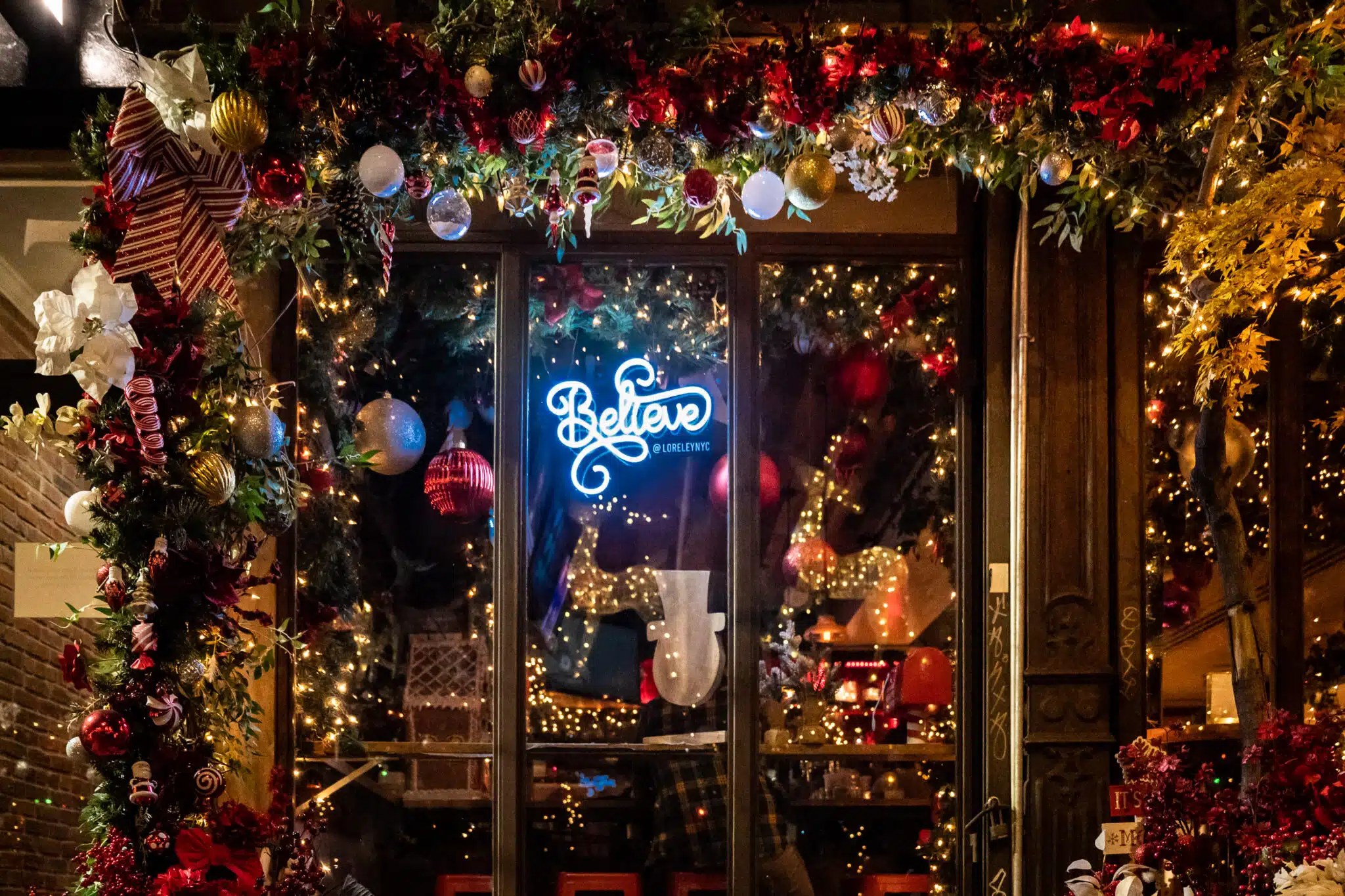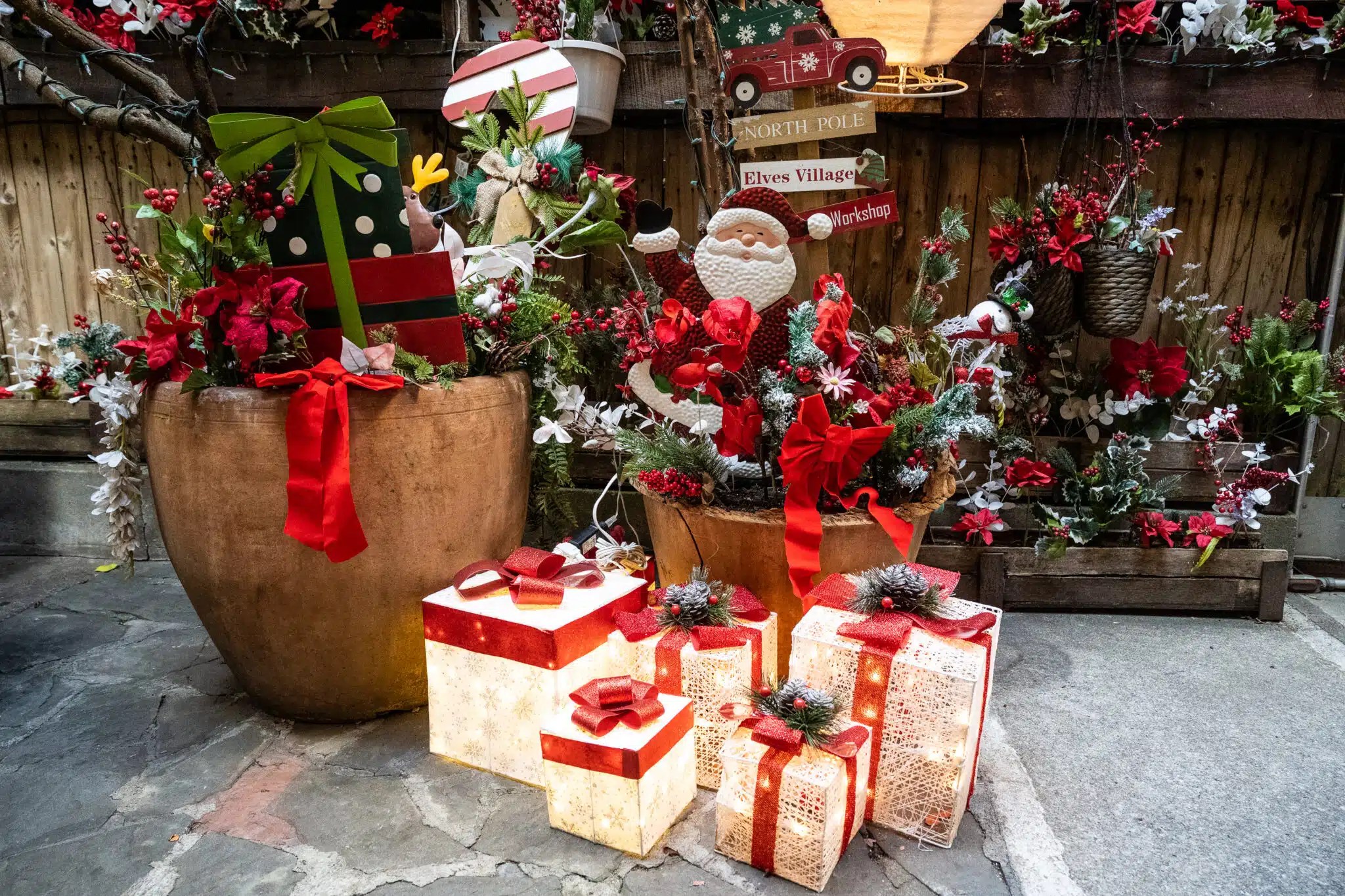 Some of the hot festive holiday drinks are a throwback to Jacobson's childhood when his mother would make hot chocolate topped with marshmallows or cookies with red sanding sugar.
Loreley serves an adult version of hot chocolate called the "Boozy Black & White Hot Chocolate," made with Jefferson's Bourbon and Ghirardelli chocolate and topped with toasted marshmallows, chocolate, and vanilla syrup, which will undoubtedly get guests into the season's spirit.
Other festive holiday drinks include a Peppermint Nitro Martini with vodka, cold brew nitro coffee, and peppermint schnapps, served with a candy cane and garnished with a red sanding sugar rim, Spiked Eggnog with rum, whipped cream, and caramel, and Hot Toddy. And a winter drink menu wouldn't be complete without Glühwein, a warm mulled wine that is a staple at German Christmas markets.
Restaurant manager Kaliope Kavalos shared it took the Loreley crew three days to put up the decoration, and they still needed to do some "touch-ups."
Kavalos said guests were impressed with the decor. 
"They love it. Especially customers who have been here for our haunted Halloween House," Kavalos said. "We always go all out with the decor. Halloween and Winter Wonderland are the two popular ones."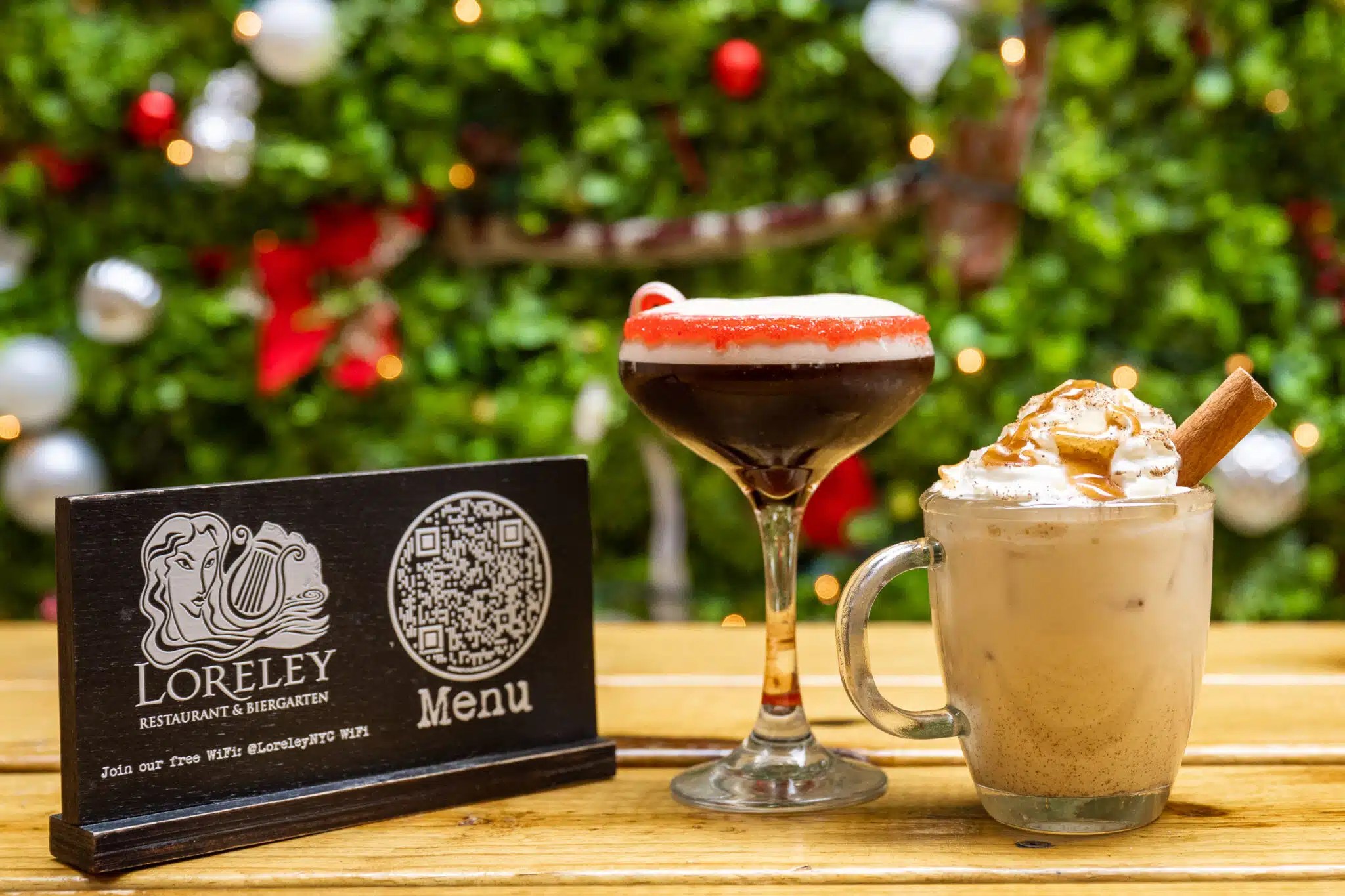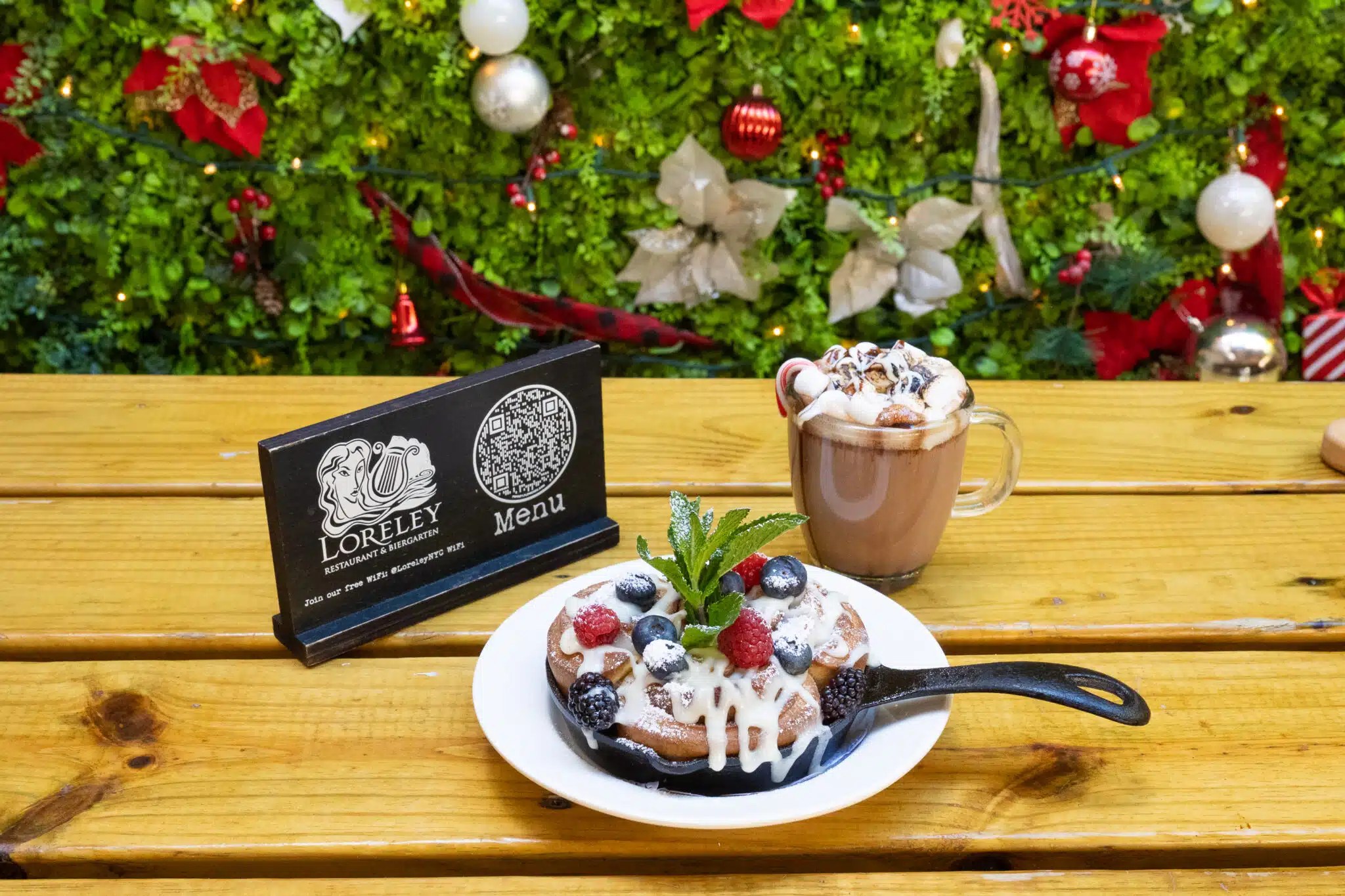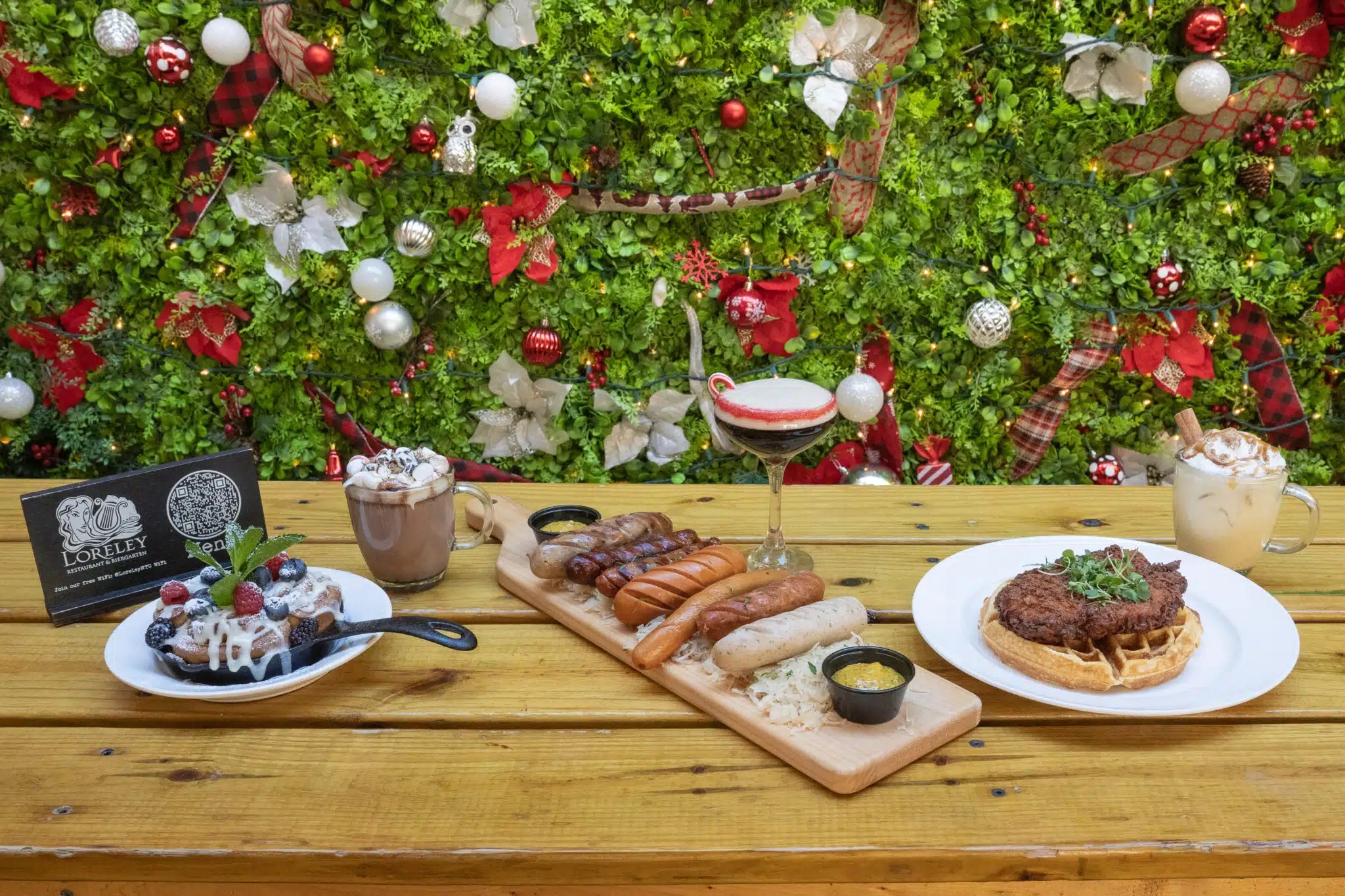 Kavalos pointed out Loreley has the biggest outdoor beer garden in the city, and heaters keep guests warm and toasty on even the chilliest New York City Winter days.
"We have the heat lamps outside that keep you extremely warm," Kavalos said. "We have people sitting outside when it's 20 degrees. I've never been to a beer garden where I could sit outside in the winter and enjoy a cocktail, and we have our hot drinks."
One popular brunch dessert item is freshly baked cinnamon rolls with cream cheese icing and fresh fruit. The rolls are prepared from scratch and are baked to order. 
"It's worth the wait," Kavalos said.
Carlos Jaguande has been a Loreley regular for the past twenty years. The former pro-midfielder loves Loreley, calling it an "amazing place."
"Whatever they do here every season and everything, it is very beautiful," Jaguande said.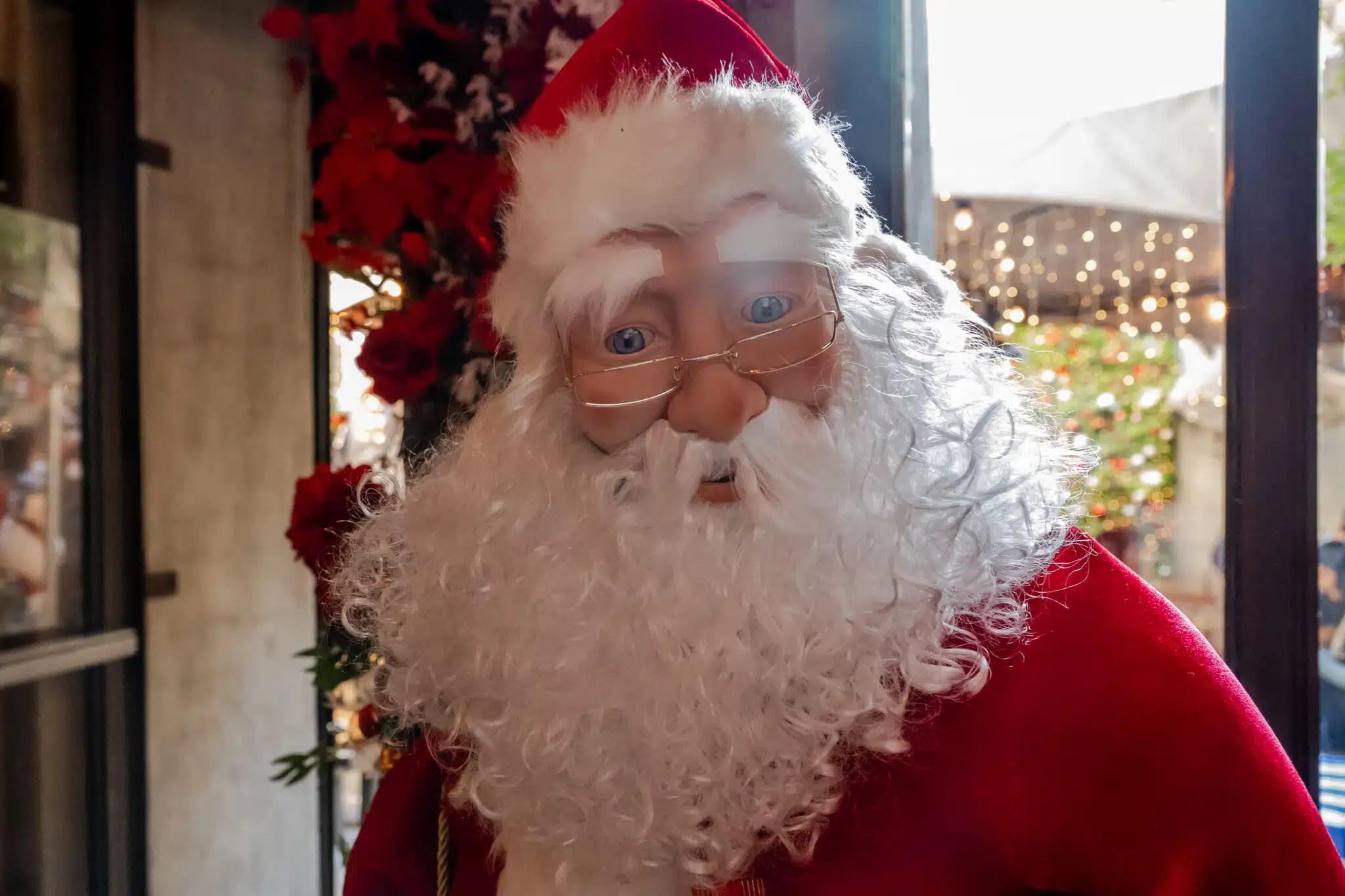 Loreley opened in 2003 as one of New York City's pioneering beer gardens. Modeled after Cologne's Brauhauses, Loreley was the first to focus on German beer. 
Still going strong 20 years after it opened, Loreley offers an extensive list of German and craft beers, cocktails, wines, and spirits.  
The food menu features beer-friendly dishes like giant pretzels with warm beer cheese dip, grilled sausage platter, schnitzel, cheese spaetzle, burger, and more. 
Loreley is open on Thanksgiving, Christmas Eve, and Christmas Day from noon till 11 p.m., and will host an "Ugly Sweater Party" on the first three Wednesdays in December and a New Year's Eve masquerade party. 
For more information, head over to www.loreleynyc.com.