"Stonewall 45: Windows Into L.G.B.T. History" is an exhibition that's taking it to the streets — via the windows.
The exhibit, which runs through June 29, features colorful poster panels that tell the story of the beginning of the L.G.B.T. civil rights movement. More than two dozen stores along Christopher St. have offered their windows as display space.
In addition to longstanding Christopher St. mainstays, like Ty's and the Leather Man, an eclectic mix of owner-operated stores is participating, from Doodle-Doos toys, Sockerbit candy and Doyle & Mueser menswear — to corporate outlets like Rag & Bone and Brooklyn Industries.
The show was conceived by Susanna Aaron, a Greenwich Village native and member of Community Board 2 who has lived on or near Christopher St. all her life.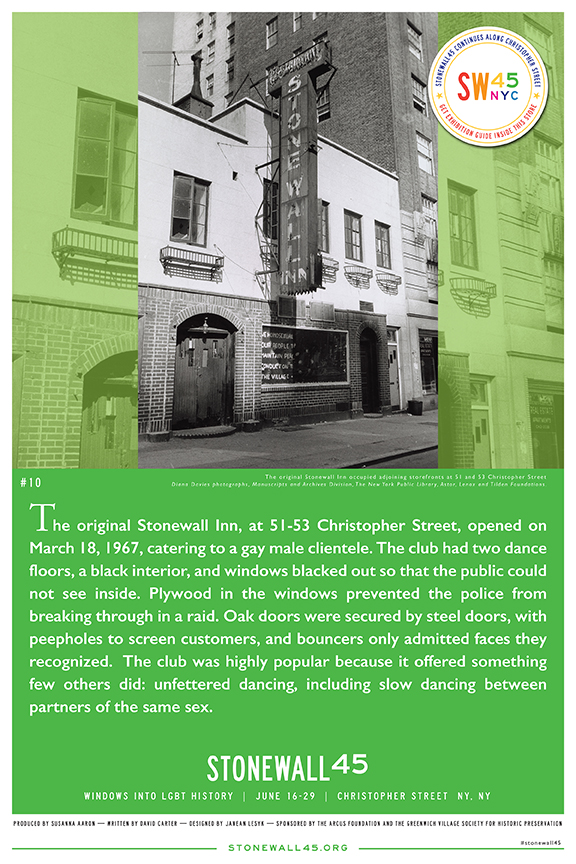 "It saddens me to see so little presence of the important history that was born here," Aaron said. "The L.G.B.T. civil rights movement has inspired the world and become part of our shared national consciousness. It's a good moment to remind people of where it began."
Aaron's hope is to welcome a broad audience — gay and straight, old and young, local and foreign — and offer a cultural means of engaging with the street.
"Cultural anchors are good for communities, and the public is interested in this story," she said. "Droves of people of all types flock to the Stonewall Inn. They stand outside with their guidebooks — but the problem is that once they've read the plaque outside the building, there's nothing much more for them to learn from."
For this 45th anniversary of the Stonewall riots, viewers to "Stonewall 45" are promised a history lesson that runs from Greenwich Ave. to Greenwich St. and describes the context of the riots; the events of June 1969; and the political response that followed.
David Carter, author of "Stonewall: The Riots That Sparked the Gay Revolution," collaborated with Aaron in writing the text for the posters. Visual elements include period photographs, newspaper clippings and fliers. The archive at the L.G.B.T. Center on W. 13th St. was a principal source of material.
The show is sponsored by the Greenwich Village Society for Historic Preservation and the Arcus Foundation.
Aaron hopes that Stonewall 45 is just the start of something much bigger.
"One day, it would be great to see an L.G.B.T. history museum on the western end of Christopher St., joining the trail shaped by the Hudson River Park, the High Line and the Chelsea art galleries." she said. "I don't think there's such a museum anywhere in the country. It's about time we create one."