FLORHAM PARK — Dalvin Cook may not be fully practicing with the New York Jets yet, but the excitement he's brought to the roster over the last week is hard to miss. 
Now with a new team after six years in Minnesota, Cook has the chance to make the most of his playing career: something that others in his position haven't been able to do once they get to his age.
"I don't have a solution for it right now so I'm just going to continue to play good football and see where it goes from there," Cook told reporters after Thursday's Jets practice. 
Cook's response and frustration toward the dwindling pay for running backs are very similar to other Pro Bowl running backs over the last few months. Still, his one-year, $7 million deal with the Jets is seen as a fair market price for one of the more consistent backs in football.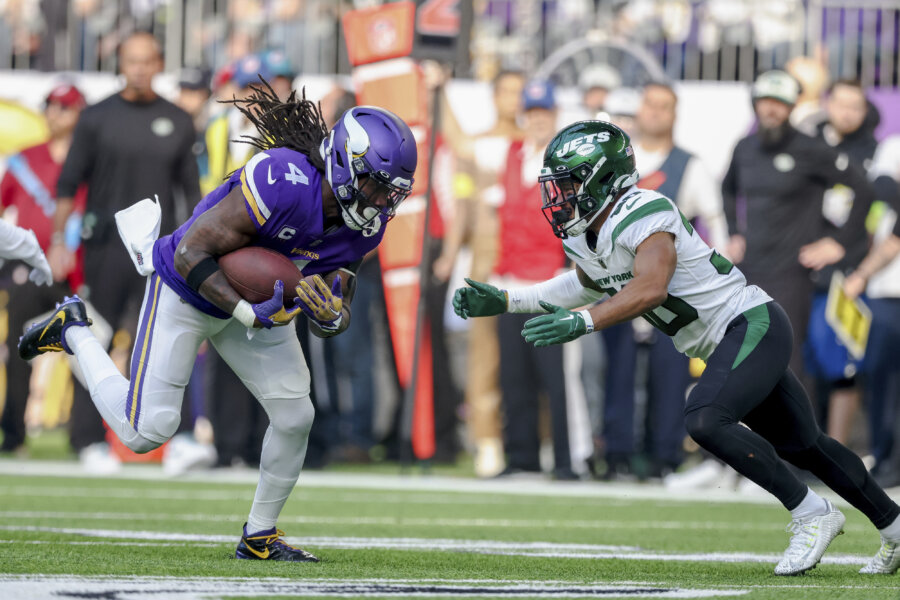 But why the Jets? New York hasn't been to the playoffs in over a decade, and his hometown of Miami needed a consistent runner like him. Turns out, Cook came away impressed from his visit with Gang Green and saw the potential that the organization has to be great.
"I think collectively, I saw everything I needed to see. Good vibes from coaches and players. When you look at the roster, all the pieces are put together," Cook explained. "I can help these guys…it could be something special."
Of course, that potential is certainly helped by Aaron Rodgers. As a member of the Vikings, Cook has gone toe-to-toe with the future Hall-of-Fame quarterback and is all too familiar with the level of play he has brought onto the field. 
In a way, that was enough of a reason to join the Jets in Cook's mind.
"He (Rodgers) didn't recruit me. He doesn't have to recruit, his game recruits itself. Aaron is Aaron. If you don't want to be a part of something like that, I don't know what you want in football," he said.
Many things need to happen before Cook takes practice snaps with the first-team offense for New York. He's not expected to play in Saturday's preseason game because he is heading home to prepare for the birth of his child. The running back said that he should be working with the team in the next few days, and isn't concerned about the shoulder surgery he went through this offseason. 
In a running back room with a young phenom in Breece Hall, and other young players like Michael Carter and rookie Israel Abanikanda, Cook is the elder statesman in the room. New York believes that Cook's role can be defined solely by what he can give to the 2023 roster. 
And in his mind, there's still a lot left in the tank.
"Just be Dalvin. Be explosive. I'm the older guy in the room. Just share the knowledge so any little thing I can help with these guys and help them in the league, I'm going to give it to them," Cook stated.
Cook's signing does not come without some level of controversy though for the Jets. He is still subject to a personal civil injury lawsuit filed by his ex-girlfriend, Gracelyn Trimble, in November 2021. The trial is still ongoing and set for 2024. While the NFL can levy suspensions on players who "violate the integrity of the game" the former Viking and Jets organization are "not concerned" about any potential suspension that may arise this season.
For now, it's full steam ahead for the Jets and their latest shiny toy in their offense. If Cook can be even as close to as dominant a runner as he was in Minnesota, New York's chances of winning in a tough AFC will be even greater. 
For more New York Jets news, turn to AMNY.com