FLORHAM PARK — Another day at New York Jets practice, and a frustrating performance from the team's top offensive line group. 
Tuesday's practice was more of the same over the last few weeks from the 1 Jets Drive. The defensive line has looked dominant while the offensive line has struggled to protect Aaron Rodgers for more than three seconds. It all came to a head in the morning session when, after being hit for another play, Rodgers gingerly walked off to the side limping and holding his calf. 
Easy to forget that, less than 24 hours ago, the fanbase was celebrating the arrival of Dalvin Cook to the organization. Rodgers may be fine, but the seriousness of the offensive line concerns continues to grow. 
New York's offensive line troubles weren't the only main takeaways from Tuesday's practice though as always. Let's get to the latest here.
Breece Hall Returns
The Jets are getting healthier right before the start of the regular season. Running back Brecee Hall returned to the practice field in a limited role after being taken off the PUP list Tuesday morning. He participated in individual drills for the running back group but did not partake in any team sessions. 
After practice, the superstar standout stated that he feels he's ready to go for Week 1 but doesn't want to put a timeline on anything or rush his recovery back. 
New York, of course, is still excited about the addition of a four-time Pro Bowl running back in Dalvin Cook but the Jets running back room is more focused on preparing for the start of the regular season than anything else. 
Further Injury Update
A big reason for the Jets' starting offensive line troubles could be that their best offensive linemen were not at practice Tuesday. Alijah Vera-Tucker did not participate and is day-to-day with an ankle injury that has been nagging him for a while according to Jets head coach Robert Saleh. 
While the Jets do not seem too concerned with AVT's recent absence, the play from the first team on the field has been alarming, to say the least without him. True, going up against a juggernaut like the team's pass rush will be daunting for anyone, but the concerns have been there for multiple weeks now for the Jets. 
Outside of AVT, Carl Lawson is still out of practice due to a back injury although Saleh did not give an update afterwards on him. 
Joe Tippmann's Promotion
Not everyone on the Jets' offensive line performed poorly on Tuesday. Two of their biggest names played pretty well in the time they were given. The biggest surprise of the day came from Joe Tippmann. 
The second-round rookie received first-team reps for the first time this camp and is now in an open position battle with Connor McGovern according to Saleh. 
"Tippmann has been doing a really nice job. We wanted to get him better competition," Saleh said afterward. 
New York has been very surprised with the play that Tippmann has shown through the first two preseason games and seems ready to give him more responsibility on the offensive line. With a group dealing with some injuries, it's an important development from a strong prospect.
Mekhi Becton conundrum
Tippmann wasn't the only player getting some first-team reps along the offensive line for the first time in camp. Mekhi Becton jumped to the first team when Max Mitchell had to leave with an injury. When Mitchell returned, Becton continued to play well on the second team. 
The issue at hand though is that the Jets' offensive line was an eyesore throughout practice Tuesday. A big reason for the group's struggles has been the poor play at tackle. Mitchell and Billy Turner did nothing to lower fears during practice while being beaten multiple times during team sessions. 
It's also important to note that the second-team offensive line did a much better job of protecting Zach Wilson and it was a reason why they scored as often as they did while the first group did not. 
New York has a conundrum on their hands and it is solely because they aren't giving Becton more first-team reps. The longer the team goes on without making a move, and the more Becton continues to play well on the second team, the more the Jets will be in an uncomfortable situation of having a better offensive line group protecting their backup in practice than their franchise quarterback.
Aaron Rodgers' no good, very bad day
Frustration came to ahead for Rodgers with several frustrating glances at the coaching staff and his teammates after seven straight incompletions combined with a few sacks. 
Being kind, Tuesday was probably Rodgers' worst day at quarterback for the Jets at this time. He was inaccurate when he had time, and when he made a good pass, the receivers had a hard time hanging onto the ball. Rodgers was picked on a deep throw on the play he got banged up by Jordan Whitehead as well. 
The offensive line is and should be a big reason for Rodgers' struggles on Tuesday, but it's also clear to note that he was not very accurate when he even had time as well.
Zach Wilson has very good day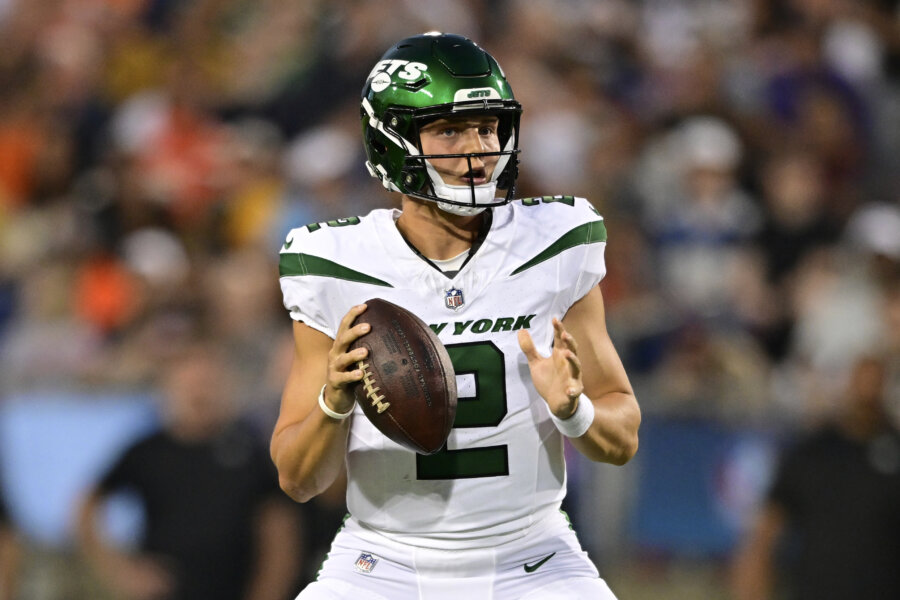 Rodgers' struggles can't be said about Zach Wilson though. The third-year pro had one of his best practices of training camp with decisive decisions and excellent throws. Whether it was a deep pass to Zonovan Knight, or touchdown throws to Irvin Charles, the second-team offense (led by Wilson) was the best group on the field Tuesday. 
Saleh even commended how good Wilson looked after practice by saying "He's been stacking up a lot of great days."
The Jets can have comfort in knowing that their young quarterback prospect continues to look good throughout camp in case something were to ever happen to Rodgers during the regular season.
For more New York Jets news, turn to AMNY.com