FLORHAM PARK — The preseason has not concluded yet but the New York Jets are already making changes to their practice schedule to better acclimate themselves to the start of the regular season next week. 
New York practiced later on Tuesday than they have done all training camp, while also welcoming back some key members along the offensive line. As always through this camp period, we have the latest notes and takeaways from another day at 1 Jets Drive. 
Let's get to it.
Injury Updates
Let's start with the positive. Alijah Vera-Tucker and Laken Tomlinson were back at practice Tuesday after missing all of last week with separate injuries. Jeremy Ruckert was also a participant in individual drills. Duane Brown, meanwhile, is still on the PUP list but is testing out in Texas right now with the hopes he can be removed from the list sometime this week. 
Tomlinson and AVT are both expected to start Saturday against the Giants while Brown is still TBD until he passes his necessary tests. 
Head coach Robert Saleh also announced that both Joe Tippmann and Israel Abanikanda would miss some time at practice with injuries they suffered in last Saturday's loss to Tampa Bay. Both are hopeful to return by the start of the regular season in under three weeks.
Carl Lawson is still not practicing with the team as he recovers from his back injury. Saleh said that he wants the veteran pass rusher to be 100% before he comes back to the practice field. Finally, Corey Davis is still away from the team currently for personal reasons. 
Alijah Vera-Tucker and Mekhi Becton bond
If there was one key takeaway from a padless practice it was that the Mekhi Becton, AVT combination may be on the other side of the line, but it's still as strong as ever. 
When AVT was drafted to the team two years ago, the belief was that he would pair with Becton on the left side of the line to solidify that side for the next decade. Injuries to both got in the way in recent years, but they are now on the right side of the line while enjoying playing with each other again. 
"We need to make our presence felt," Becton told AMNY of the relationship after Tuesday's practice. "Our relationship has been the same since we first got here. Now we just have to actually do it."
Tuesday may not have been the most physical practice, but it was obvious to see that the Jets ran very effectively towards the right side. Breece Hall had several runs where he wasn't touched until 20 yards down field running behind the combination blocks of Becton and AVT. It was Becton's first practice since his promotion to the starting line. It was clear that the move was a long-time coming. 
If both of the former first-round picks can stay healthy, this offensive line could turn from an area of weakness, to an absolute strength. It's great for the long-term health of the Jets too to see their young prospects developing well together.
Breece Hall continues to get comfortable
Speaking of running backs. Breece Hall continues to be patient with his recovery from ACL surgery, but it's hard not to see how dominant of a player he can be. Hall busted numerous runs on the day for long gains and was able to make cuts both inside and outside with apparent ease. 
With Dalvin Cook still away from the team currently, Hall is seen as the feature back. Once Cook is able to practice with the team, it'll be interested to see how the two star runners will be able to fit on the field at the same time. 
The good news from Tuesday though is that Hall looks more and more like his old self which is huge for the 2023 Jets. 
Linebackers flash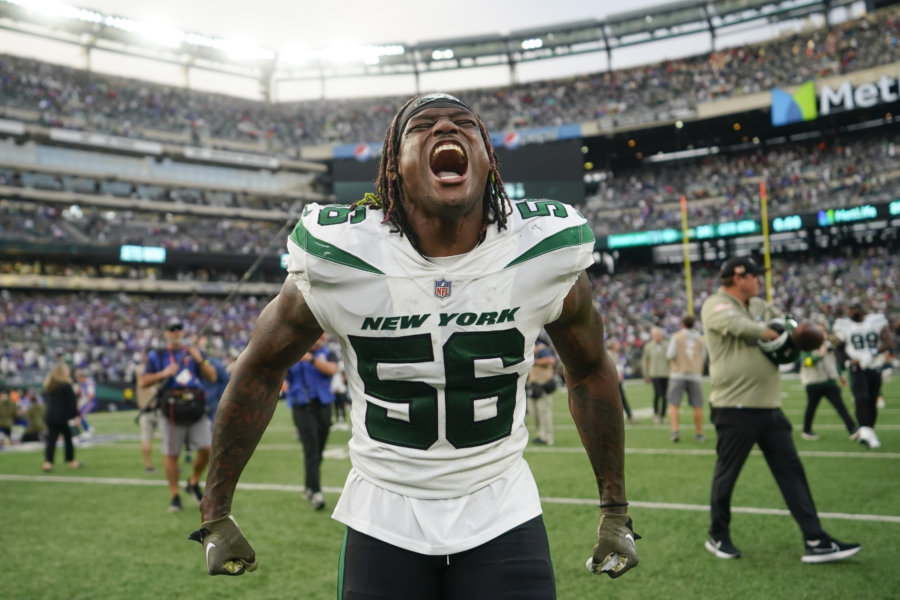 As linebackers go, the Jets have two of the absolute best in the NFL this season. CJ Mosley is considered a top player in the game but Quincy Williams continues to make plays against the pass – something that linebackers are rarely able to accomplish in this age of NFL play. 
Williams made a couple of pass breakups on the day, one of which came against Rodgers and Tyler Conklin on an out-pattern that he got his hand in front to force the incompletion. It was a good play that shows how athletic the elder Williams' brother is. 
If the Jets defense can get Pro Bowl caliber play from both of their starting linebackers, this defense could certainly be seen as the best in football in 2023. 
For more New York Jets news, turn to AMNY.com.