CANTON, OH — It may have been Robert Saleh's first preseason loss as head coach of the New York Jets, but there were plenty of positive takeaways from Thursday night's 21-16 loss to the Cleveland Browns. 
New York stayed relatively healthy at key positions and even had a couple of surprise players show off their impressive skill set throughout the contest. While a lot of key young players looked good at times on Thursday, not everyone had a good game. 
We take a look at whose stock is rising and falling on the morning after.
Stock Up: 2023 Rookie Class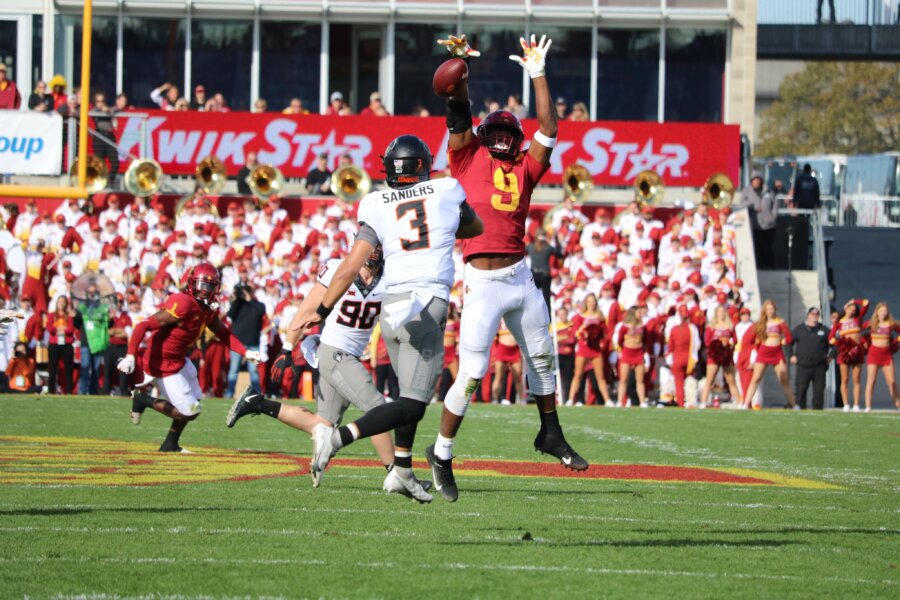 Many people came away impressed with the Jets group of rookies and for good reason on Thursday night. First-round pick Will McDonald picked up a couple of pressures along with a sick spin move that had people thinking about Dwight Freeney. 
Second-round pick Joe Tippmann played the entire game and was quiet throughout – a perfect sign that an offensive lineman had a good game. Carter Warren was also very strong in relief work of Mekhi Becton. Both young offensive linemen had a good base and also weren't afraid to push the pile in the run. Izzy Abanikanda also scored the team's lone touchdown by showing off his speed to the edge. 
On defense, McDonald's exploits were the talk of the town, but Zaire Barnes was moving sideline to sideline at a good pace. He'll need to be quicker with his reads but for a late-round linebacker, he was perfectly fine. 
The entire group had their separate moments to shine against Cleveland's backups but the Jets have to be thrilled that the entire class looked that good on Thursday night. 
Stock Down: Mekhi Becton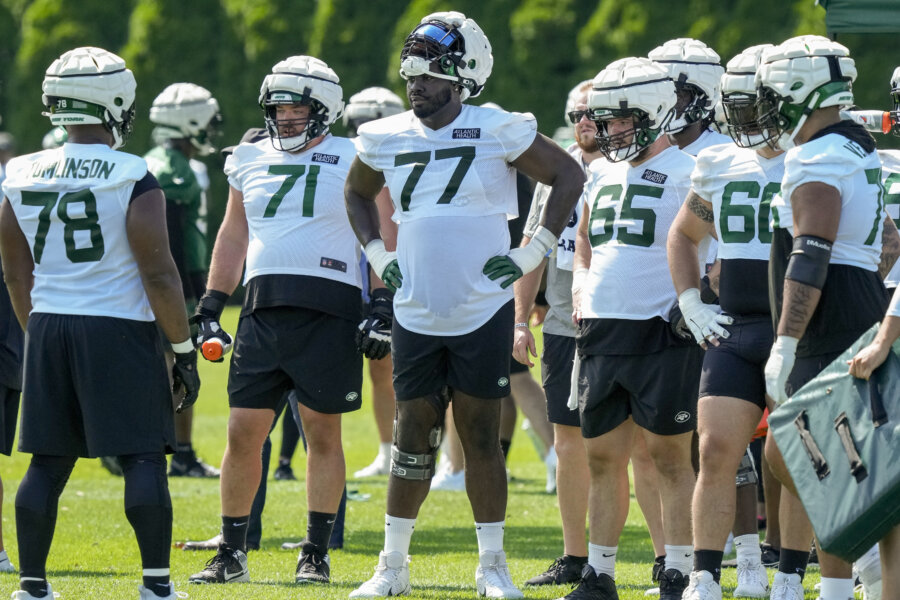 The expectation for Becton was that he would play around 20-25 snaps Thursday night as a way to continue recovering from his knee injuries. 
He lasted just seven plays before becoming concerned again and only playing on special teams.
This isn't to say Becton was bad in those seven plays. On the contrary, he had a pancake block in the run and was very good in pass protection. On Zach Wilson's 57-yard pass, the tackle actually stood up his opponent so much that the edge rusher had to stop in his tracks. There are certainly things to be positive about from Thursday night. 
But Becton's main issue is his injuries. Thursday was a golden opportunity to show the team he was confident in himself and his leg while playing at a high level. If Becton had played the agreed-upon snaps, at the level he was starting with, he probably could argue to start getting first-team reps in practice.
"It was communication. We just wanted to make sure that we are doing right by him," head coach Robert Saleh said after the game. "Again, this is all about confidence for him, and if he has got any doubt in it at any time, we are going to be cautious, so just from communication between him and the trainers, there must have been, and I will find out more, just probably a little confidence issue, but you saw him go in there for a field goal, so he is fine. Again, he has just got to build confidence in that thing and be able to push through whatever he might be feeling."
Now, it just seems the Jets are waiting for him to decide to be ok playing a full game, and it is unclear how long the organization will be willing to wait. 
Stock Up: Jamien Sherwood
It was very telling that even though Sherwood had been penciled in as the third starting linebacker on the first-team defense, he was playing Thursday's game. He did not disappoint though at all.
Sherwood's athleticism was apparent very early in the contest and his first-quarter forced fumble got the Jets defense an early turnover. On the play, the former fifth-round pick fought off a block on the edge and made the perfect hit to dislodge the ball from the runner.
It's the type of play the WILL needs to be able to make at all times. New York should be very pleased with how Sherwood played against Cleveland. 
Stock Down: Roster battle decisions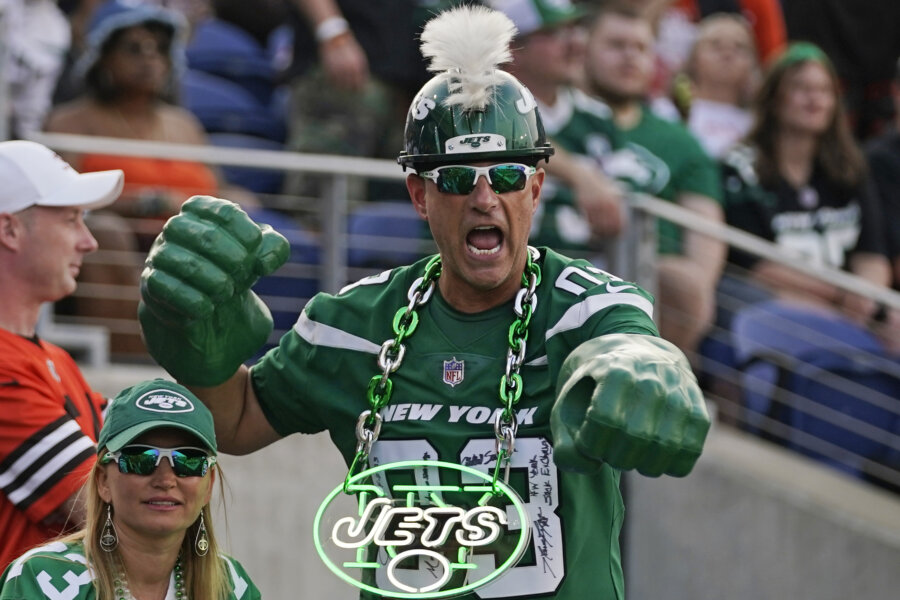 After Thursday's game, many of the roster battle decisions the Jets are trying to make need to be adjusted properly. Let's start at tackle. Max Mitchell and Becton both played well as previously stated, but the longer the Jets are super patient with getting Becton back to the game field for long stretches, the harder it's going to be for them to see what they have. Becton needs more reps to show he can play at a high level.
Speaking of a player who needs more reps, Tippmann hasn't had a taste of first-team reps yet with the Jets while Connor McGovern and Wes Schweitzer have competed for the starting center position. That needs to change immediately. The Jets were shown that Tippmann is more than capable of a role increase.
It was also stunning to me how much Bryce Huff played. Huff recorded a sack early in the contest but with his skill set, the fact that he played into the fourth quarter was shocking and made it seem like he could be on the trade block. New York has a plethora of pass rushers but if they aren't going to play one of their best situational guys, there's really no point in keeping him. 
Stock Up: Zach Wilson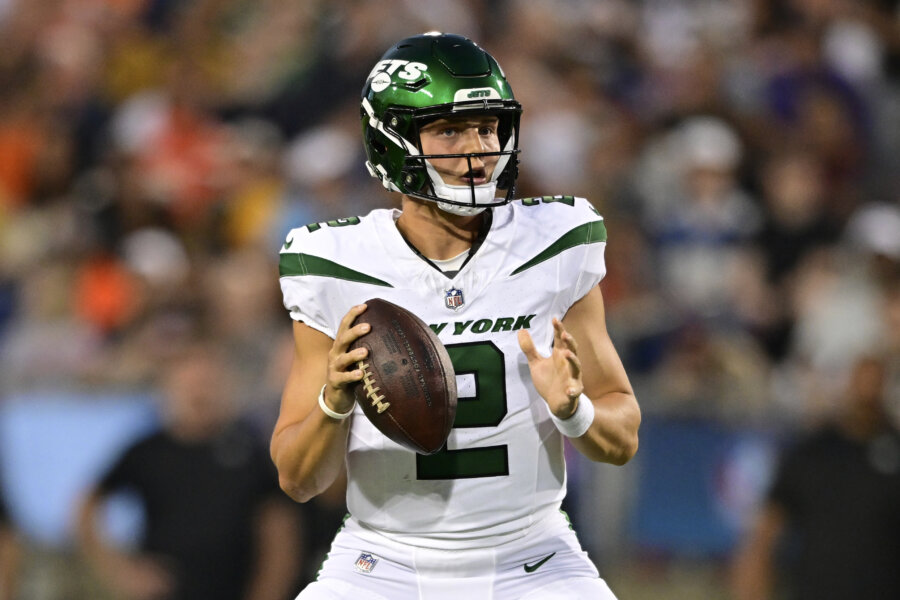 If there's one player the Jets have to be excited about from Thursday's loss it was the play of Zach Wilson. Wilson went just 3/5 passing, but his poise in the pocket, and overall arm strength were enough to make plenty of fans happy with the young quarterback's development. 
Wilson didn't panic throughout the game and stepped up in the pocket when the Jets' offensive line gave him time. He looked like a player who knew what to do with the ball at all times and certainly played that way. His 57-yard bomb to Malik Taylor certainly was the offensive play of the day and reminded the Jets of what they have in their young signal-caller thanks to the help of Aaron Rodgers. 
It was a very promising day for the Jets' future at quarterback. 
Stock Up: Greg "The Leg"
New York may want to bring in a young kicker for the rest of the preseason because it's clear Greg Zuerlein is ready to go for the 2023 season. 
Greg "The Leg" connected on all his field goals Thursday from 54, 44, and 53 yards out. Each kick was right down the middle with plenty of room to spare. There's no need to have to play him for the remainder of the games, just have him ready for September's opener. 
In fairness, the Jets got solid play from their entire special teams units as well. Thomas Morstead was very good as the punter Thursday with three ending up inside the 20 and an average of 49. Alex Erickson had over 22 yards per punt return while Xavier Gipson made up for an early game mistake with a 45-yard kickoff return. It would be huge if the Jets got solid play from their special teams this year. 
For more New York Jets news, turn to AMNY.com