FLORHAM PARK — It's hard to find solace in an offense that has averaged under 14 points through its first two games like the New York Jets but there's a simple way to change that according to their coaching staff.
Running more plays. 
New York ran just 46 plays in their Week 2 loss to the Cowboys and 53 in Week 1 against the Bills. The 49.5 play average is the second worst in football right now and a big reason for several offensive players voicing their frustration in the lack of touches they've received.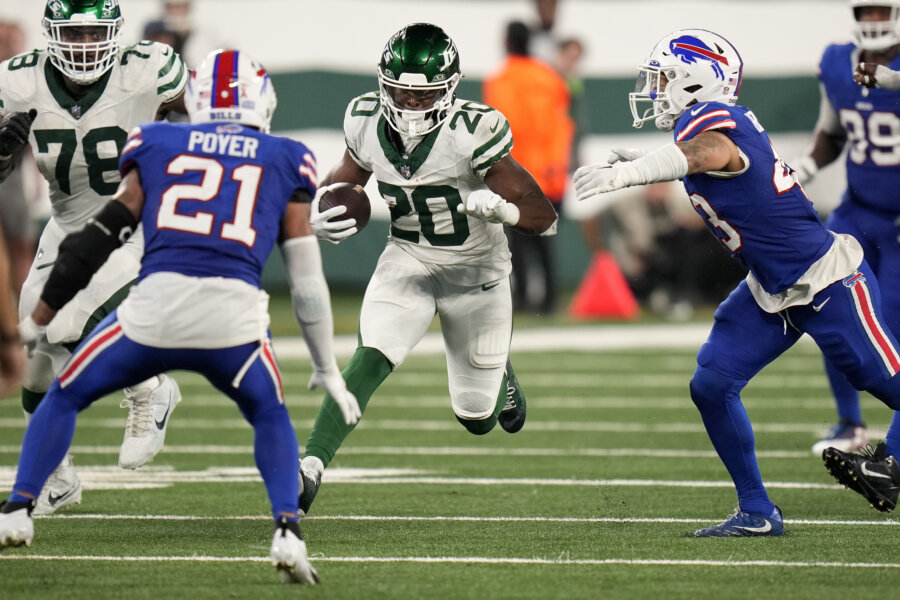 For offensive coordinator Nathaniel Hackett, a key way to improve their play count is by being better on money downs. 
"Everybody's workload was low last week. We just didn't have a lot of plays and it hurts us because we can't get a lot of people involved…If you don't convert on those third-down and manageables, you won't have those opportunities," Hackett explained. 
A big part of the blame in the public's eye through the first two weeks of the 2023 season has fallen on the shoulders of the offensive line though. They are the only group across football that is giving up over a 50% pressure rate without blitzes – a five percent difference between the next team in the AFC. 
Despite the obvious struggles the group has had though, the Jets' offensive play-caller made it clear that they were not the sole reason for the entire offense's inability to score points as of late. 
"It's not just them, it's everyone. Everyone took turns to have hiccups, myself included (last week). We all need to get better and execute," said Hackett. "That's going to happen when you are in a two-minute situation for most of the game. For us, it's about converting third-down, getting more plays in so we can be in our base plan."
That base plan is all about trying to get several offensive players involved as much as possible. So far, unique weapons like Jeremy Ruckert, Mecole Hardman, and Breece Hall haven't been able to get the kind of touches needed to make a big difference on game day. Hall received just four touches in the Jets' loss to the Cowboys. Ruckert had just five plays overall, and Hardman was targeted just once. 
With a Week 3 matchup coming against Bill Belichick and the New England Patriots, the Jets know that those numbers need to change.
"We know how great a defensive coach he (Belichick) is. They have a way of doing the same stuff but making it look completely different. That's the thing that causes some confusion with players," Hackett said of the Patriots and Belichick. "They take your best players and try to take them away. They do a great job of that illusion of complexity."
The "illusion of complexity" that the Patriots use on their defensive side has stymied two dominant offenses from 2022 in the Philadelphia Eagles and Miami Dolphins to start the season.
The Jets don't have the talent that those teams might have but by "keeping it simple" as Hackett put it, they might be able to have enough success to improve on their dismal numbers. 
But it all comes back to execution. On Sunday in Dallas, the Jets' offense did not execute on key downs and points in the game to give themselves a shot against a top defense. With another loaded unit upcoming, the excuses are beginning to run out for the team to find a way to be successful. 
Their next test is on Sunday, with plenty on the line as well. 
For more Nathaniel Hackett and New York Jets news, turn to AMNY.com