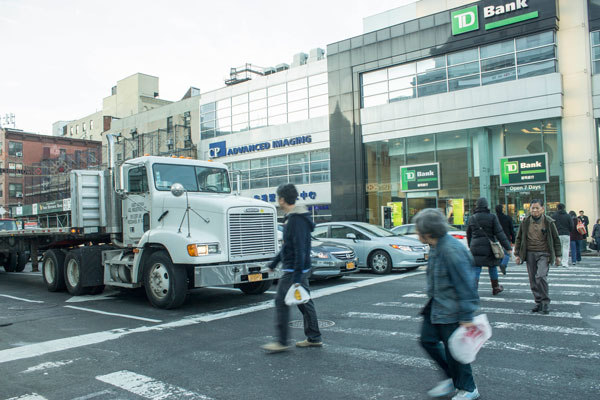 BY ZACH WILLIAMS   |  Addressing the hazards of commercial trucking on Canal St. requires more than a 25-mile-per-hour speed limit, according to Councilmember Margaret Chin.
The city Department of Transportation should study how designating that street and other major thoroughfares as trucking routes affects pedestrian, cyclist and driver safety, asserted Chin, who will introduce a bill to that effect next month.
In addition, the inequitable Verrazano Bridge toll situation continues to encourage trucks to be funneled dangerously onto Canal St. and through Lower Manhattan, in general, Chin and others charge.
Family members of accident victims and representatives of Community Boards 1 and 3 joined her on Mon., Nov. 10, at the intersection of Bowery and Canal St. not only to call for increased safety, but to demand that drivers in three recent fatal collisions be criminally charged.
"To end a life and not be held accountable is something New Yorkers everywhere should be very concerned about," Chin said.
Motor vehicles struck and killed three elderly residents crossing local streets within crosswalks between Aug. 28 and Oct. 14 of this year. Details are less clear in the death of a 59-year-old Canadian man who was struck at an unknown location along Canal St. on Oct. 30 by a private sanitation truck, which continued moving until stopping at the intersection at Centre St.
While the first three incidents did not involve commercial trucks, Chin said that diverting such traffic elsewhere could ultimately save lives. While Mayor Bill de Blasio's Vision Zero initiative has led to improvements in traffic safety, more must be done along the entirety of Canal St., according to Chin and activists.
"I believe that if we do take the trucks off Canal St., we will see a safer place for pedestrians, cyclists and drivers — and that includes both tourists and residents," she said.
According to data compiled by nyc.crashmapper.com, there were 267 traffic collisions at the intersection of Canal and Bowery between August 2011 and February of this year. Further west, 110 such incidents occurred at Canal and West Broadway during the same period. More than two collisions per month occurred at the intersection where Sau Ying Lee, 90, died on Oct. 14 just steps from the curb at Elizabeth and Canal Sts.
"Legally, my mom had the right of way when she crossed the street," said Michael Cheung, Lee's son, who added his opinion that the driver lied when telling investigators that he could not see Lee.
The driver of the S.U.V. that killed his mother faces no charges, though that and the other incidents remain under investigation, according to Chin, who said she recently discussed the matter with the District Attorney's Office. She and others have called for criminal charges against that driver, as well as those who struck Shu Fan Huang, 82, on Aug. 28 and Sui Leung, also 82, on Sept. 25.
The purported lack of accountability on the part of drivers is a "disgrace," according to attorney Steve Vaccaro. He said that responsibility for pursuing such cases can fall by the wayside amid the city's bureaucracy.
"There are plenty of laws on the books but they are not being enforced the way they should be," he said.
Trucks and buses exacerbate traffic congestion on Lower Manhattan streets, resulting in overcrowded streets and a greater likelihood of fatal collisions, according to C.B. 1 Chairperson Catherine McVay Hughes. Some outside-the-box thinking would help address the situation, according to C.B. 3 Chairperson Gigi Li.
She referred to recent cooperation between C.B. 3 and D.O.T. on Allen and Delancey Sts. as reasons for optimism.
"We really need to think about how we can proactively redesign and be smart about vehicular patterns," Li said.
But for family members of crash victims, there is a sense that the death of a loved one must be properly acknowledged and commemorated. Without justice in these cases, Vision Zero cannot succeed, according to Hsi-Pei Liao, whose 3-year-old daughter died in a traffic collision last year in Queens.
"We just want to see justice happen," he said.