Times Square, the Crossroads of the World, is teeming with life once again.
After COVID-19 struck three years ago, in the spring of 2020, Times Square became a ghost town as stores, restaurants and Broadway theaters closed due to capacity restrictions, and workers and tourists stayed home. The recovery after restrictions was in pace with the slow lifting of restrictions over the following two years. 
But today, by all accounts, Times Square is nearing its pre-pandemic self — swarming with tourists, theater lovers, vendors, restaurants and Disney and superhero characters.
According to the monthly economic indicator report issued by the Times Square Alliance, September saw a daily average of 303,368 pedestrians roam through Times Square, 84% of storefront businesses were open, and hotel occupancy was 87.3%. Even so, for many local businesses, there's still plenty of room for improvement.

"We're still hurting from COVID," said Bernie Reilly, owner of Irish pub Connolly's Times Square. "I don't think we will ever fully recover from COVID."
According to Reilly, tourism has yet to return to pre-pandemic numbers. He believes it's due to the world economy. 

"We have seen an improvement, but not enough," Reilly said, adding that party reservations are at Connolly's are also down by at least 50%.
"We were completely always sold out. It was even hard to get room for a party in our locations before COVID," Reilly said. "Now you have plenty of room any night of the week for parties."

But many are still coming from near and far to take a bite out of the Big Apple. Mark Williams with Big Bus Tours said the sightseeing tour operator was back in business as visitors boarded the bus for a tour. 

"In 2020, from March to July, we were closed down, and then when we came back, there was like maybe three people per day, riding the bus," Williams said. "Once the vaccination got [COVID] under control, people starting to get masked and everybody getting shots, it started to pick back up." 
Robert Burck, aka the "Naked Cowboy," has been a Times Square fixture for over 20 years and said foot traffic was like pre-pandemic times.
"It was such a long period with COVID with nothing happening, and it certainly feels better," Burck said. "I don't remember it ever being any better. I mean, I still do like $80 to $100 an hour every day, no matter what."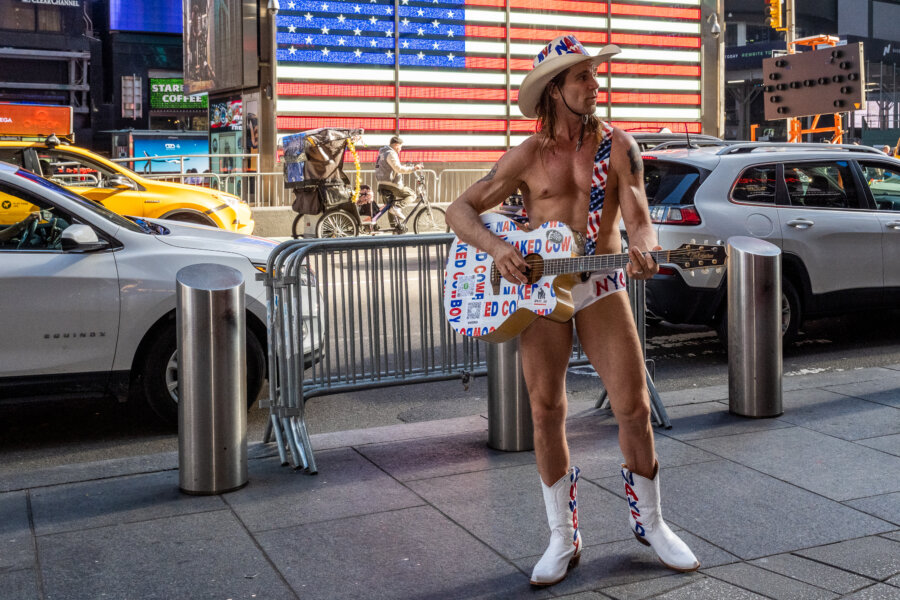 Muhammad, who runs a hot dog stand on 46th Street and 7th Avenue, said business was up and down. 

"We have a good spot, you know," Muhammad said. "Not every day is busy. Our busiest days are Monday and Saturday. The rest of the week is kind of like up and down."
He said that protests in Times Square keep tourists at bay when they notice the barricades and cops. Muhammad also said he struggles with unsheltered people loitering around his stand, harassing tourists.
"It's every day, especially at nighttime," Muhammad said.
Patrick, a street vendor who sells hats and shirts on the corner of 45th Street and 7th Avenue, has been in business for 11 years. He said business was still slow despite the return of tourism, and all the vendors shared the same sentiment — one they chalk up to the economy in general.
"[Tourists] are not spending the money," Patrick said.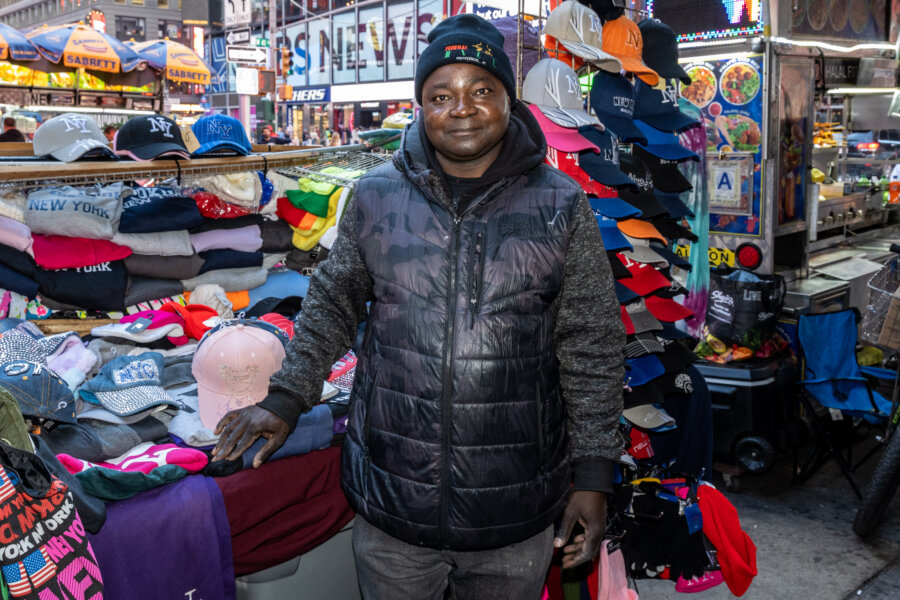 Still, some businesses are seeing a surge in patronage in Times Square.
Lagos TSQ, the only authentic Nigerian restaurant and cocktail bar in New York City, moved from its former location on 49th Street and 2nd Ave. to Times Square on 7th Avenue near 48th Street in February 2022. The restaurant offers happy hour from noon to 8 p.m., with competitive prices to attract customers. 
Matthew Scherl, general manager at Lagos, said he noticed a huge increase in foot traffic since Lagos TSQ opened its doors.

"Our daytime business is mostly tourists and people that work in the area, so I would say 80% is tourists and the construction workers that work in the area," Scherl said.  

In the evening, people from the tri-state area flock to the destination spot.

"People come from Connecticut, New Jersey, [and]Long Island just to celebrate their birthday here. So I would say that our night business is probably 80% locals," Scherl said. 

Surrounded by many chain restaurants, Lagos TSQ stands out because of its authenticity.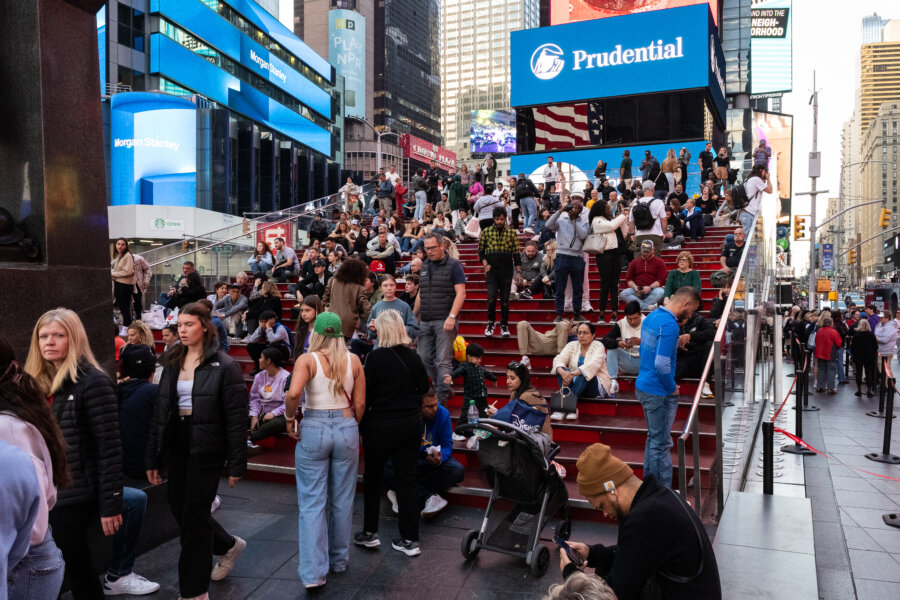 "We have Nigerian women cooking food in the kitchen that are cooking the same thing their moms made," Scherl said. "Dancers that dance to traditional Nigerian music, so it's something that's definitely different for the Time Square community."

Melike and Cedric were visiting from Germany on Wednesday. It was their first trip to New York City.

"I don't know what Times Square was like before COVID-19," Malika said. "But it seems like everything is back to normal. But we are surprised that some people are still wearing a mask."