Brian Daboll's second training camp as head coach of the New York Giants is just under two weeks away from beginning.
A heightened increase of expectations follows Big Blue as they try to improve off of last year's team that won a playoff game for the first time in over five years. Improved personnel, the same coaching staff returning, and a hopeful change with injuries should leave plenty of fans excited for the start of the 2023 season. New York's season hinges more on just their elite coaching staff though.
There are five players that need to step up in a major way during camp to show they are capable of leading the Giants to another season of success. 
Evan Neal
Andre Thomas has emerged as a top offensive lineman in the game. John Michael Schmitz is a massive upgrade at the center position. But the success of the Giants' offensive line hinges on last season's seventh overall selection. Neal had an inconsistent season during his rookie year but showed signs of promise down the stretch. If he can have the kind of jump that Thomas had, New York's offensive line will arguably be the best they've had in over two decades. It's a big "if" though. 
Kayvon Thibodeaux
New York's history is full of vaunted pass rushers over the years. In the Giants are to improve off last year's season, the pass rush must be a lot better than they were in 2022. Big Blue's 41 sacks were good for 13th across the league but they did not have an edge rusher tally more than 5.5 sacks last year. That must change in 2023. The player under the most pressure to improve those numbers is Thibodeaux. The former fifth overall pick from last year caught fire later in the year but will need to be a lot better next season. He should be able to easily break his rookie year mark with a healthy start to the season. 
Deonte Banks
In the NFC East, the Giants have to deal with teams that have multiple dynamic options at receiver. Dallas has CeeDee Lamb and Brandin Cooks. Philadelphia has DeVonta Smith and AJ Brown. Even Washington has Terry McLaurin and an emerging Jahan Dotson. Adoree Jackson showed promise as a top corner last season. Having a solid second corner is important is just as important though. Banks is the Giants' lone first-round pick this season and should provide the perfect size to be competitive this season opposite Jackson. If Banks shines early on, New York can be in the running for the division crown. 
Banks currently has the ninth-best odds to win the Defensive Rookie of the Year Award.
| Player | Pos | Team | Odds |
| --- | --- | --- | --- |
| Will Anderson | EDGE | Texans | +350 |
| Jalen Carter | DL | Eagles | +650 |
| Tyree Wilson | EDGE | Raiders | +900 |
| Devon Witherspoon | CB | Seahawks | +900 |
| Christian Gonzalez | CB | Patriots | +950 |
| Jack Campbell | ILB | Lions | +1400 |
| Lukas Van Ness | EDGE | Packers | +1500 |
| Nolan Smith | EDGE | Eagles | +1600 |
| Emmanuel Forbes | CB | Commanders | +1800 |
| Will McDonald IV | EDGE | Jets | +1800 |
| Myles Murphy | EDGE | Bengals | +2000 |
| Deonte Banks | CB | Giants | +2000 |
Darren Waller
There is plenty of pressure on the Giants' wide receivers this year. Arguably no pass catcher has more to play for though than tight end Darren Waller. Waller has an out in his contract after this season and is 31 years old. If he is unable to stay healthy (something that has plagued him throughout the last couple of seasons) he may not be in for a lucrative contract extension he may have been hoping for a few years ago. Still, he's easily the best pass catcher the team has employed since OBJ. If he stays healthy, New York's passing offense is going to be much better than last season. 
Daniel Jones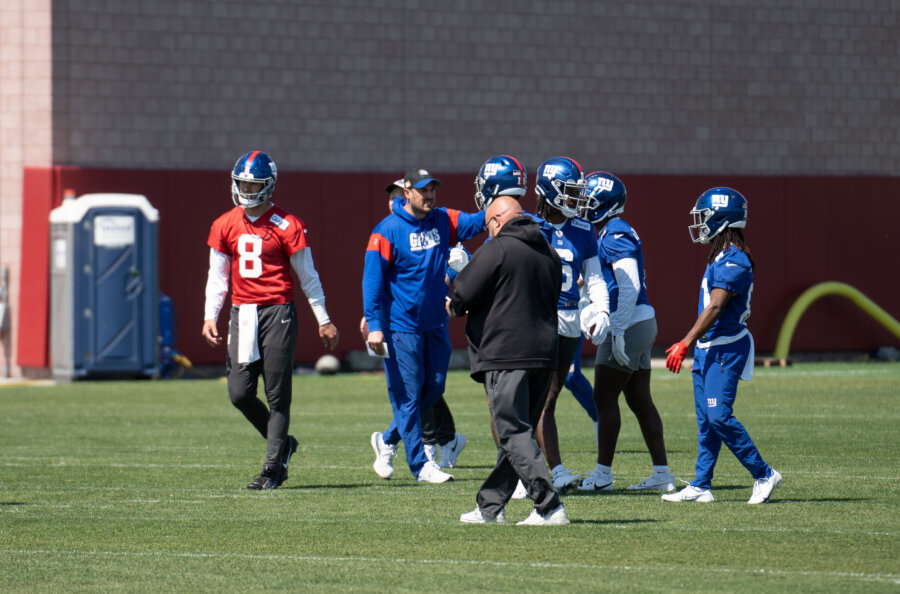 Duh. New York's 2023 success hinges on the play of their franchise quarterback. Jones has a lucrative extension under his belt, and an improved cast of weapons around him. The excuses are gone from the former sixth overall pick and he needs to play like the franchise quarterback he is being paid to be. During camp last season, Jones struggled at times while trying to learn Daboll's complex playbook. He will not have the same kind of patience this season. It's put up or shut up time for the Giants' quarterback and it starts with his play in the NFC East. 
For more New York Giants news, turn to AMNY.com