A lunch date with his aunt helped set the stage for Allen Hubby's career.
During the summer of 1979, the then-Minnesota college student was visiting his aunt in New York City. While meeting her at the Broadway bookstore Drama Book Shop, where she worked, he witnessed a fire that destroyed rare, first-edition signed books.
Instead of returning to the Midwest, Hubby decided to spend the rest of his summer helping clean up the theater-focused shop, then located on West 52nd Street, sitting in a fire-damaged room inventorying books and making lists for insurance claims for the shop. Upon graduation, Hubby returned to Manhattan to work at the Drama Book Shop. Today he co-owns the venerable bookstore, with origins believed to date back more than 100 years, with his aunt, Rozanne Seelen.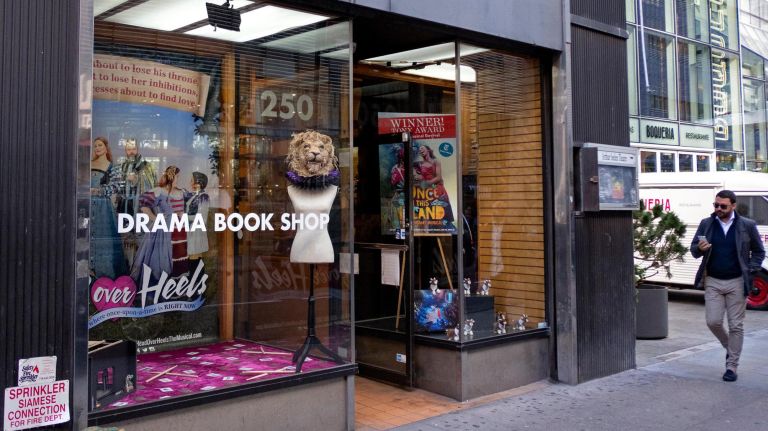 Before the Drama Book Shop was a family business, Hubby's late uncle, Arthur Seelen, worked at the store in the mid-1950s, when it was owned by a wealthy woman who "didn't do it for money, but did it because she loved doing it," Hubby says.
When it was time to retire, she gave the store to several employees, including Arthur, who eventually bought out the others and hired an assistant — Rozanne — who later became his wife.
Growing up as a book lover, Hubby was primed for his first official role at the Drama Book Shop as a receiver: He would be the first to see every single book that entered the shop. He then moved up to manager before taking a short leave to work as a play publisher. When a rent hike forced the shop to move from West 48th Street to its current location on West 40th Street in 2001, Rozanne asked Hubby for help and he came back as partner.
The move ended up being a boom for business.
"The previous locations were small," Hubby recalls. "This location has a lot more space, a theater space and office space for a theater company and a very popular upstairs."
Previously, clientele would drop by for a script and leave, but the new location offered space for customers to do readings, workshops, author signings and more.
"Instead of being a resource, we became a part of the theater community for the last 20 years," Hubby says.
In fact, Lin-Manuel Miranda wrote "In the Heights" in the shop's basement (he had to relocate when it came time for choreography) and playwrights such as Theresa Rebeck, Sarah Ruhl, Stephen Adly Guirgis and John Patrick Shanley are notable regulars.
Where theater aficionados used to stock their libraries with hardcover copies of their favorite plays, Hubby has noticed previous collectors now selling their volumes "for retirement." Hardcover plays are rarely even published anymore, with top sellers gravitating toward recent Broadway productions like "A Doll's House: Part II," "The Boys in the Band" and works by Jez Butterworth.
About one-third of customers are aspiring actors ("There are thousands of young people trying to be actors in New York," Hubby says), another third are theater professionals of all types and the rest are people just interested in the theater.
"It's a very special place, people love working here, coming here, shopping here," Hubby says. "The customers are the most amazing people in the world. You get such a great, positive feeling — not like normal retail."
FAST FACTS
Marilyn Monroe once visited the store and Arthur "wouldn't stop talking about it," remembers Hubby.
When actor Tony Randall visited the store, Hubby started whistling the theme song to Randall's show, "The Odd Couple." That earned Hubby a glare every following visit.
The 10-year-old German Spitz Chester is the store's mascot, and often gets his photo taken with customers from his perch on the checkout counter.
The bookstore is located at 250 W. 40th St. For more info, visit dramabookshop.com.